Although not as famous as Arches, Canyonlands National Park has so many things to do and is absolutely worth seeing in one day
I'll be honest:
I really wasn't that excited to visit Canyonlands National Park.
I included Canyonlands in my Utah Mighty 5 tour because (1) it's close to Arches, and (2) I figured I may as well just do all the Mighty 5 while I'm in Utah.
I had honestly never heard of Canyonlands or Capitol Reef National Parks prior to planning this trip. I knew Utah had Bryce Canyon, Arches, and Zion, but beyond that, I didn't know – or really particularly care. So Canyonlands felt like a checklist stop on my trip.
I'm glad I visited, though. Canyonlands was a super cool National Park. Way more laid back than Arches or Zion with views that felt like they could rival the Grand Canyon. The vistas are absolutely stunning and there are so many opportunities for beautiful photographs – like the photograph of Mesa Arch at sunrise, above. Isn't that amazing?!
Canyonlands in an utterly massive National Park with distinct, sprawling districts. Of all the Utah Mighty 5, I think Canyonlands is the hardest to see in just one day. However, it's really easy to see the Island in the Sky district of Canyonlands in one day! If you're in the Moab area, you absolutely have to budget at least one day to visit Canyonlands National Park.
Please note: this post may contain affiliate links. What that means is, if you click on a link and make a purchase, I may make a commission at no additional cost to you. For more information, please see my Affiliate Disclosure.
Everything you need to know about Canyonlands National Park
Canyonlands is a massive national park, spanning nearly 350,000 acres in the Utah desert. It is divided up into four districts, including Island in the Sky, the Needles, the Maze, and Horseshoe Canyon.
Because of the size of Canyonlands, this guide is for visiting the Island in the Sky District in one day. It is the most easily accessible district (with quick access from Moab), with stunning canyons and satisfying hikes. It takes about 40 minutes to get to the Visitor's Center of the Island in the Sky District and is easily accessible with any kind of vehicle.
The Needles is much harder to get to and requires some backcountry experience and, in many places, 4WD vehicles. This district is not recommended for those who are casual outdoorsman
The Maze is the least accessible district, requiring "self-sufficiency and the proper equipment or gear for self-rescue." Intimidating. The National Park Service says the Maze requires at least 3 days, and often 7.
Horseshoe Canyon is a super famous landmark – in fact, I'm sure you've seen it as a screensaver on your computer. It's a bit of a jaunt, too, and has limited services.
It's important to remember that straying from the beaten path can be dangerous. Do you remember the movie 127 Hours, where a climber had to amputate his own arm to survive? That happened in Canyonlands, in the Horseshoe Canyon district.
Canyonlands is located in the Utah desert which means the summers can get scorchingly hot. Pack prepared – extra water is absolutely a necessity.
Although Canyonlands is less popular than nearby Arches, it is still a super popular national park and gets really crowded. I visited during Memorial Day Weekend and arrived at sunrise to see Mesa Arch. I ended up leaving around 11 am and the line to enter the park was literally a mile long.
I was traveling 65 mph and it took just over a minute to reach the end of the line. Literally – a mile long.
What does that mean for you?
Get to Canyonlands early. Beat the crowd, beat the heat.
And anyway, Mesa Arch is absolutely stunning at sunrise and is FOR SURE worth waking up early for. Mesa Arch is the top photo on this post!
Check out a map of Canyonlands – Island in the Sky for a good overview of the area!
Where to stay to see Canyonlands National Park
The closest town to Canyonlands is Moab, and is a great launchpad for exploring both Arches and Canyonlands National Park.
Of all the towns that cater to the Mighty 5 national parks, Moab is the least touristy. There are things to do in Moab besides the national parks (think ATVing, off-roading, slickrock biking, river rafting, and more) and that's evident with the amenities and restaurants offered up in Moab.
In addition to these activities, Moab offers up genuinely awesome restaurants and shopping. If you've traveled to Colorado, Moab feels a bit like the people of Boulder, the environment of Golden, plopped into the main street of Breckenridge. It's a cool town.
Moab is relatively small so staying in the city limits anywhere means you'll be super close to all the action. However, the bulk of the shopping and restaurants are all located on the northside of town near the intersection of Main & Center Street. If you can snag a hotel there, you'll be in the perfect location:
All the hotels recommended below are right in the center of Moab, with varied amenities and price ranges. You can't go wrong with any of these options (although the Best Western Plus Canyonlands is absolutely stunning if it's in your budget. Trust me, it's a legit Best Western!).
2-Star Hotels
Best Western Plus Greenwell Inn

With a stay at Best Western Plus Greenwell Inn in Moab, you'll be 4.7 mi (7.6 km) from Arches National Park and 9.4 mi (15.2 km) from Tower of Babel. Featured amenities include a 24-hour business center, complimentary newspapers in the lobby, and a 24-hour front desk. Free self parking is available onsite.

---
3-Star Hotels
Is Arches or Canyonlands better?
I absolutely assumed Arches would be amazing and Canyonlands would be meh. However, I was absolutely blown away by Canyonlands National Park. In fact, it ended up being one of my favorite days on my tour of the Utah Mighty 5!
Arches has mind-boggling arches and Canyonlands has stunning vistas. They are completely different experiences, which is why you should budget time to visit both National Parks. Because both Arches and Canyonlands can be seen in one day, it's not too hard to plan time for both!
The complete itinerary for Island in the Sky: How to see Canyonlands in one day
Canyonlands is much less crowded than Arches, but it's worth it to get to the park close to sunrise. Checking out Mesa Arch at sunrise is absolutely stunning, and it doesn't hurt to beat the scorching midday desert heat, either!
Set your alarm early and get ready for your one perfect day in Canyonlands National Park!
Hike Mesa Arch at Sunrise
As you head into the Island in the Sky district of Canyonlands, take the scenic route until you get to Mesa Arch. This is the most popular place to be in the early morning and for good reason: you're going to be treated to a stunning sunrise with awe-inspiring canyon views.
Mesa Arch is a super easy hike – it's only about half a mile long round trip, so it's pretty accessible for most people!
You may be wondering: is the Mesa Arch hike good for kids?
The hike isn't too difficult but you will have the opportunity to walk right up to a canyon ledge. If you trust that your kids can be responsible and keep a safe distance, it is absolutely kid-friendly. Just be sure to talk to them about hiking and height safety (which is a good rule of thumb for any of the National parks!)
After a 10 or 15 minute jaunt, you'll come up to the views below. Isn't it amazing?
I'm biased, but I adore these photos. Although I often do photograph with a DSLR, these photos were taken with a small pocket camera – a high-quality one, sure – but this camera is super easy to hike with. If you want a great camera for hiking, I definitely recommend it!
When you're satisfied with your photos, head back to your car and hit the Scenic Drive!
Head to Upheaval Dome for a hike & picnic
Hit the Scenic Road and follow signs to Upheaval Dome.
Upheaval Dome is literally 65 million years old, and no one knows where it came from.
There are currently two theories on how Upheaval Dome was formed. The first theory is the salt theory. Did you know salt can exist as a rock formation – a continuous bed of salt, sometimes miles under the earth? Unlike other rocks, salt can actually "flow". Basically, when put under a ton of pressure, it moves like silly putty. With enough pressure and time, the theory is that this salt flowed and created a bubble that lead to Upheaval Dome.
Theory two is called the "Impact Crater Theory". In this theory, a huge meotor hit the earth, creating a massive crater and sending tons and tons of debris high into the sky. Eventually, the debris settled and the earth somehow filled the crater up (and then some).
Who knows. Either way, Upheaval Dome is a bit of a mystery.
I recommend only planning on trekking to the first overlook. Upheaval Dome has two overlooks, with the first one being one mile from the parking lot. The second overlook adds an additional mile, making the trail a fairly steep 4-mile roundtrip hike.
The view was more than adequate at the first overlook, so no need to go further.
After enjoying the views, make your way back to the parking lot and hit the road again towards the Scenic Drive.
Enjoy Ancestral Pueblan Ruins at Aztec Butte
Just before the turn-off to the main Scenic Drive is Aztec Butte. Aztec Butte is a moderately difficult, 2-mile hike that leads to really cool Puebloan structures. It's a fairly technical hike, requiring climbing on ledges and scrambling on slickrock. If you have 1-1/2 hours to spend, I definitely recommend it!
Unfortunately, I missed this hike during my time at Canyonlands – I didn't see the turnoff the first time I drove by and planned to check it out on my return to the visitor center. Some car problems kept me from doing that, but everyone raves about this trail!
Take the Scenic Drive towards the Grand View Point
After checking out the spur road towards Upheaval Dome, you can return to the Scenic Drive. This is where you'll spend the remainder of your one day in Canyonlands.
This Scenic Drive is super easy and has plenty of pull-offs where you can see some stunning views. Definitely check these out! You'll be treated to vistas like this:
On your way to the Grand Viewpoint, you'll pass by Buck Canyon viewpoint. I recommend that you hit that up on your way back. The easiest way to check out the Scenic Drive is to hit up everything on your side of the road heading out and check out the opposite side on your return trip.
Before long, you'll arrive at the Grand View Point – a very fitting name for this view. Honestly, the picture doesn't do it any justice!
There is a hike at the Grand View Point, but it follows the canyon rim. Given that it's 2-hours and out-and-back, I don't particularly think it's worthwhile given how far you can see at the scenic viewpoint. If you're itching for some more activity, however, go for it!
Take an opportunity to use the bathroom at the view point before heading back to the Scenic Drive and checking out the viewpoints that you missed on the way in!
Visit the Buck Canyon Overlook
On the way back towards the Visitor's Center, there are two major viewpoints on the right-hand side of the road. The first that you will encounter is the Buck Canyon Overlook.
Pullover and take a very short walk to the viewpoint. No hikes here, just views!
End at the Shafer Canyon View Point
Once you've gotten your fill of Buck Canyon, you'll take the Scenic Drive towards Shafer Canyon View Point. Shafer Canyon is a place where people often offroad, so you'll have the opportunity to see some hair0raising switchbacks deep into the belly of the canyon.
One important thing to note – just because you rented a Jeep or an SUV doesn't mean you can offroad!
Your vehicle needs certain, specific modifications to be able to offload. Taking a standard vehicle on these roads could result in blowing out your tires, axels, or worse!
Anyway, here are the switchbacks. How cool is this?!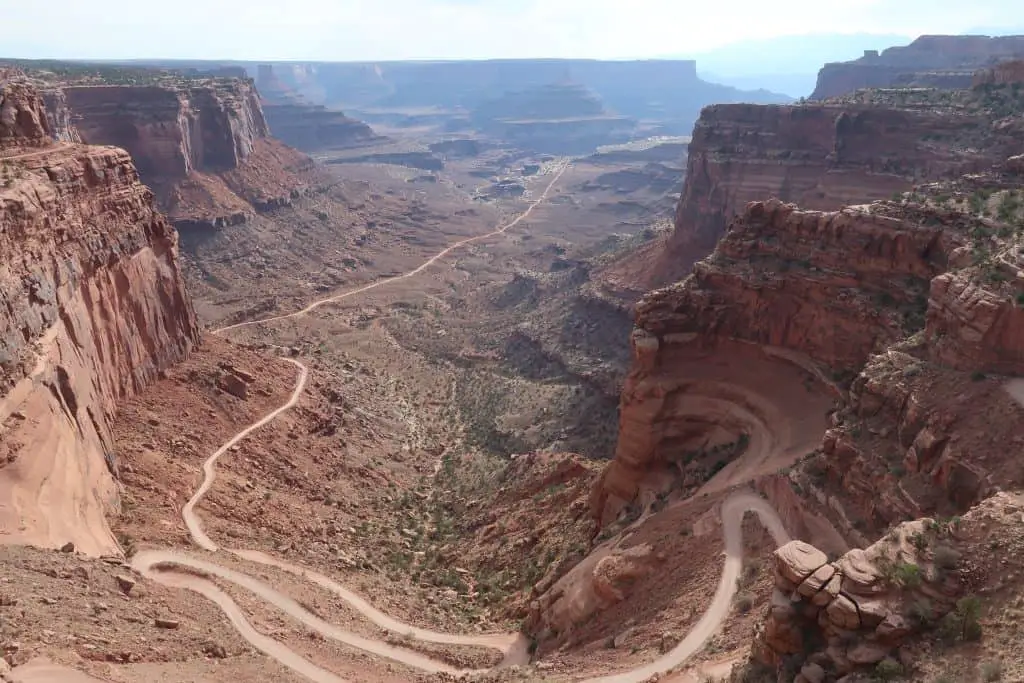 Check out the Visitor 's Center on the way out of Canyonlands
All the highlights listed here will let you see the Island in the Sky district of Canyonlands in one day. If you followed this itinerary completely, you'll probably be exiting the park somewhere between 10 am and 1 pm – which is a pretty full day, considering you started before sunrise!
Check out the Visitor's Center on the way out to buy souvenirs, use the restroom, and buy more water if need be. At this point, you can decide to head back to Moab or get just a little bit more adventure in!
Bonus: swing by Dead Horse Point State Park on the way back to Moab
If you're not quite ready to return to Moab after visiting Canyonlands, you can check out Dead Horse Point State Park. Dead Horse Point is right on the way from Canyonlands to Moab, so it's a super easy – and scenic! – stop.
I was planning on doing this, but like I mentioned above, I had some car problems. It's a long story, but basically, my car battery died and I was worried I had alternator problems. This meant that, after getting jumped, I had to book it straight back to town for a battery evaluation.
However, most people won't have these problems, so Dead Horse Point State Park is a great stop!
If you just want to see the main site, check out the Dead Horse Point Overlook. This is the most popular attraction in the Park and doesn't require any hiking. Look how beautiful this is!
If you're looking for some more adventure, Dead Horse Point offers up some relatively quick hiking trails. Check out the options here and see if anything interests you!
Head back to your hotel for some R&R and a shower
After exploring one National Park and possibly a State Park, you deserve a shower and a nap. Clean up, relax, and get ready for your evening.
Enjoy dinner in Moab
Now that you're feeling refreshed and clean, you deserve an awesome dinner after all that hiking you did!
I know I've said it a few times, but Moab has some really legit dining options, so good luck picking!
Antica Forma
Antica Forma serves up wood-fired Neapolitan pizza and it is legit delish. Made with fresh ingredients and delightfully chewy crust, Antica Forma serves up pizzas that are sure to please anyone in your party.
I ordered the namesake pizza – the Antica Forma – and loved it. Caramelized onions, balsamic, mozzarella, basic, and prosciutto – does anything sound more delicious?!
They were absolutely packed when I showed up but the servers were really friendly. If they're packed, be patient and kind to your server.
Blu Pig BBQ
If you want something really filling, Blu Pig BBQ is the way to go.
I live in Houston and have access to some of the best BBQ around, and I still found Blu Pig to be awesome BBQ. One of my favorite things ever is burnt ends, so you can imagine how thrilled I was to find a burnt ends sandwich.
This is KC style BBQ, which is my favorite kind.
Save room for dessert because the peach cobbler is out.of.this.world.
Moab Brewery
Not many restaurants in Moab are open past 9, which is how I came across the Moab Brewery. I had wanted to try Thai Bella (mentioned below), but they were closed by time I showed up.
Moab Brewery was pleasantly surprising, though! The food was great, the beer was refreshing, and the vibe was awesome. If you have a picky crew or just want to enjoy a cold one, you can't go wrong at the Moab Brewery.
I wanted something light so I ordered the fish tacos. The fish was light and fluffy and the guacamole portion was super generous. The portion was HUGE and I definitely couldn't finish it, but I enjoyed every bite that I had.
The nachos and burgers looked legit, too. I left happy.
Honorable Mention – Thai Bella
So many people recommended Thai Bella to me, so I can only assume it's wonderful. I arrived too late (sad day), but if you have the time and love Thai food, Thai Bella is super highly recommended!
Wondering what not to miss in Canyonlands National Park? With this one-day itinerary, you can experience everything in the Island in the Sky district!