Everyone knows that taking a vacation is good for your health, but did you know trip planning is just as beneficial as taking the trip? Taking that coveted week away from the office, allowing yourself to unplug (at least a little bit!), and savoring the experience allows us to return to our jobs feeling reinvigorated and refreshed, but planning the perfect trip builds up anticipation and creates a metaphorical light at the end of the tunnel.  You know that in just a few short weeks or months, you can escape – even if just temporarily.
I am one of those people that LOVES planning trips.  I was at a wedding recently and even offered to plan the newlywed's honeymoon when I learned they hadn't yet planned one.  They may have thought I was joking, but I was serious – I love trip planning.  Apparently some people find it boring or it drums up some anxiety (so many options! how to begin narrowing this down?!).  If you fall in either of those camps, maybe these tips will make the process more fun or less stressful so you can maximize the pre-trip psychological benefit.
This is written assuming you at least have a general idea of where and when you want to go.  If you know you want a trip but have no ideas on where to go, I suggest you sign up for some travel deal websites (blog post to follow) and let cheap options guide your decision making.  Once you land on roughly where you're going, come back here and I can help you organize your trip.
Travel Limiting Factors: Time & Distance
There are two main limiting factors when planning a trip: time and distance from your arrival and departure airports.  If you're landing in Paris and departing 7 days later, Berlin probably isn't going to be a good stop in your adventure.  If you're dreaming of trekking across Switzerland, it may make sense to arrive in Zurich and depart from Geneva. 
And don't forget, every time you change cities, you need to check out of a hotel, lug everything to your next location, and check back in – at the mercy of your hotel's check-in policy.  Changing locations is a pain, so do so minimally. Plan your trip to make efficient use of your time – time is limited for office escape artists!
If you're arriving and departing from the same airport, you're going to need to stay fairly close to that airport for the length of your trip, or at least plan your travels such that you circle back somewhat easily.  If your arrival and departure airports are different, you'll need to find a way to meander from A to B so you can enjoy the journey and depart from the final airport.
Regardless of your airport plan, I recommend you open up a map and look at what cities are nearby to your airport(s) of interest. 
Know Travel Times Between Cities
After looking at the map, check out rail tables to find out approximate travel times between major hubs.  This will help you bracket your radius of where you can feasibly adventure to.
My Travel Philosophy
First let me touch on travel philosophy a little bit.  The first time I went to Europe, I was what I now call a "site snob".  I had my little list of the MUST SEE SITES of every city I wanted to visit, and I planned by day around that.  See Notre Dame? Check.  See the Astronomical Clock? Check.  My travels were focused around this list.  I had to see all the things because #yolo/#fomo/whatever.  In addition to this, I wanted to jam pack my days and go-go-go-go-go.
Traveling is not just about sightseeing – in fact, very little of travel, in my opinion, should be about sightseeing. It took a lot of time for me to come to that realization, but now that I have, my travels have become richer and far more enjoyable.  Traveling should be a little selfish.  Sleep in if you want to.  Take a leisurely lunch.  Go read on a park bench and watch the world go by. 
I say this because I don't want you to be a checklist traveler.  If you're departing from the US on a Friday and coming home the following Saturday, that only gives you 6 full days in your destination.  Don't try and jam pack Paris, Brussels, and Amsterdam in those 6 days.  Be realistic, plan in some lazy time, and focus on enjoying your trip, experiencing the moment, and savoring your time off instead of checking off some boxes.
Your "Perfect Trip" Wish List
Ok.  Back to the travel planning.
Based on your airports, build up a travel wish list.  For instance, I just returned from Switzerland.  I arrived in Geneva and departed from Zurich, with 7 full days at my disposal.  Those became my limiting factors and I had to plan everything around them.
Because I arrived in Geneva, my arrival-day limiting factor was twofold: (1) likely being jetlagged, and (2) having to remain realistically close to the Geneva airport.  What I mean by that is it wouldn't be wise to plan on landing in Geneva but trekking to St. Moritz – that's too far.
Likewise, my departure from Zurich was early in the morning – 7:45 am – so I knew my final night at the very least had to be spent in Zurich.
Knowing these limiting factors, I build a table with one day per row.  On my arrival and departure days, I fill in my limiting factors: close to Geneva and Zurich, respectively.  From there, I have to fill in the 5 remaining days in-between.
This is the fun part, in my opinion.  My wish list is bracketed, but empty. 
Travel Research
Start up a Google doc and begin your searching.  I like Google docs because they are live documents that auto-save and can be added to collaboratively – this means all your travel companions can contribute easily!
I always start my research with the more obvious searches and build from there.  Start with the basic searches:
Things to do in Paris

Girls trip in Amsterdam

Romantic vacation in Nice
How to spend 7 days in Berlin
Day trips from Prague
Things to do in autumn in Switzerland
You can add anything that sounds interesting to your wish list.  You may find that there's a seasonal festival that is compelling or that one town essentially closes in the season you're visiting.  Sort your wish list by city and you'll start to see some clear winners emerge.  When we visited Tuscany, we discovered we would be there for il Carnevale di Viareggio.  The floats rivaled what you'd see for major US parades! 
When you're researching, be sure to understand which days key attractions close.  In Europe, for instance, many attractions are closed on Mondays.  You'll also want to understand the prior demand of some attractions.  The Anne Franke house in Amsterdam, for instance, practically sells out months in advance.  If you learn of this, jump on the opportunity to reserve a spot if seeing the attraction is important to you.
Research Things Off the Beaten Path
Once I've narrowed down where I'm planning on visiting, I like to find oddities to check out.  My searches may include phrases like "weird things to see" or "off the beaten path".  From those types of searches, I discovered some wonderful things, like a macaron baking class in Paris and an upside down dead horse statue in Prague.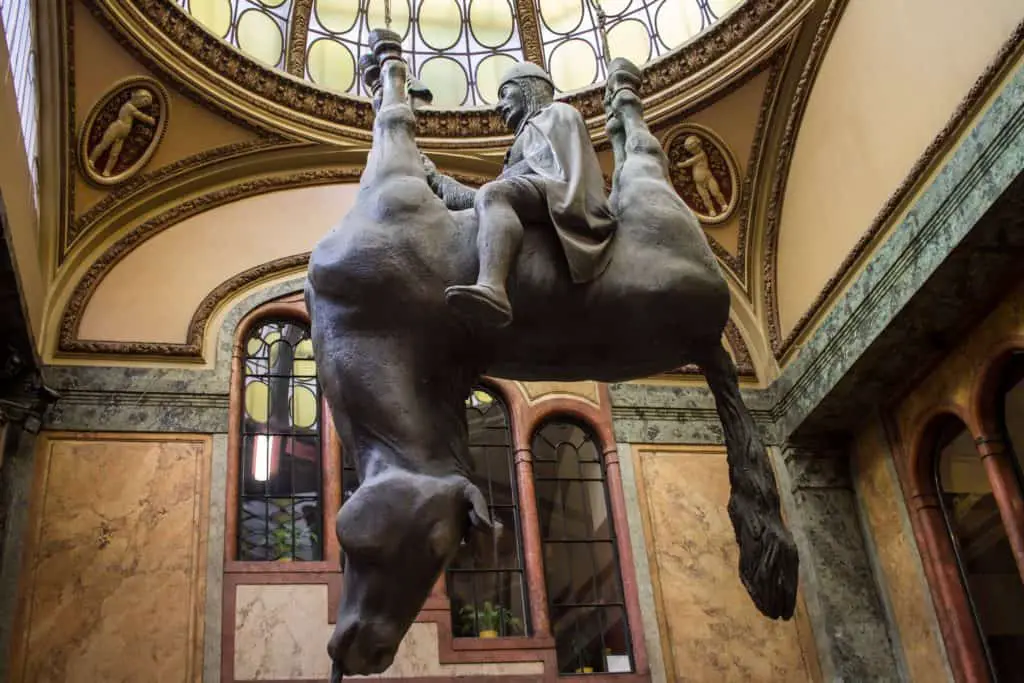 Check Out Local Tours – Especially Free Walking Tours!
I've outlined my travel style here, but something else I love researching is activities or tours.  Free walking tours, for instance, are almost always available in the more popular cities.  These always seem to have an interesting, fun perspective and I feel like you get an insiders view on that particular city. 
My favorite activity to do, ever, is some kind of alcohol tasting.  Wine tastings are always top notch, and depending on the region, you may be able to find some spectacular winery tours.  I think the best activity I ever did was a bicycle winery tour near Vienna.  Riding around slightly buzzed in the Austrian countryside was a great way to make fast friends and spend an afternoon a little more active.  You don't need wine to have a great bike tour, though – I've had bike tours in a few cities, and they are always so much fun. 
I know from all this research it sounds like I'm advocating for you to plan every single minute of your trip.  That's not it at all.  I used to be that way (remember I said I was a site snob?) – but I've learned that's not an enjoyable way to travel.  This list is more to compile potential.  You're going to want to stay somewhere that has a lot of interesting potential for you, and the more diversity there is, the easier it'll be to fill your time.  You don't need to hit everything on this list! In fact, you won't.  But now you should have a rough idea of what you want to do and how many days you'll need in each city.
Finding Accomodations
Now it's time to book your lodging! There are a lot of different ways to stay, ranging from hostels to hotels to short term rentals.  Unless you have a strong preference for one kind of lodging, I recommend you research multiple options.  You may be surprised at what you find if you remain open minded. 
In my opinion, there are a few things that matter most when selecting lodging:
Location

– it should be within walking distance to most things you want to see and/or close to good public transportation options

Reviews

– check out reviews on websites like

tripadvisor.com

and see how they're ranked.

 

If they've had a rash of bad reviews lately, it may be worth investigating someplace new.

Parking

– if you're driving, parking can add a lot of expense.

 

Is parking free? Do you have to valet?

Breakfast

– do you get free breakfast? Is it even available on-site?

Bar on site

– don't underestimate the convenience of having a bar in your hotel (or nearby, if you're doing a short term rental).

 

It's nice to have a convenient location for a quick drink.

Room service

– this isn't something that's particularly important for me, but if you want to eat breakfast in your pajamas, this may be important.

Wi-fi

– is it free? is it even available?

Membership programs

– of course, some of us chase certain points.

 

I'm more loyal to airlines than hotel chains, and I often like to stay at boutique hotels rather than chains, but if you're torn between two choices, it may be worthwhile to stay at the one with a better rewards program.
I prefer to pre-book lodging so I always know I'll have a comfortable place to sleep.  If you agree, I recommend you book once you've figured out where you want to stay. 
If you're looking for an AirBnB, you can use my link here and get a discount on your first booking. If you prefer a traditional hotel, I prefer Hotels.com. They have an awesome rewards program where you can earn one free night for every 10 nights you stay. That adds up quickly!
At the end of your planning, you should ideally have your airline tickets, lodging, and key attractions (i.e., high chance of selling out) reserved.  Leave the rest of your time free for exploring and enjoying – and, of course, for taking recommendations from locals and your lodging. 🙂
Travel Insurance
One last thing – I am a strong believer in travel insurance.  It's usually relatively inexpensive and can protect you from a lot of headache.  Travel insurance will reimburse you for inconveniences like delayed or cancelled flights, lost luggage, or medical help.  You can even buy travel insurance to reimburse you for the cost of your trip in the event you're laid off.  I highly recommend purchasing it before you go.  The peace of mind is invaluable!
I know this is a lot of information, but take it slowly and enjoy planning your journey.  Ciao and have fun planning your escape!