Everything you need to know before visiting Savannah
Ah, Savannah, the Hostess City of the South.
I first learned of this idyllic city when I read Midnight in the Garden of Good and Evil.  This book was on the New York Time's Bestseller List for the longest of any book, ever, so if you haven't read it yet, I strongly encourage you to do so.  It's based on a true story but seems too quirky to be factual, so I promise you'll be entertained.
Savannah sounded like the quintessential Southern city: antebellum charm, Southern hospitality, centuries-old architecture, and Spanish moss to shade you from the sun.
I'm originally from Colorado so I wasn't aware of the nuances in Southern culture.  The description of Savannah is what I imaged all of the South is like, but once I moved to Texas, I discovered that is not true.
Texas, for instance, is not part of the South.  It's simply Texas, huge and filled with its own micro-cultures depending on where in the state you find yourself.
New Orleans has Southern charm, but it is a mish-mash of too many other cultures to feel distinctly anything.  North Louisiana, Memphis, and Oxford feel more urban country than anything, and Nashville feels like a giant bachelorette party.
Other than those cities listed, I had never been anywhere else in the South.
But Savannah – Savannah was everything I expected, everything I hoped for.  If you're looking for a leisurely pace, amazing food, fantastic hospitality, beautiful scenery, a storied history, and a beach to boot, Savannah is the city for you.
It was so easy to spend 3 days in Savannah. From exciting history to beautiful architecture to amazing food, a long weekend in Savannah is sure to satisfy.
Please note – this post does include affiliate links.  If you make a purchase through one of these links, I may earn a commission at no additional cost to you!
Where to Stay in Savannah
Savannah looks huge on a map, but in reality, the streets are much smaller and many of them are more like alleys than actual roads.  I stayed in the center of the Historic District which is marked by a red star.  From that point, nothing on the map was more than a 15-minute walk away – including Forsyth Park, at the southern edge of the map.

My hotel was the 17Hundred90 Inn, reportedly one of the most haunted hotels in Savannah. Given that Savannah s often ranked the most haunted city in America, that is something! The location was great, service was top-notch, and the onsite restaurant was delicious. I'm not sure if I was greeted by any of the ghosts, but if you want a ghost-free hotel, you may want to avoid 17Hundred90 Inn.
Other Recommended Hotels
Where to Eat in Savannah
Southern food is LEGIT and Savannah did not disappoint.  I still haven't stepped on the scale since returning… I don't want to know what kind of damage I did in my four days there!
There are so many wonderful restaurants in Savannah and this list doesn't even begin to scratch the surface.  I happened to visit these restaurants, but there are lots of other popular ones that you can check out as well.
The Pirate's House
One place I really recommend is The Pirate's House.  Given its proximity to the river, it was a hotspot for actual pirates in the early days of Savannah.  Now, however, it's famous for the delicious meals.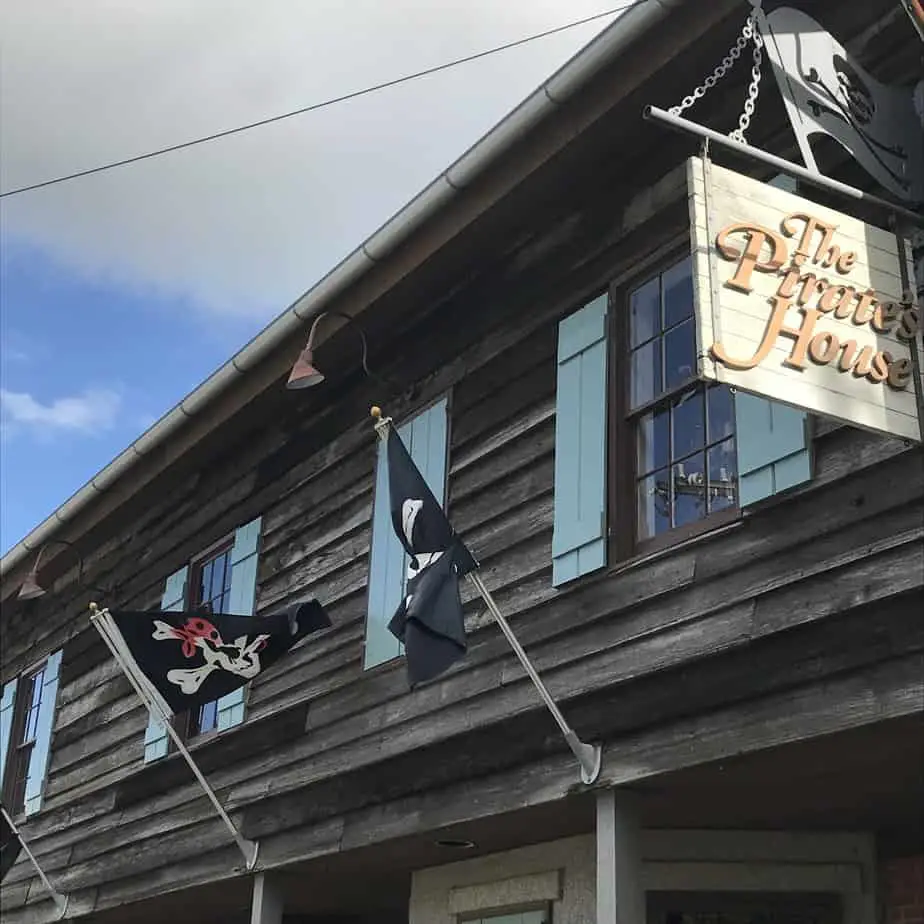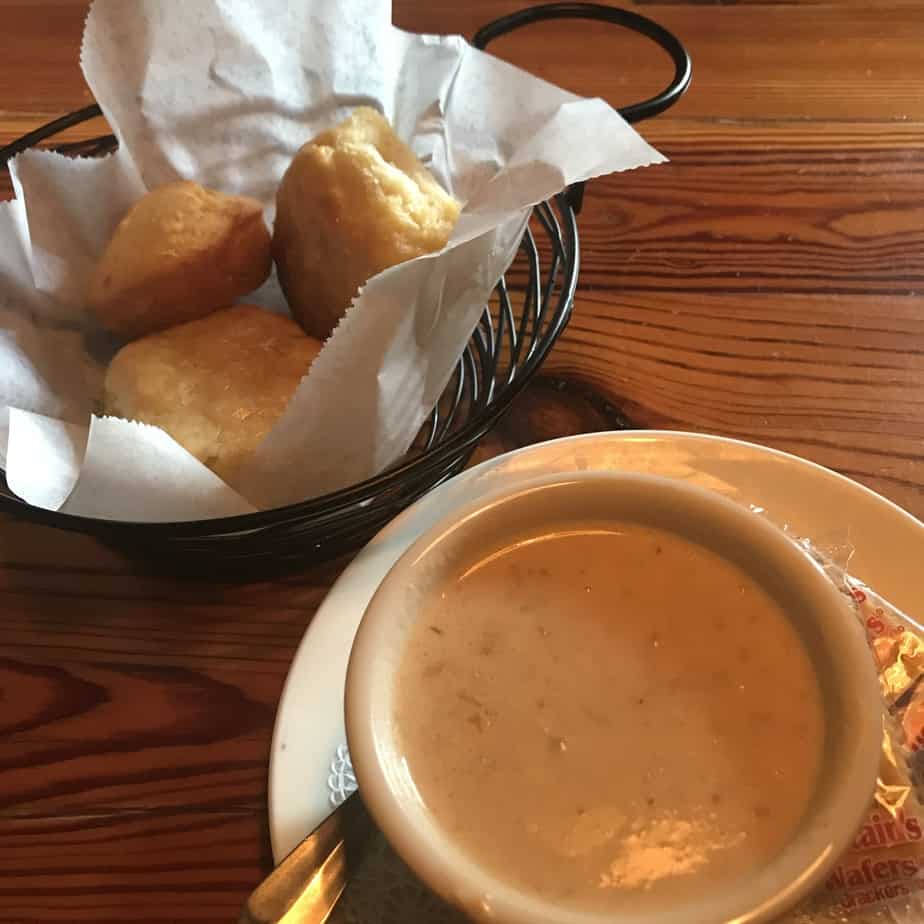 One thing you absolutely MUST do in Savannah is eat she crab soup.  My taste in seafood is hit-or-miss, but Savannah is famous for crab soup and it did not disappoint.  I'm pretty sure the main ingredients are heavy cream, crab, sherry, and love, so even if you're meh on seafood like me, it's hard to resist.  The she crab soup at Pirates House was served with the best damn biscuit I've ever had – fluffy, warm, flaky, with a side of honey butter.  I could live off of she crab soup and southern biscuits. 
For my main course, I had the award-winning pecan fried chicken.  Remember, I'm from Colorado, so my experience with fried chicken is primarily KFC.  I thought KFC was good, but then I had the fried chicken at the Pirate's House.  Y'all, I've never had a crunchy skin with melt-in-your-mouse meat on the inside.  Crunchy, moist, and drizzled with a bourbon pecan glaze.  Delish.  Obviously I ordered too much food, but #noregrets.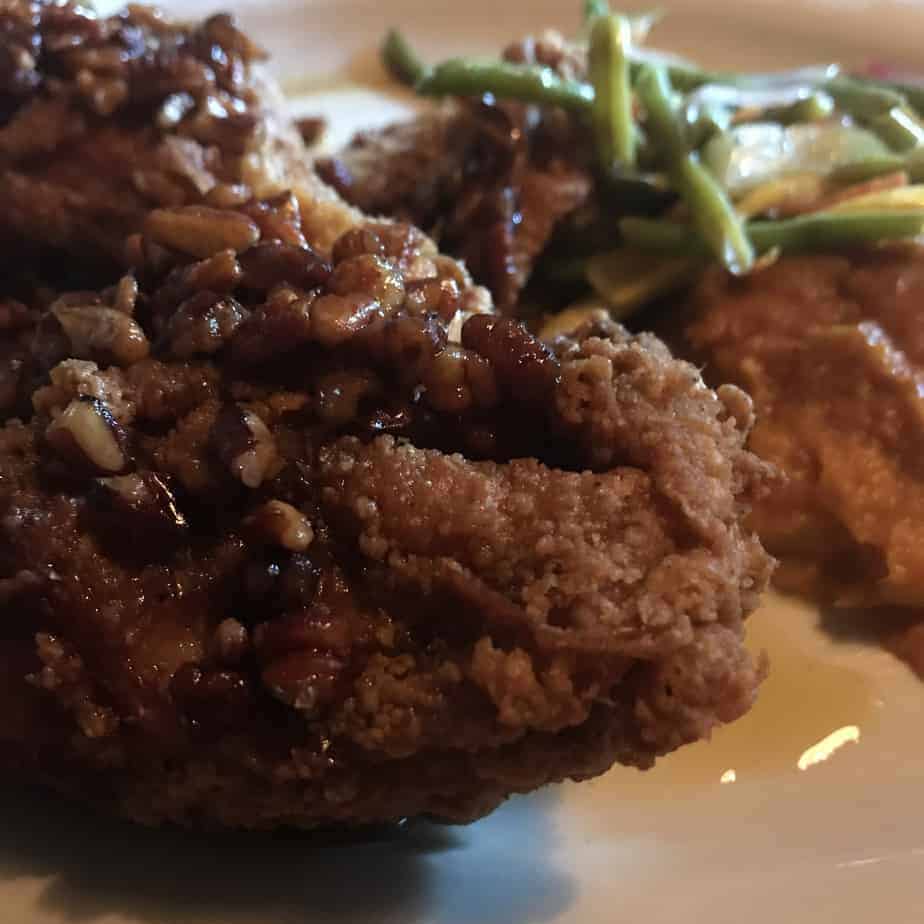 I definitely didn't have room for dessert, but I decided to walk off my food baby and see if I could make room.
Lulu's Chocolate Bar
On the other side of the Historic District is the most magical little dessert bar I've ever been to.  Lulu's Chocolate Bar is a legit bar that focuses on high-end, decadent desserts and dessert drinks.  After waddling around a bit, I decided to pop in here to see what I see.  I didn't indulge in the dessert drinks, but I did chow down on one of the best desserts I've ever had: their double chocolate peanut butter pie.  If a Reese's had a baby with a pie & a brownie, I think this would be the outcome.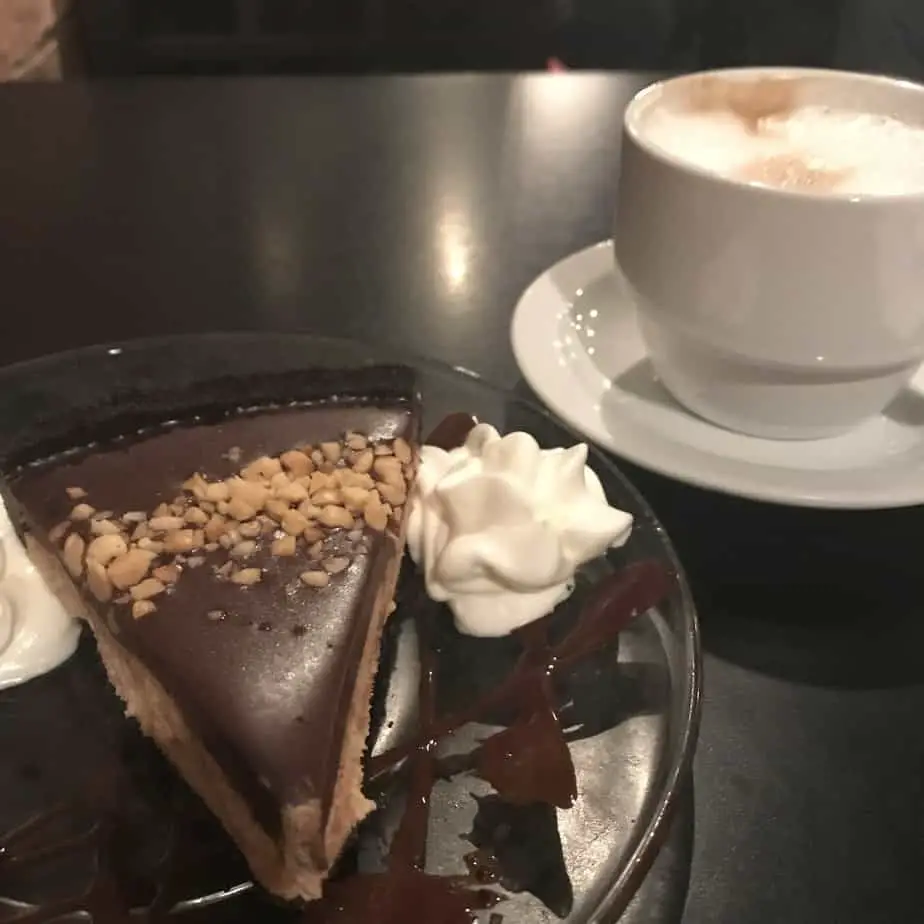 This pie is the stuff of dreams.  I loved it so much I went back to Lulu's the next evening and tried their cookies & cream pie.  It was pretty good, but the peanut butter pie stole the show.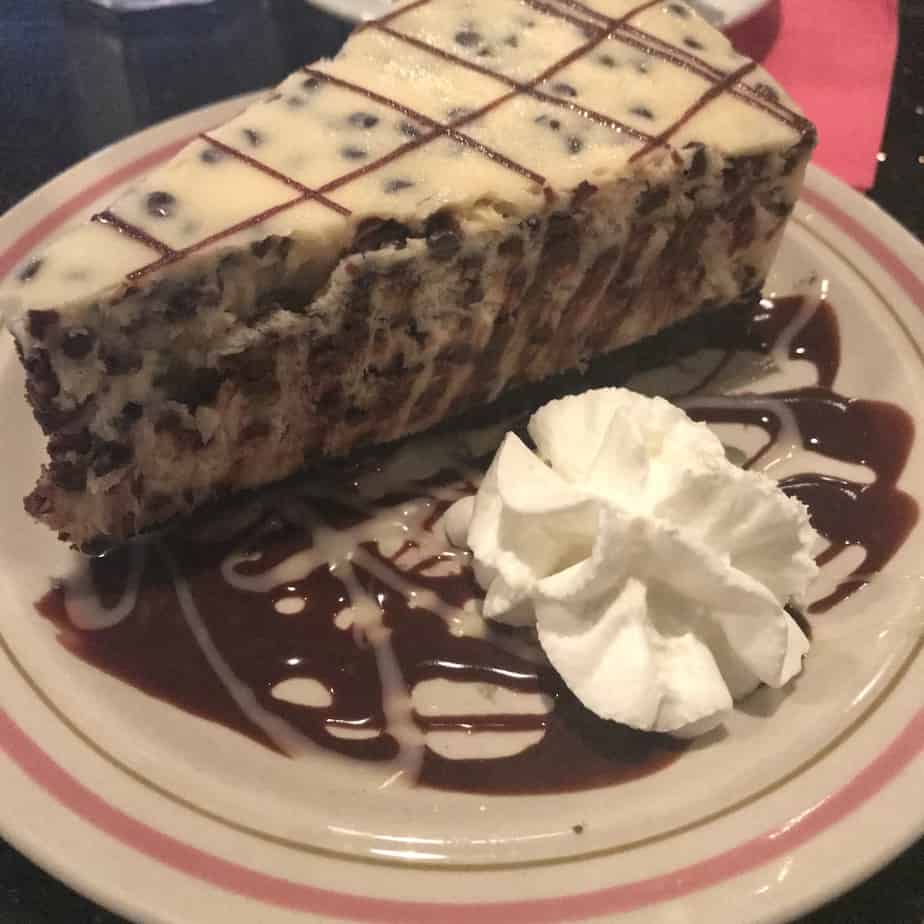 Belford's
Another meal I enjoyed was lunch at Belford's located in City Market.  They had she crab soup on the menu, but I had learned my lesson: I can't order soup AND an entree AND have dessert later 🙂 I started off with a cocktail called the honeybee – lemonade, honeysuckle vodka, and honey.  Light, refreshing, and slightly sweet.  Yum!  For my entree I had the shrimp po'boy, which came with my new-favorite condiment EVER: remoulade sauce.  I could put this magic sauce on EVERYTHING.  Eggs.  Burgers.  Sandwiches.  Probably salads.  Avocado toast.  Steak.  I don't even know what it's made off, but it is magical.
The shrimp was perfectly fried, the cole slaw crunchy and light, the fries seasoned perfectly, and the po'boy baguette was squishy on the inside and slightly crisp on the outside.
Needless to say, I loved my lunch here.
I hear their dinner is awesome.  Since I was traveling alone, I kept it more low-key, but the lunch vibe was awesome.  Think classy southern charm with the relaxed vibe of an upscale beach resort.
Leopold's Ice Cream
Don't overindulge at your lunch – I promise, you're going to want to try Leopold's Ice Cream.  They've been around for 100 years as of this year (2019), which I think is so cool.  When I showed up, the line was out the door. Thankfully, it moves pretty quick, but be ready to wait.
It's a cute, old-school type ice cream parlor with a lot of different flavors.  Since I was in Savannah, of course I had to try the Savannah Socialite: chocolate ice cream with roasted Georgia pecans and a bourbon caramel swirl.
A-maz-ing.  My favorite ice cream shop is still Sweet Action in Denver, but this is a close second.  The ice cream was smooth, almost like authentic Italian gelato.  This place is hyped up for a reason.
17Hundred90 Inn & Restaurant
I also had dinner at 17Hundred90 Inn & Restaurant.  This is probably the fanciest place that I ate at.  The dining room is adorned with numerous chandeliers and a pianist plays for dinner service.  I ordered the she crab soup (of course!) and the black & blue NY strip steak.  Y'all, this was the best she crab soup I had.  The crab chunks were huge and it was certainly the most indulgent.  In true southern fashion, it was served with flaky biscuits.
I'm not much of a steak person which makes me very picky.  I thought it was pretty good – maybe the blue cheese was overpowering, I'm not sure.  But there were so many other wonderful items on the menu, so I would whole-heartedly recommend checking this place out.
Rise Biscuit and Donuts
And, finally, for the last restaurant to make my list – Rise Biscuit and Donuts.  I went here twice and wish I could go some more.  Their website claims they have the "best dang biscuits & beyond", and I concur.
Brunch is my favorite meal but I very rarely go because I have the patience of a toddler on Christmas Eve.  I don't want to stand in line for 45 minutes to get breakfast AND overpay because it's trendy – I'm barely awake!  Sounds like too much work and too much hassle.
But Rise is conveniently located on Broughton, one of the main streets in Savannah.  Service is quick, the line never seemed too long, and the food is fantastic.  I ordered the bacon, egg, & cheese biscuit and it felt so homemade.  The egg was fried – it wasn't made from some weird egg blend or frozen and quickly re-heated.  The cheese was high-quality cheddar, and the bacon was both crispy and chewy.  The biscuit was so flaky that I had to use a fork to eat it, otherwise it would fall through my hands.
The menu looks so good.  With other offerings like chicken biscuits, avocado toast, and donuts, Rise is sure to a be a hit for anyone.
What to Do in Savannah in 3 Days
I spent 3 full days in Savannah in April and I was only bored once – and that happened to be during a massive rain storm that kept me confined to my hotel room for a few hours.
I didn't do anything particularly "exciting" in Savannah; instead, I matched my expectations with the energy of the city.  Savannah moves like a Southern drawl: lingering, slowly sauntering.
Almost everything is walkable and the walks are frequently broken up with beautiful squares.  James Oglethorpe envisioned a city that was planned around squares and 22 of the 24 original squares still exist today.
Explore River Street
Taste Honey at the Savannah Bee Company
Start your afternoon off by walking down River Street.  On River Street is a cute little shop called the Savannah Bee Company.  It's stocked with varied products focused on bees & honey.  They offer a free honey tasting which I absolutely recommend.  I had no idea that there was so much nuance in the flavor of different types of honey!  Tupelo honey is apparently the "gold standard", and it was definitely my favorite.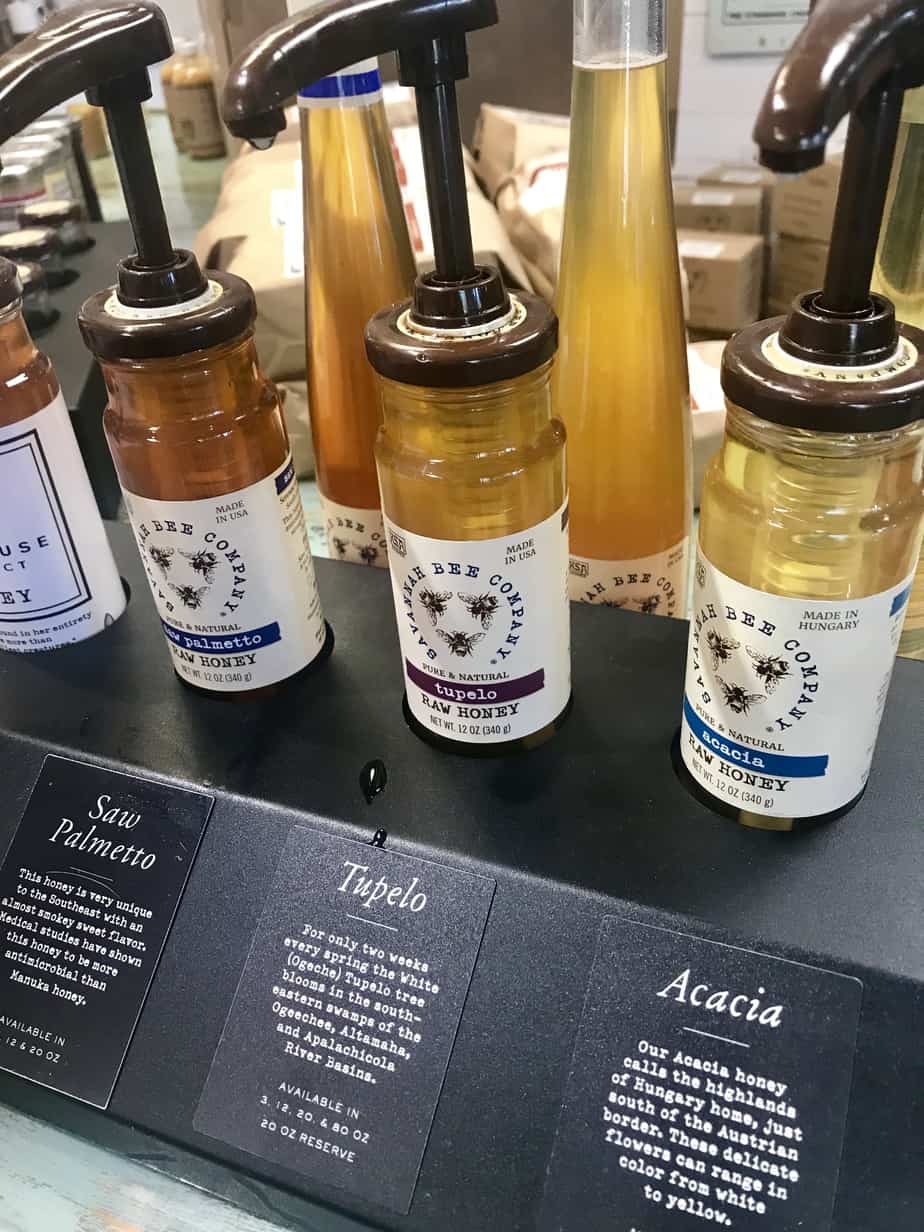 Even cooler, they offer mead tastings for $10, which includes 6 samples.  I had never had mead before but it's basically wine made with honey instead of grapes.  I learned that I'm definitely a fan of mead and it even gave me a slight buzz!
If you continue walking down River Street, you'll find tour offices, candy shops, bars (and remember, you can get drinks to go in Savannah!), river boats, cargo ships, and squares where you can relax and catch the breeze off the river.  There's one square on River Street that's so small, you'll almost miss it.  If you stand in the center and talk, you'll hear a distinct echo of yourself.  Try and find that the next time you're in town!
Enjoy a cocktail at Top Deck
One bar I really enjoyed was Top Deck in the Cotton Sail Hotel.  It's a trendy rooftop bar on the river's edge with cocktails, wine & beer, and higher-end bar bites.  Almost all the seats give you a great view of the river and the nice breeze helps neutralize the heat.  I loved being able to sip my sparkling peach martini while reading and watching cargo ships float by.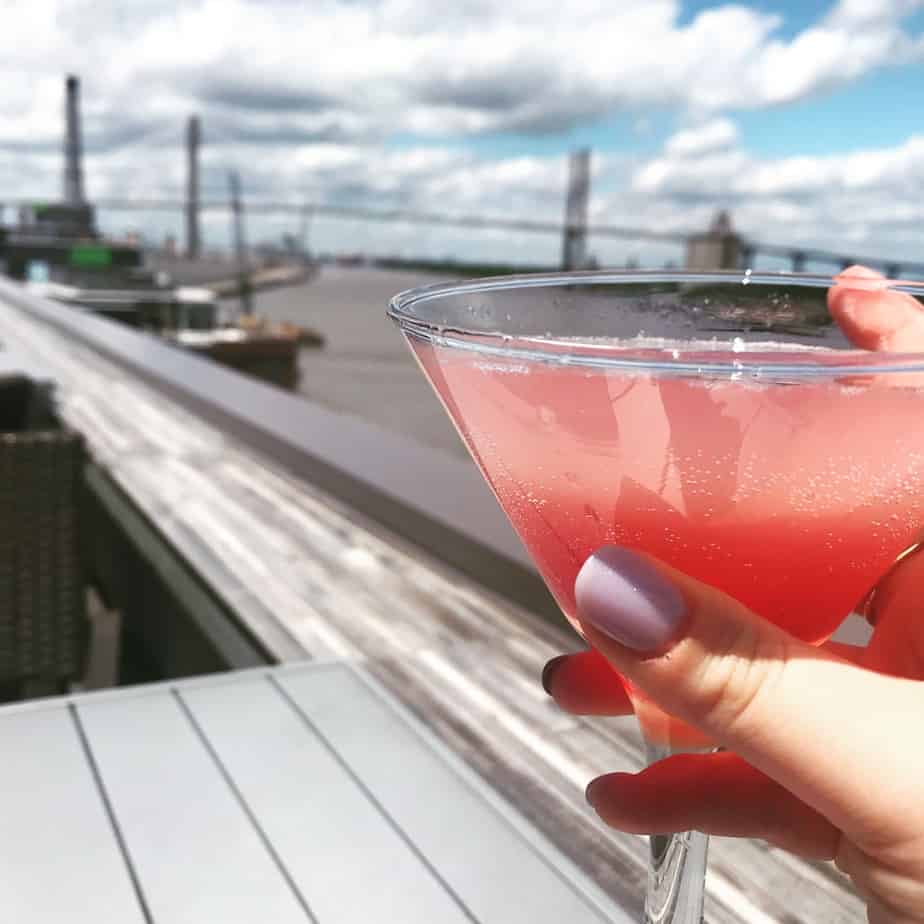 Savor the scene at City Market
After walking around River Street, you should head to City Market.  City Market is one of the main hubs of Savannah – bars, restaurants, live entertainment, shops, and a museum occupy these few pedestrian-only blocks.  Belford's, mentioned above, is located in City Market.
On the way there you'll find more of the beautiful Savannah architecture:
Enjoy some wine at the Georgia Tasting Room
While in City Market I stopped at the Georgia Tasting Room.  For $3, you get 6 samples of wine, many of which is made in Georgia!  You get the tasting for free if you end up purchasing a bottle, too.  Plus they offer souvenirs and slushy wine-based beverages.
I'm not a big fan of fruit wines but I tried the Haunted Key Lime wine mixed with prosecco and it was delish.  Slightly sweet, slightly sour, super refreshing – it would be perfect on a warm night with friends.
Learn some history at the Prohibition Museum
Down the street but still within City Market is the Prohibition Museum.  I've mentioned before that I'm not a big fan of museums, but this one came highly recommended, so I decided to check it out.
This is one of the most interactive museums I've been to.  There are docents throughout who stay in character and give some insight to the turmoil that surrounded prohibition.  The exhibits are even interactive, too, with some reminding me of the moving portraits that appear in the Harry Potter series.  Honestly, the Prohibition Era had never interested me, but this museum changed my mind.  There is so much complex and turbulent history and this museum does a good job of capturing that.
Stroll down Broughton Street
If you continue south, you'll run into Broughton Street.  It's a big shopping street and has everything from well-known brands to tourist trap souvenir shops to high-end boutiques.  One of the more famous boutiques is the Paris Market, which sells Parisian home decor as well as coffee and macarons.  It's worth a stroll through, even if you're not in the market for French antiques!
Explore the many squares of Savannah
Continue walking south and exploring all the different squares of Savannah.  My favorite square is Chippewa Square.  Did you know this is where the opening scenes of Forrest Gump were filmed?!  It's a large, peaceful square and I frequently came here to read.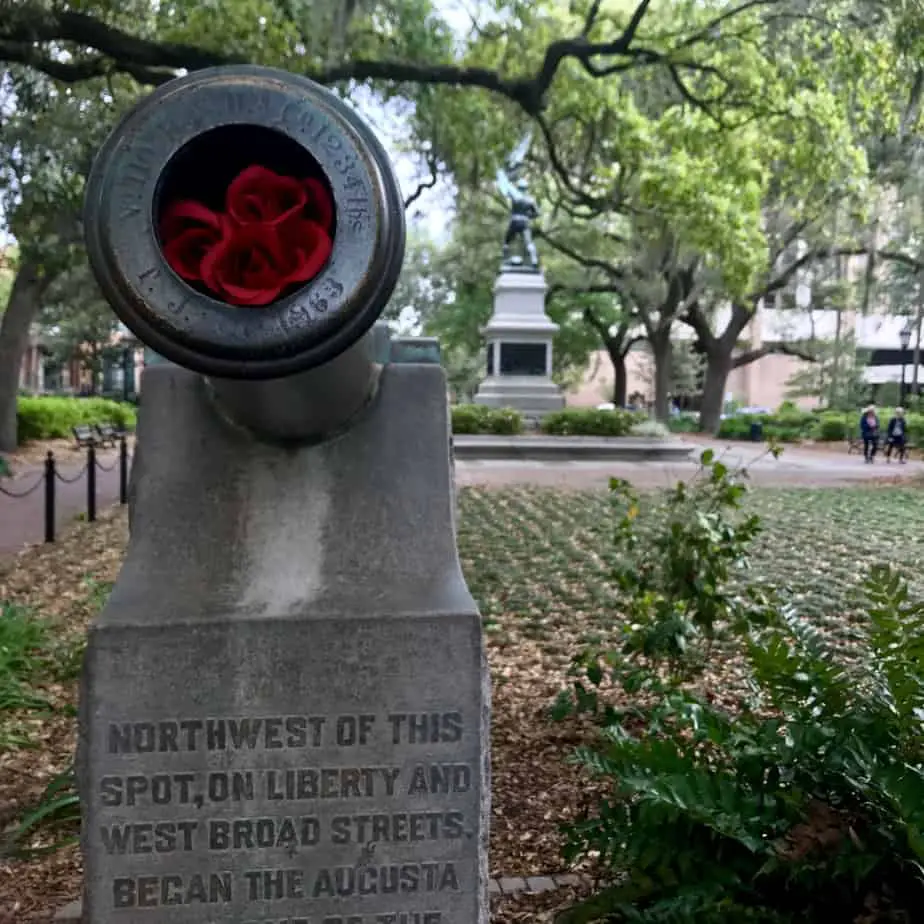 Really, though, any of the squares are amazing.  There's nothing better than getting an iced coffee and reading a good book on a bench under the Spanish moss.
As you head south, be sure to make a few detours: Chocolat, SCAD's shop, & Jones Street.
Chocolat is a fancy chocolate shop with a super cute concept: grab an adorable little tray, go through the cabinets, and pick out the pieces of chocolate you want! If you can't tell, I definitely have a sweet tooth 🙂
SCAD (Savannah College of Art and Design) has a huge presence in the city and their gift shop is definitely worth a stop.  Every single item in the store is made by either a current student, an alum, or a faculty member.  You're not going to find the traditional college sweatshirt here – everything in the store is legitimate art.
And a trip to Savannah isn't complete without a jaunt down Jones Street.  Jones Street is known as the "most beautiful street in America" and it didn't disappoint.  Pictures don't do it justice, but it's worth a leisurely stroll.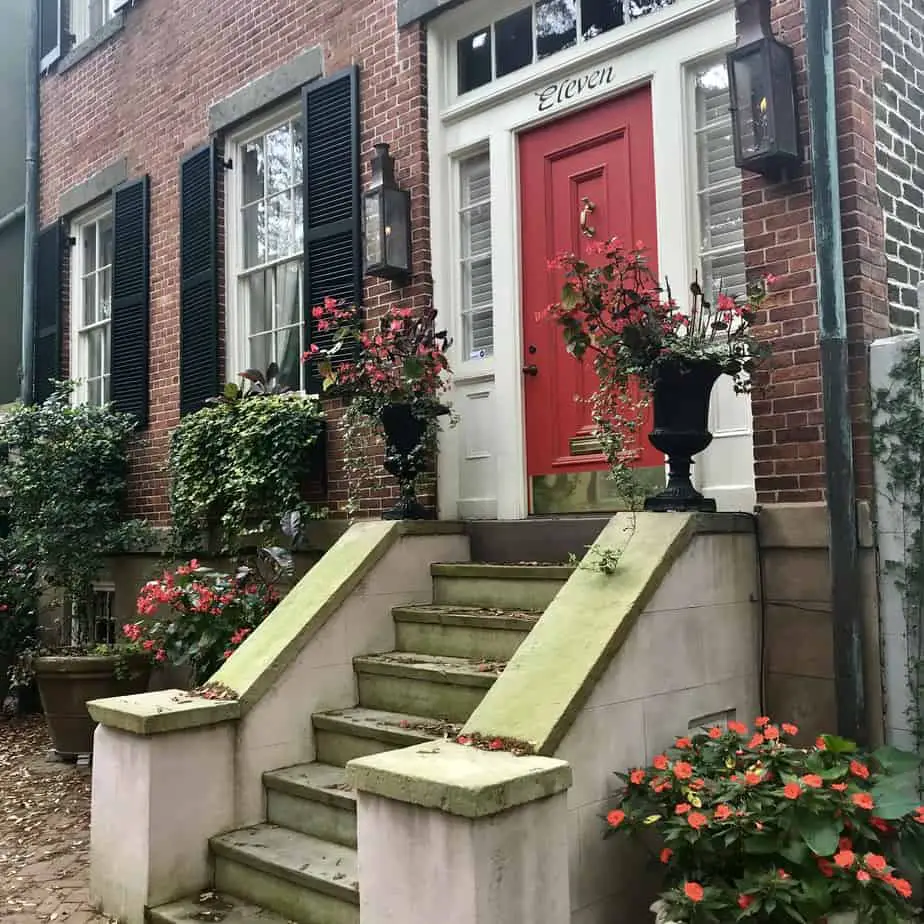 Visit the Mercer-Williams House
If you're a fan of Midnight, you absolutely must visit the Mercer-Williams House.  Jim Williams is the main character in the novel and his house is the center of the story.  It's a beautiful antebellum mansion that offers tours every 15-20 minutes during their open hours.  There are so many historic house museums in Savannah to visit so it can be hard to pick the most interesting ones, but I recommend checking this one out if you read the book.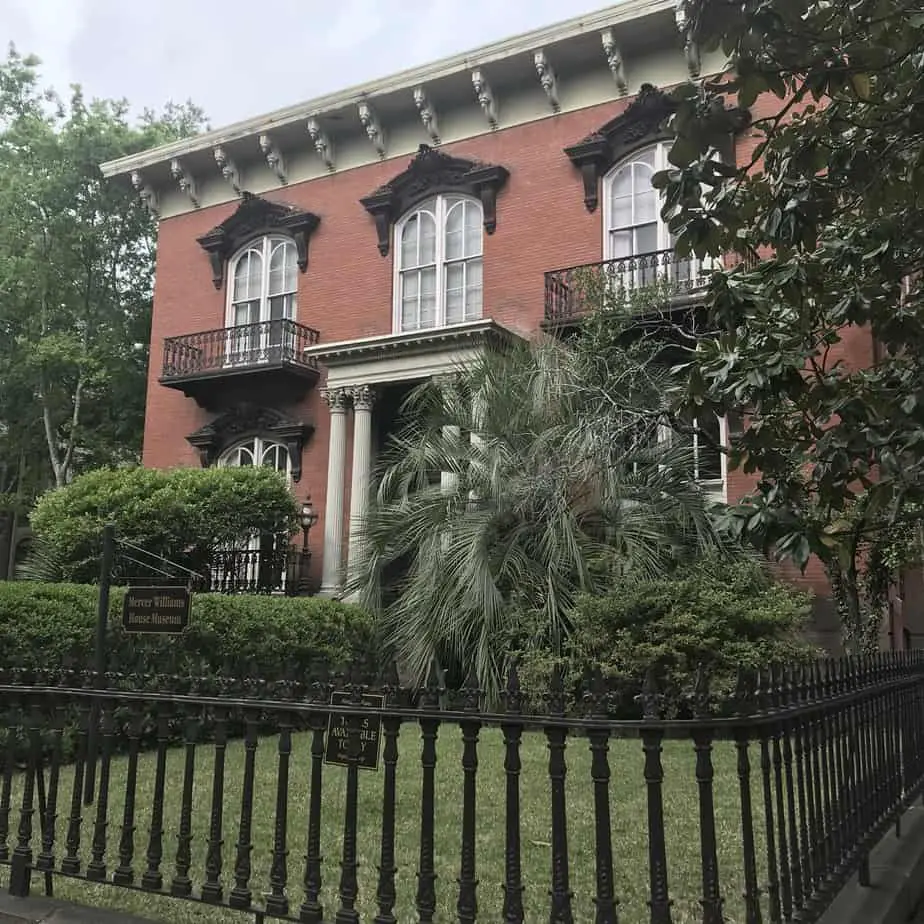 Spend some time at Forsyth Park
After visiting the Mercer-Williams house, you need to continue south to check out Forsyth Park.  It occupies over 30 acres and has all the beauty of the other squares but also has a playground, tennis courts, a theater, and weekend farmer's markets – plus more.  A visit to the park isn't complete without snagging a picture of the beautiful fountain in the center.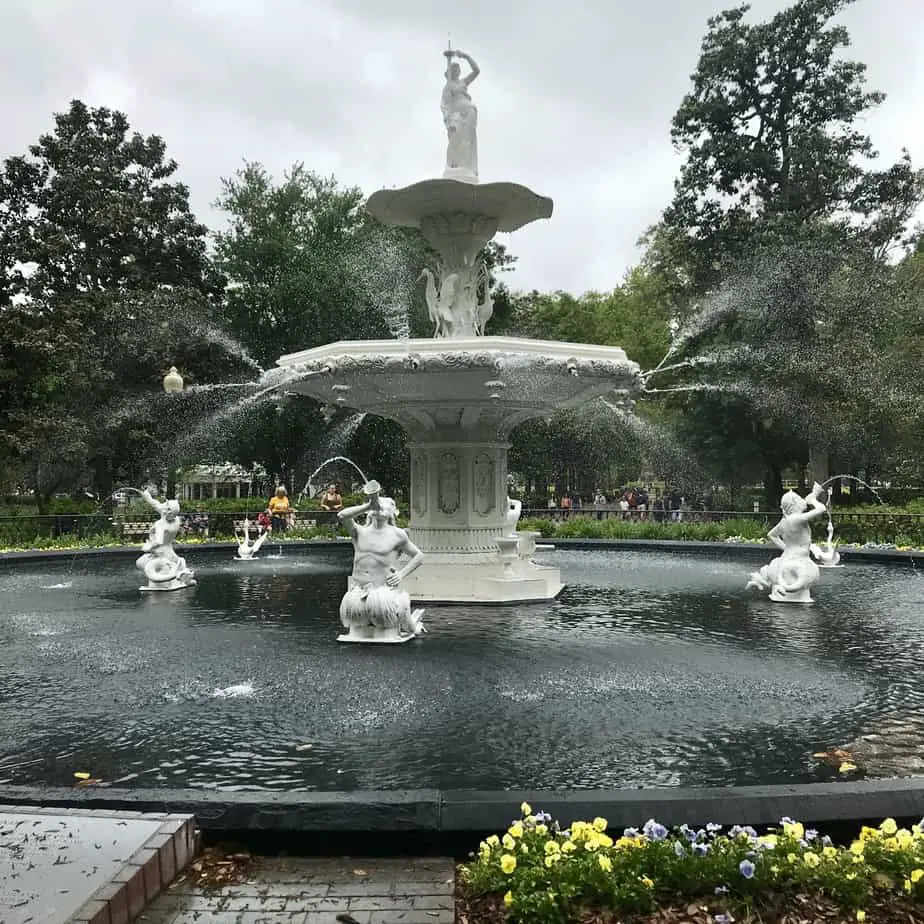 Tour Bonaventure Cemetery – After Hours!
Although not in Savannah proper, one of the coolest things I did was a Bonaventure Cemetery After Hours tour.  Most people don't get the opportunity to explore the cemetery after it closes, so this tour, offered on Saturday evenings exclusively, is a good chance to do that.
Shannon Scott is the tour guide and he does an excellent job.  There are so many interesting (and honestly surprising) stories that make up Savannah's history and it would be impossible to really appreciate the cemetery if you weren't aware of these stories.
It is a 3 hour walking-and-standing tour so it can be a bit exhausting.  If you wear comfortable shoes, bring bug spray, and pack a water bottle, I can promise you you'll enjoy it.
Not to mention… it's a little bit creepy being in this gigantic cemetery as the sun sets!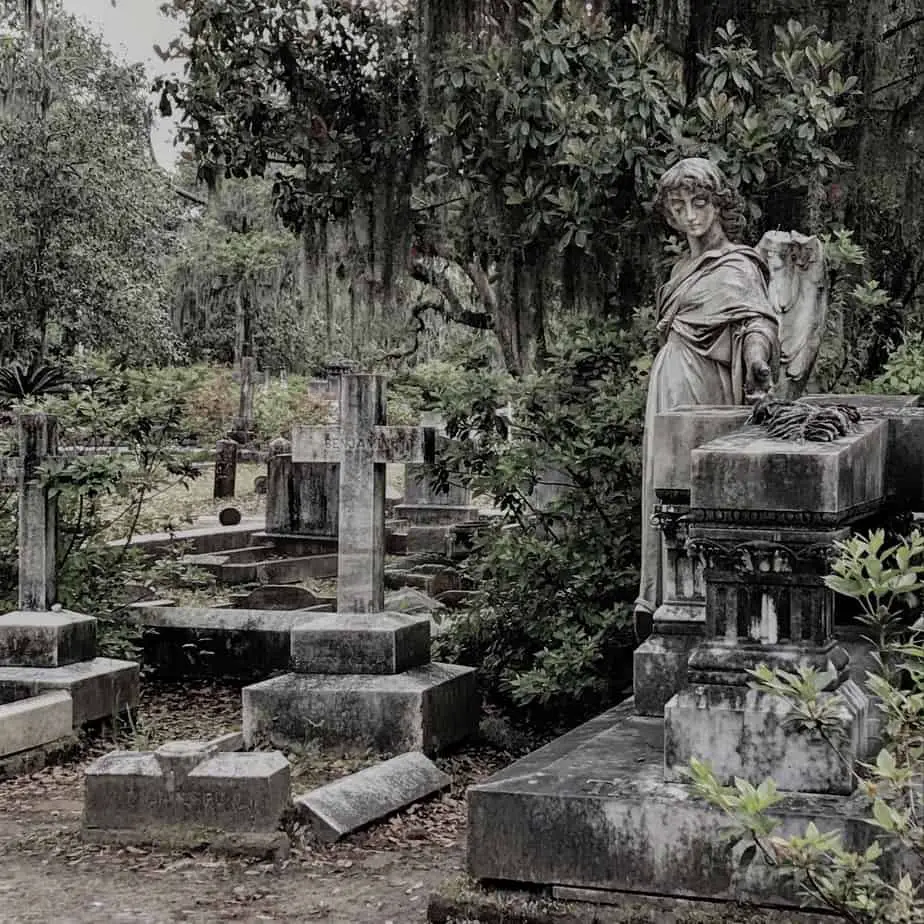 And as a bonus – I made two new friends on the tour! They even invited me to join them on their dinner reservation and we exchanged contact information.  This is one reason traveling is so magical to me… I love being able to make friends from all over the world and share stories and experiences.
Savannah is wonderful because you can just wander and stumble upon something interesting.  Don't be bound by any lists you find – if anything, use them a guide and be open to finding something else along your journey.
Other Things to Do in Savannah
And before I leave… some other comments on things to do or see in Savannah…
As I mentioned, there are many house museums in the city.  If you love museums, I'd recommend looking more into those.
I did a hop on/hop off tour and really did NOT enjoy it.  It takes 1-1/2-2 hours to cover a relatively small section of the city, so it was a bit frustrating knowing I could walk so much faster.  The hop back on feature seems appealing, but the buses or trolleys come every ~20 or so minutes.  Given you can walk literally anywhere in the Historic District in 20 minutes, it feels like a marginal benefit.
I had wanted to do a ghost tour but ended up not taking one because I was too tired after the Bonaventure tour.  I hear they are really good (Savannah is famed to be the most haunted city in America!), so it's definitely on my list for next time.
For some reason I wasn't really in a big drinking mood, so I never took a drink to go.  I intend to check out Wet Willie's the next time I visit.
I also didn't end up making it out to Tybee Island, but it's on the list for next time.  It's only about half an hour away… hello beach vacay!
Overall, was one of the best weekend trips I have taken.  Savannah is a magical city with so much to offer, so if it isn't on your bucket list, be sure to add it and plan your visit soon.
---
The Ultimate 3-Day Itinerary for Savannah, Georgia
Savannah is such a magical city and is absolutely worth visiting. Savannah offers something for every kind of traveler, from amazing museums & historical sites to world-class food to creepy cemetery tours to great places to party.
If you're looking for a domestic getaway, be sure to consider a long weekend in Savannah – you won't be disappointed!