Looking to beat the crowds and enjoy a beautiful European city? Spend one day in Ghent to experience the magic!
I was lucky to stumble upon Ghent. I remember researching the towns in Belgium and the primary three kept popping up: Brussels, Antwerp, and Bruges. When I was reading about those towns, Antwerp sounded artsy, Bruges kept getting described as "the Disneyland of Belgium", and Brussels really only seemed to have a peeing boy statue as its claim to fame. Some bloggers here and there would sprinkle in mentions of Ghent, but mostly as a good day trip. After exploring further, I decided that I wanted to stay in Ghent.
Located practically in-between all three cities, Ghent seemed to accomplish the main things I was looking for: 1, convenient to public transportation; 2, less touristy; and 3, inexpensive!
I quickly discovered that Ghent is a hidden gem in Belgium. I thoroughly enjoyed my time there, despite being a much lesser-known town in the small country of Belgium. Find out the 15 best things to do with one day in Ghent in this complete guide!
Please note: this post may contain affiliate links. What that means is, if you click on a link and make a purchase, I may make a commission at no additional cost to you. For more information, please see my Affiliate Disclosure.
Ghent, Gent, or Gand?
Belgium has multiple recognized national languages. Dutch, French, and German are formally recognized as official languages but there are ~10 recognized regional dialects, as well. Not only that, many Belgian students learn English or Spanish in school!
As languages change, so do the regional spellings of the different cities within Belgium. I discovered this on my way to Ghent.
I was on the train connecting Brussels and Bruges, waiting to get off at Ghent. Unfortunately, I missed my stop because the city was spelled differently than my expectations. I don't remember how it was spelled but it was likely either Gand or Gent – there are many names. I missed the stop, had to turn around in Bruges (aka Brugge – again, multiple languages). My train ticket was not valid for that trip so I got stopped by the ticket checker who, thankfully, let me go without penalty.
Be mindful of this when you venture to Ghent. It has two implications:
1: Spellings may not be what you expect. When in doubt, ask for clarification. Belgians are wonderfully nice people, in my experience, and will be more than happy to help.
2: Belgians speak a LOT of different languages. This means their individual fluency in non-dominant languages (like English) may be lower than you're used to in Europe. Be polite, ask if they speak English, and speak slowly (not loudly!).
The Best Places to Stay in Ghent
The train station drops you off in a very modern section of Ghent. Because of that, I would strongly discourage you from staying near the train station. Instead, be sure to venture into the historic center. Somewhat small but definitely quaint, the historic center of Ghent is absolutely stunning and where you will be spending almost all of your time.
In the map below, the center of historic Ghent is located in the area labeled Gravensteen and Saint Bavo's Cathedral. For comparison, the train station will drop you off just southwest of Museum voor Schone Kunsten. That's quite a distance! Stay in the heart of the action – trust me, it's worth it.
When I visited, I was backpacking – this meant I was staying in hostels.
If you're looking to stay in a hostel, whole-heartedly recommend Hostel Uppelink. The location was unbeatable, the beds were crazy comfortable, breakfast was included, AND their bar served my favorite beer *in the whole world* for something like 2 euro!
Honestly, it was the best night of sleep I ever got in a hostel.
If you're not backpacking, these hotels all make great options:
1898 The Post
Modern decor and antique charm meet at the gorgeous 1898 The Post hotel. Just minutes from Gravensteen Castle, you absolutely cannot beat this location. Guests rave about this hotel, calling it a "once or twice in your life" destination.
Pillows Grand Boutique Hotel Reylof Ghent
A beautiful pool just off a courtyard, stunning private terraces, and highly rated breakfast wait for you at Pillows Grant Boutique. Stay in the heart of the city while being tucked away in this luxurious retreat. After enjoying the city, you can check out the spa, too!
Hotel Harmony
With a stay at Hotel Harmony, you'll be centrally located in Ghent, steps from Gravensteen Castle and 9 minutes by foot from Saint Bavo Cathedral. Enjoy river view rooms that overlook the Medieval historic center of Ghent. You can't beat this central location!
The 15 Best Things to do with one day in Ghent, Belgium
Take a free walking tour
I say this all the time: free walking tours are the best.
(they may be free, but you need to tip your guide at the end.)
Meet at Hostel Uppelink to take the free walking tour. I always recommend taking your tour the day you arrive. It's a great way to quickly learn the city's history, get insider recommendations, and figure out what else you want to check out during your visit.
Residents of Ghent have a reputation (dating back centuries!) of being "headstrong and awkward". What a description. Ghent once was one of the most important cities in Europe and free walking tours are a good way to learn and appreciate that history.
Explore all the cool art around the city
Have you ever seen graffiti in a classic, Gothic city? Probably not. Most cities wouldn't allow graffiti but Ghent embraces it.
If you're into this, check out this map for a self-guided street art tour!
Explore Gravensteen
Gravensteen means "Castle of the Counts" and it's nearly 1000 years old. With turrets, a moat, a torture museum (as well as a history of torture), it's something you can't miss in Ghent.
Climb the Belfry Tower!
There are three main towers in Ghent and the view from the top of the Belfry is unbeatable. While you're there, be sure to learn about the watchmen in the tower's basement and the dragon that guards the top of the tower!
Marvel at St. Nicholas' Church & St. Bavos Cathedral
I am not a religious person and many churches end up looking similar (once you've seen one Gothic church, they all start to blend together). But Ghent's religious buildings are definitely worth checking out.
The organ in St. Nicholas' Church is HUGE. St. Bavos Cathedral was being renovated when I visited so I didn't get a chance to check it out.
Linger at the St. Michael's Bridge
A beautiful bridge in the center of the historic center, you can see almost all the beautiful Gothic sites from the bridge. Linger, people watch, read a book – it's worth staying a while.
Take a canal cruise
Ghent's canals are not as famous as those in Amsterdam but they are similarly wonderful. Hop on a boat and enjoy the sights and sounds from the water!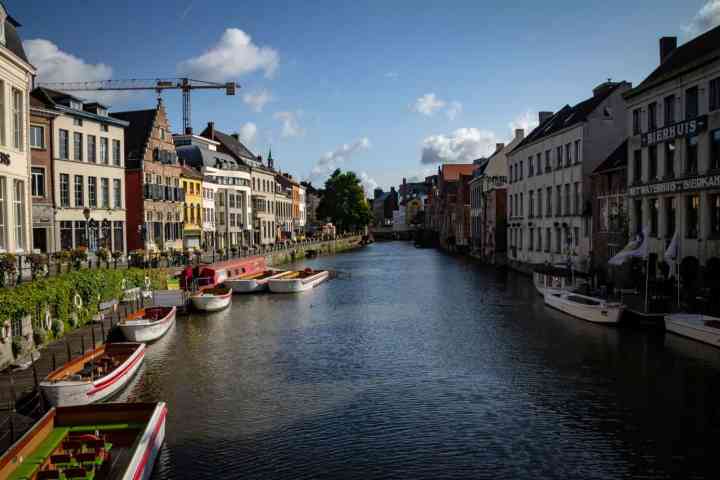 Or better yet, kayak!
Did you gorge on fries, beer, and chocolate? If you'd rather get some exercise in, kayaking the canals in Ghent is a great way to still see the sights and get your heart rate up a little bit. You can rent kayaks at Hostel Uppelink (noticing a trend here?) through Kajaks Korenlei.
Check out the Stadshal (and decide if you like it or not)
A contemporary canopy (ish) structure in the middle of the historic district. It uses modern materials and is both criticized and acclaimed for this. When I was in Ghent there was a piano in the middle of the structure which lent itself to an interesting acoustic experience.
Explore Ghent at night
Ghent is beautifully lit up at night. If you are a photographer, pull out your widest lens and explore!
Savor the delicious Belgian food, like…
The primary foods that Belgium is famous for are beer, waffles, fries, beef stew, and chocolate. Delish!
Beer! Especially beer that requires a shoe.
Belgian beer is my favorite. IN THE WHOLE WORLD. I talked about how much I love Belgian beer in my post about Amsterdam. I could almost live off of Lindeman's Cherry Lambic Beer. Yum.
Lambic beer is interesting. The brewing method is … funky? Less controlled? Technically they are a sour beer and I do NOT like sour beers. The addition of fruits, however, gives a tart sweetness that is easy to finish. The bar at Hostel Uppelink has fantastic drink prices and a great view of the historic center!
Belgium is also famous for trappist beer. Trappist beer is brewed by monks and only 14 breweries in the world are recognized as trappist breweries. Of those 14, 6 are in Belgium! So, when in Belgium, we drink beer.
Speaking of beer that requires a shoe…
Have you ever been to a bar that will pour you a drink in a liter glass in exchange for a shoe? No? Well, Dulle Griet in Ghent is for you!
In exchange for the glass below:
They take a shoe as collateral and hoist it into a basket in the ceiling.
When you're done with your beer, you turn in your glass, the bell is rang, and your shoe is lowered. When I retrieved my shoe, the locals clapped. It was pretty awesome.
Belgian Waffles
Fun fact – there are two types of "Belgian" waffles: Liege waffles and Brussels waffles. When Americans speak of Belgian waffles, they usually mean Brussels waffles.
What are Liege waffles, you say?
A good Liège waffle is ridiculously delicious in a way that transcends toppings or adornments. They are simply unneeded. The rich, brioche-like dough, laced with half-melted chunks of pearl sugar, stands out on its flavor and unique texture alone. Pearl sugar is very dense, with a higher melting point than granulated sugar, but it will still melt in a sizzling-hot waffle iron. A Liège waffle is filled with unevenly distributed clusters of caramelized pearl sugar, which gives a slightly bitter contrast with the buttery waffle dough. It's a convenient snack, easily eaten at any time of day (a good one loses nothing when cold).

Taste Cooking – James Ubaghs – Waffle Town
So, obviously, you need to enjoy both kinds of waffles.
Fries
Belgian fries (aka frites) are next-level. Fried twice, they are deliciously crispy on the outside but wonderfully squishy on the inside. They can be found on street corners around Belgium and will be served in a paper cone with your choice of sauce on top.
Beef Stew – aka Carbonnade Flamande
Chunks of beef & veggies floating in a thick, salty, almost gravy-like sauce often served with frites. Delicious, filling, and usually cheap. Yes please!
Chocolate
Belgian chocolate is almost as famous as Swiss chocolate and for good reason. In fact, a Swiss man who moved to Belgium invented the praline!
Belgians take their chocolate seriously. They have rules regarding the composition of these tasty treats which helps preserve the quality. Chocolatiers are practically more common in Belgium than Starbucks in the US so you'll have no trouble finding one. Stop by and buy some delicious chocolates!
Bottomless ribs at Amadeus
There are two locations in the historic city center. I visited Amadeus Ghent 2 and it was wonderful. Bottomless ribs, curry potatoes (just thinking about them makes my mouth water!), and, of course, my favorite cherry lambic. Perfect.
Make reservations before you go. A line forms before they open – it's a local hotspot!
Ghent, Bruges, Brussels, or Antwerp?
All four cities are absolutely worth visiting, so it depends what kind of mood you're seeking in your trip.
I visited Ghent immediately after spending time in Paris and I was so overwhelmed. I was sick of crowds, tourists, and feeling the need to rush around a city. Ghent was the breath of fresh air I needed: limited crowds, nearly no tourists, but with all the lovely charm of a Gothic European city.
Ghent is an ideal base for exploring Belgium because it is nearly in the middle of Bruges, Brussels, and Antwerp. Because of that, I would recommend you stay in Ghent and use it as a base to experience the other cities. Ghent offers so much – and it's nice to escape the crowds!
Experience the hidden gem of Belgium with these 15 best things to do in Ghent