Paris is magical in the winter. Find out what to do in Paris in January in this complete guide!
I did not enjoy Paris the first time I visited. I visited in August and was overwhelmed by the crowds, sketchy street vendors, heat, and expanse of the city. I was also what I call a "Checklist Traveler" – I had a list of all the things I needed to see & do and I spent the entire trip running around trying to satisfy that list, instead of actually enjoying the city.
Curious what your travel style is? Take the quiz here!
Being a "Checklist Traveler" in Paris is not good. Paris is massive with so many things to see, do, and experience. It is truly impossible to do all of what Paris offers in one trip – or even five trips. This gave me a lot of anxiety during my first visit because I felt like I wasn't doing "enough".
I always secretly wondered if I judged Paris fairly. Would I enjoy Paris a bit more now that I had more travel experience?
Well, when I discovered I had enough miles with Delta to book roundtrip airfare to Paris this past January, I decided to go.
I quickly discovered that January is a good time to visit Paris. The weather is brisk but comfortable, the crowds are thinned out, and there are many unique seasonal attractions that you can fold into your adventure – along with the most popular attractions, too!
This guide only covers Parisian experiences unique to January and the other winter months. If you're looking for more general itineraries, check out my 3-Day and 5-Day Paris Itineraries!
Read on to find out the best reasons to visit Paris in January!
What is the Weather in Paris Like in January?
In January, Paris is brisk and chilly, but quite manageable. I visited in early January and experienced weather ranging from 30 degrees Fahrenheit to 50 degrees Fahrenheit. It was overcast most days, slightly humid, with no more than a light breeze.
You can see the Eiffel Tower shrouded in fog below. That picture was taken on the coldest day I was in Paris, where it hovered around freezing all day. She's beautiful even with the blanket of fog!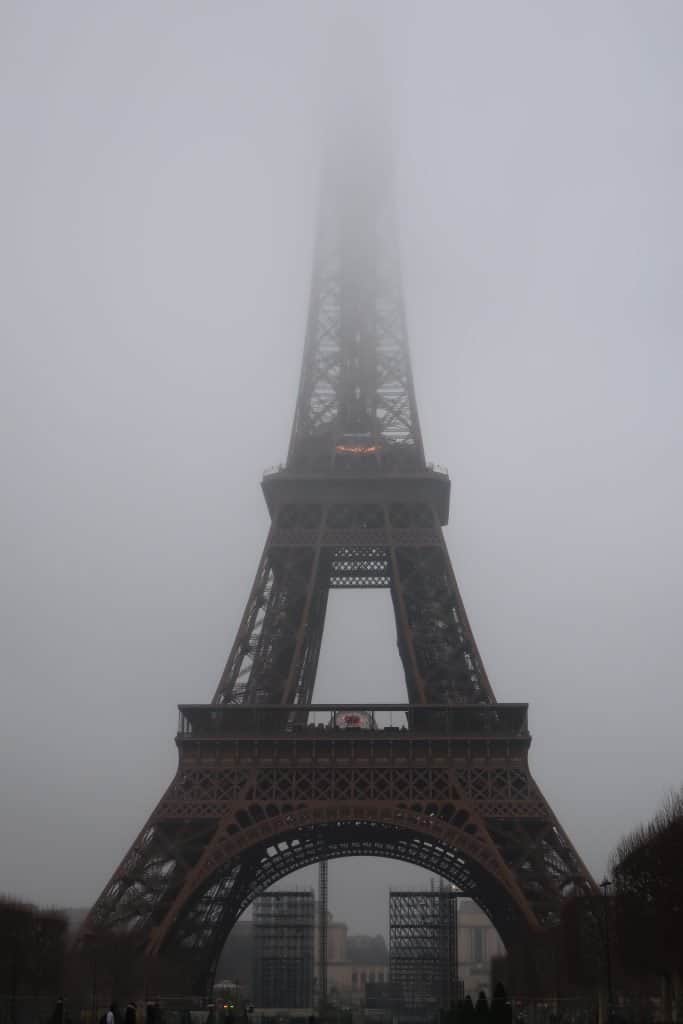 The sun rises later and sets earlier in the winter so daylight hours are roughly about 8 am to 6 pm.
I find that I get hot when I travel – probably from walking so much! – so I actually prefer to travel in chillier weather. I find that it's easier to warm up than cool down.
What Outfits to Wear in Paris in January
If you're visiting Paris in January, outerwear is the most important piece of your wardrobe.
For me, I found that I was most comfortable with a puffy parka, scarf, and snow boots when the temperature was 30-45 deg F. I liked the length of the parka because it helped keep my legs warmer. If you don't have a parka, I would recommend wearing jeans with some kind of base layer, like leggings. Anything from a winter hat to a winter headband worked for me in this weather.
When it warmed up above 45 degrees, I was comfortable with just a peacoat and a scarf. On days like this, a warming headband was comfortable enough for me.
For my base layers, I typically had a light to medium sweater and jeans. On the colder days, I wore a base layer underneath my jeans, as well. Keep in mind, though – I was coming from Houston, so my tolerance to cold is a bit less than those visiting from the northern states!
I was worried that wearing a puffy parka would make me look like an American tourist but it was actually a very common sight. If you want to blend in with the locals, the puffy parka and peacoat combination works perfectly. You'll definitely stand out if you're wearing ski jackets – especially Columbia or North Face!
I recommend you get an anti-theft handbag or backpack. With the thicker outer layers, you won't be able to feel if someone is going for your handbag – and pickpockets are common in Paris! These are some of my favorite items:
My biggest recommendation is to wear layers, bring two pairs of warm footwear, and have two different coats. Options are important – especially if one option needs time to dry out!
Where to Stay in Paris in January
The Metro system in Paris is amazing, so the main recommendation I have is to stay near a Metro line. However, I think being in a central, walkable location is even more important in the winter months – you want everything convenient if possible!
That was even more important for me during my January visit to Paris. During my trip, France was in the midst of their longest transportation strike, ever – lasting two months and crippling most public transportation in the country, including Metro lines. This meant I had to walk everywhere or spend $$ on expensive Ubers. I walked almost everywhere.
You will be tempted to stay near the Eiffel Tower, but I would encourage you to pick a different neighborhood. The Eiffel Tower isn't near many other attractions. A much more central location is Saint Germain or any other neighborhood near the Louvre. This will make almost everything a 30 minute walk or less, including the Eiffel Tower.
Find out more recommendations for where to stay in Paris here.
Without further ado, here are the 10 best reasons to visit Paris in January!
Enjoy the Best of Paris Without the Crowds
I do not like crowds. I do not like tourists. I do not like lines. Considering Paris receives 30 million visitors per year, it can be a very overwhelming experience for someone like me.
I LOVE off season and shoulder season travel because you get to miss the crowds. Paris is no different! No, Paris won't be empty in January, but you won't feel crushed by hordes of tour groups and annoying tourists with selfie sticks.
I found that my January visit to Paris left me feeling somewhat relaxed. Paris is not a relaxing city normally, so I thought that was pretty fantastic. If you want to experience the magic of Paris without the crowds, January is a great time to visit.
Have the Rare Opportunity to See Paris Covered in Snow
Did you know it's uncommon for it to snow in Paris? Paris usually only has 15 snowy days per year – and it's usually just a dusting!
Can you imagine catching Paris on a rare snowy day? You can see how lovely the city is when shrouded in snow here.
Celebrate the New Year in Paris
Ring in the New Year in the City of Lights! I arrived on New Year's Day around 6 am and it was clear that many revelers were still partying while my driver wound through Paris.
Party-goers line the Champs Élysées to catch a parade, celebrate in the street, and see the Eiffel Tower sparkle from a distance. There are so many options for celebrating NYE in Paris – check them out here!
Enjoy the Christmas Decorations
I was pleasantly surprised to find Christmas decorations throughout Paris the entire time I was there. Twinkling street lights, building displays, and shopping windows glowed with Christmas lights. Even the famous Ladurée decorated!
You absolutely must visit the Galeries Lafayette. This is a huge shopping mall that, during the holiday season, has a huge Christmas tree. You have to stand in line to get up close it but it is absolutely worthwhile. The outside of the Galeries Lafayette has window displays, as well – so if you're looking for something festive, this is a must-see!
Stroll Through Christmas Markets Without the Crowds
Since Paris is still twinkling with Christmas lights, it's reasonable to expect to find the famous European Christmas Markets in January, too!
I'll be honest: I found the Parisian Christmas markets to be somewhat gimmicky. The items for sale were touristy and repetitive. I would never recommend that you travel to Paris FOR their Christmas markets – definitely go to a city more famous for them! – but if you're visiting Paris in January, you may as well check them out.
Street food, hot drinks, carnival rides, and gift stands line the Christmas markets. There were three that I found: the Tuileries, the Trocadero (near the Eiffel Tower), and Saint Germain. The Tuileries was definitely the most grand.
Savor The Many Wonderful Museums
I am not much of a museum person but I think the best time to visit a museum is during the chillier months. Because Paris has so many wonderful museums, they are often packed with crowds. If museums are your thing, what's better than enjoying them on a drizzly winter day without all the tourists?
If museums also aren't your thing, I still would encourage you to check out the Louvre. I visited it in just about two hours and really enjoyed it. Find out how to see the Louvre in just two hours here!
Warm Up With Decadent Parisian Hot Chocolate
Ah, hot chocolate in Paris. Called chocolat chaud in French, Parisian hot chocolate is nothing like your Swiss Miss back home. It is thick, decadent, warm, and filling. I've only ever tasted something similar to it in Prague, despite searching high and low for it.
Truthfully, this is essentially warm chocolate ganache. Delicious!
I had hot chocolate literally every day in Paris. I loved curling up in a cozy cafe with a great book and escaping the chilly January air with a hot chocolate.
Find a complete guide to Parisian hot chocolate here!
Enjoy the Warm, Decadent French Foods
Don't you just love warming up with a steaming bowl of soup on a chilly day?
French food is rich, decadent, and delicious – and absolutely more enjoyable in January.
You would never want French onion soup in the heat of July, would you? But imagine on a chilly winter day … French onion soup, Beef Bourguignon, Gratin Dauphinois, even a Croque Monsieur are all extra delicious when the air is crisp and chilly.
I found that I could really appreciate French cuisine when it was cold. I had visited in August and always felt too hot to eat much more than fruit & cheese. Visiting in January was great for the Foodie in me!
Stay Warm in a Cooking Class
Speaking of food, why not learn how to cook this delicious French cuisine?
Personally, I've taken three different cooking classes in Paris: macarons, French desserts, and French breads. I personally prefer baking, but there are certainly cooking classes as well.
I've taken classes at Cook'n With Class Paris and Le Foodist and I personally prefer Cook'n With Class. The instructors feel a bit more approachable and the class less serious so I had more fun there.
Warm up with a hot kitchen and learn a skill to impress your friends back home!
Shop the Rare Parisian Sales in January
Sales are regulated by the French state so they only occur twice per year. Known as les soldes, they serve as a way to clear out old merchandise and make room for the next season.
The prices drop throughout the four-week sale season, so visiting more towards the mid-point will help strike a balance between price and availability. If you're looking to refresh your wardrobe or bathroom with high-end French wares, you can find out more about les soldes here!
One of the best reasons to visit Paris in January is to experience Paris more peacefully
I have visited Paris in both the summer and the winter and I absolutely preferred Paris in January. The magical Christmas lights, the decadent food, and experiencing the city without the crowds helped me fall in love with Paris. I whole-heartedly recommend visiting Paris in January.
Have you been? Do you have any recommendations? Comment below!