Delta's Latest Long-Haul Upgrades Bring the First-Class Experience to the Economy Cabin
In early December 2019, I read an article about how Delta Airlines had upgraded their international economy class experience. The upgrades were still being rolled out but it sounded like most of their international flights already had these economy class experience upgrades.
In an era of diminishing seat space and charges for everything from using a carry-on to getting a non-alcoholic drink, I found the idea of a service improvement immediately appealing. I, for one, haven't heard of a customer-focused improvement in the airline industry in ages.
This article got me thinking. I had something like 90,000 miles with Delta and a fair bit of free time. Why not take a trip?
After some exploring, I booked a trip to Paris! Luckily, I was able to experience Delta's upgraded international Economy class experience both directions.
I have flown across the Atlantic more times than I can remember. I've flown United, Delta, Lufthansa, KLM, and AirFrance so I am pretty accustomed to the different available amenities on the big carriers. I've also flown United Polaris Business Class once, so I know what long-haul Business class is like.
So what's my review of the Delta International Economy experience? Good job, Delta. Your international Economy class upgrades are top-notch and give an experience that nearly rivals the international Business class experience. Read on to find out why!
Please note: this post may contain affiliate links. What that means is, if you click a link and make a purchase, I may make a small commission at no additional cost to you. For more details, please read my Affiliate Disclosure.
Delta International Economy Amenities & Seats
Boarding the plane felt like boarding any other flight. Delta advertises a "Welcome Bellini" but don't expect it until you reach cruising altitude (more on that later!)
Once you find your seat, you'll be greeted with a pretty nice amenity kit.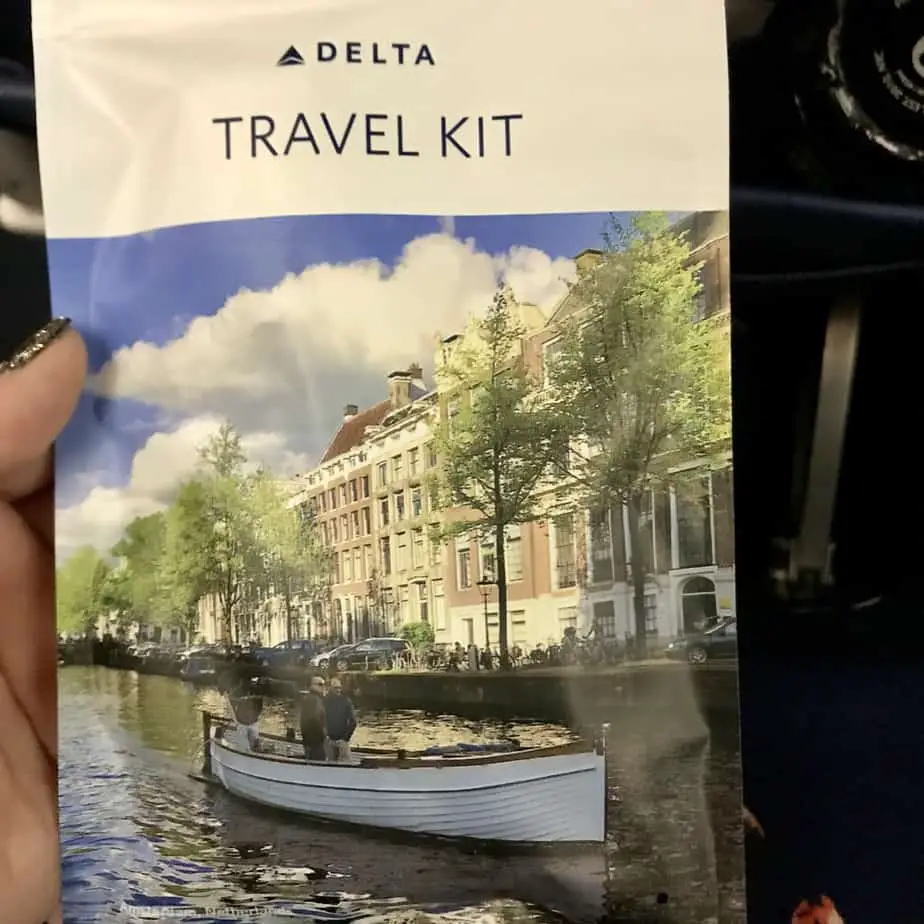 Included in Delta's international Economy class amenity kit is an eye mask, earplugs, toothbrush, and hand towelette. Not bad! You also get a pillow, a blanket, and headphones if you want them.
I've never gotten an amenity kit in Economy class… so this was pleasantly surprising. It's possible it's just a Comfort+ benefit, I'm not sure.
It wasn't quite as nice as the amenity kit provided in the United Polaris Business Class cabin, but considering these flights are about 20% of the cost, I was pretty happy.
The seats are regular 'ole Economy class seats. Nothing super exciting.
Delta's Entertainment Options
The entertainment on Delta was fine. Just fine.
There were fewer options than even domestic United flights, which was disappointing. Although there were TV shows & movies available, many of them were older. I like how United offers the latest releases – it really helps make the flight go by faster. On Delta, I settled for watching The Big Bang Theory.
The interface was clunky, awkward, and frustrating – mostly because it was hard to navigate and the touch screen wasn't very responsive.
It was nice that free WiFi was provided to use messaging apps (like iMessage and Facebook Messenger), but the interface was also clunky and difficult to use. I found my phone disconnecting if locked my phone and then it would take some effort to re-connect. An opt-in screen is required to re-connect and it didn't necessarily always pull up on my Apple device, at least.
So better than nothing, but somewhat mediocre compared to other carriers.
Delta's International Economy Food & Drink Service
Delta's Wonderful Hot Hand Towel & Welcome Bellini
Once you're in the air and at cruising altitude, the flight attendants will make their way through the Economy cabin and distribute hot towels. I have only ever experienced this in United Polaris Business Class, so this was very nice. It is surprisingly refreshing!
Note: Delta has suspended this offering. Unsure when it will return. 🙁
Shortly afterward, they distribute a "Welcome Bellini" to every one of drinking age. Although I flew in 2019, Delta confirmed to me today (March 2023!) this is still available. Don't know what a Bellini is? It's a mixture of sparkling wine & peach. Delicious! Usually, I advocate for limiting alcohol consumption on long-haul flights, but I had to splurge a little bit for this delightful tasty treat.
Yes, on international flights, alcoholic beverages are usually included – even in the Economy class cabin. So this technically isn't that exciting but it's nice that it's done. That you get one without asking. It was very tasty and I appreciated starting my 8.5+ hour flight with a Bellini.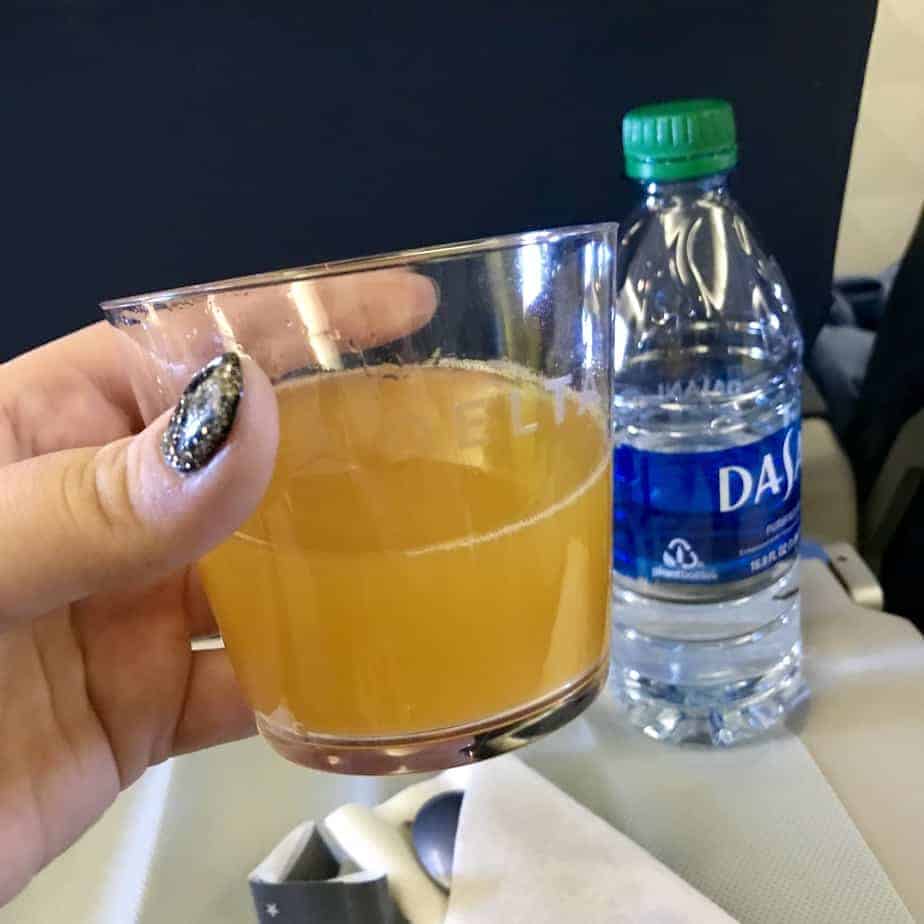 They also gave everyone a FULL-SIZED water bottle. I thought this was great. Drinking water is SO important for beating jet lag and surviving long-haul flights.
Food Options in Delta International Economy
While the welcome bellini, hot hand towel, and water bottle were distributed, the dining menu was distributed to passengers.
Menus?! In Economy? This was starting to feel bougie AF.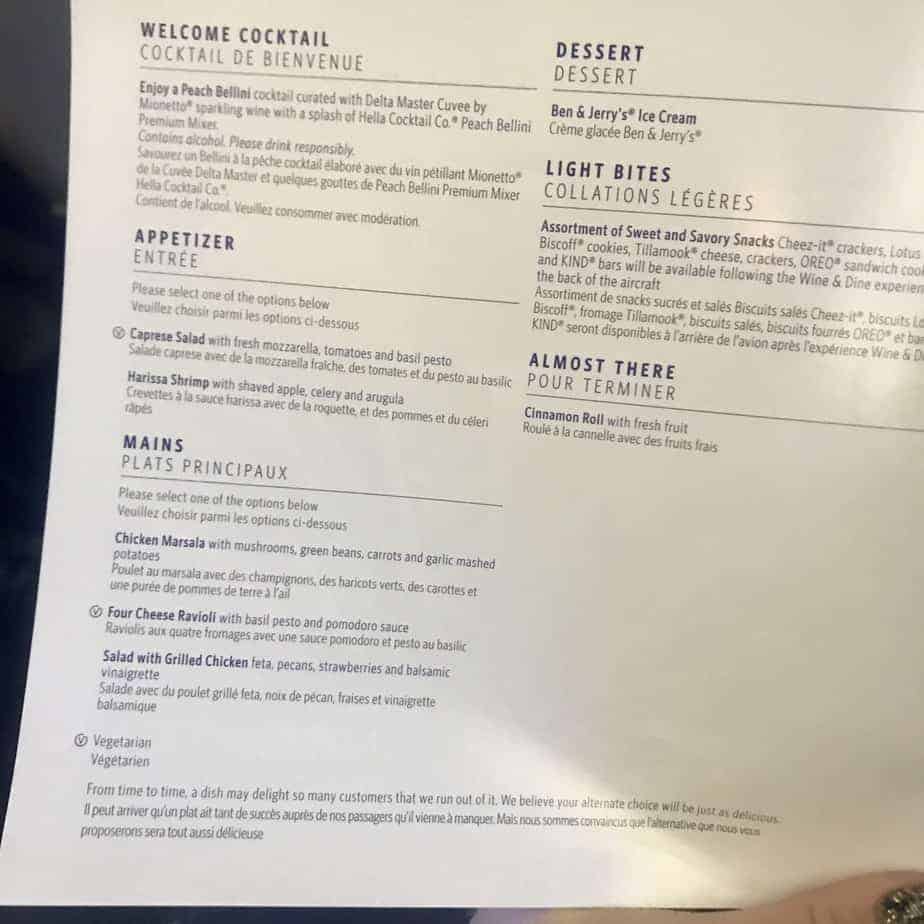 Delta's Economy Cabin Main Meal, Drinks, & Dessert – Surprisingly Delicious
With my tasty little Bellini in hand, I perused the menu.
Going to Paris, I opted for the Caprese salad & chicken marsala. Returning, I opted for a fruit, cheese, & nuts appetizer with gnocchi as my main. Because I was flying to Paris on New Year's Eve, I also requested a glass of Prosecco… and was given a mini bottle!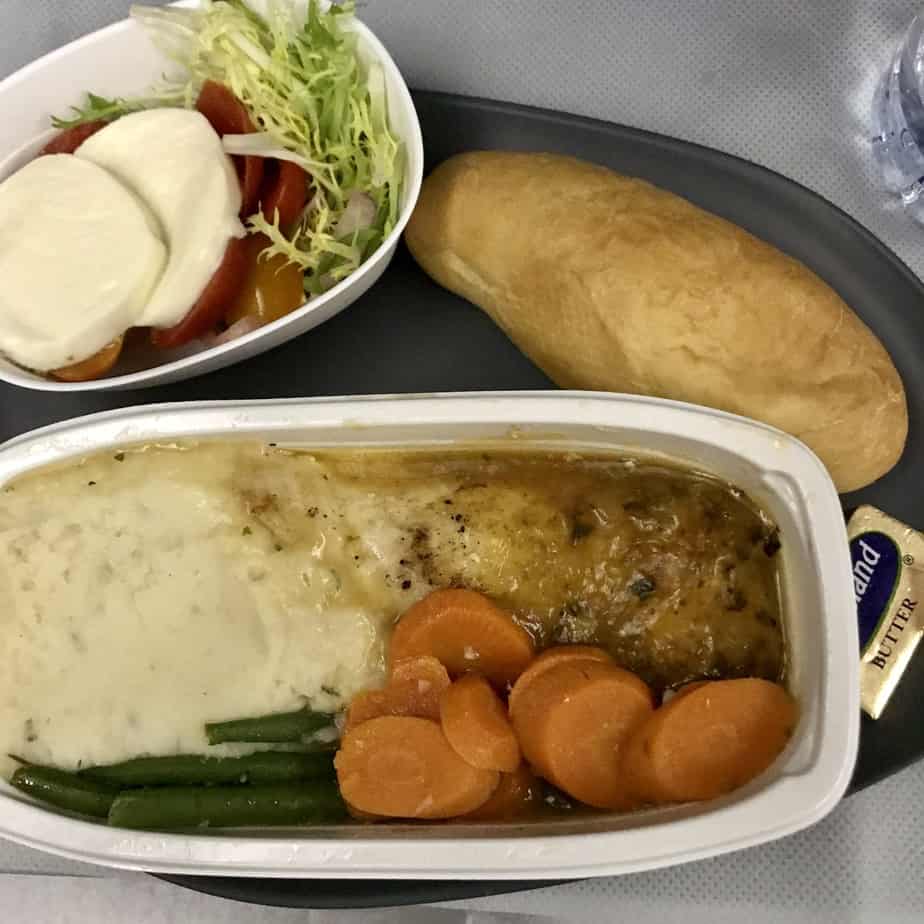 The Caprese salad tasted very fresh. I wish it came with some kind of balsamic glaze, but it was tasty and light. The chicken marsala had wonderful mashed potatoes and veggies, but the gravy needed some salt and pepper to kick it up a notch. The chicken seemed like it was perfectly cooked – not dried out or tough at all!
The fruit, nut, & cheese appetizer surprised me because it had tomatoes and olives in it. Not what I was expecting but I wasn't mad about it.
But y'all. The gnocchi. OH. MY. GOODNESS.
This pesto cream gnocchi was to die for. If I ordered it in a high-end Italian restaurant and paid $27 for a plate, I would've been happy. This was some of the tastiest gnocchi I've had.
I was "that passenger" using my bread to sop up all the wonderful, delicious sauce. Yum yum yum.
I told the flight attendant it was good and she said that the recent international Economy class improvements have made the food often better than what the First Class passengers get. I believe it. These meals were legit.
Shortly after enjoying our meals, Flight Attendants went around and distributed ice cream! Going to Paris, dessert Ben & Jerry's cookie dough ice cream and returning we were given Beckleberry's salted caramel ice cream.
DELICIOUS. Some of my favorite ice cream I've had.
I see from their website that they have chocolate orange ice cream… that is my favorite flavor combo. BRB while I see if this ice cream is available in Houston.
Snacks Onboard Delta's International Flights
Last year when I was returning from Italy, Lufthansa's caterer somehow screwed up and forgot to load, no joke, over ONE HUNDRED meals. This meant that everyone in Economy class was given one meal and two bags of pretzels, for a 12-hour flight. Miserable. After that experience, I ALWAYS pack snacks in my carry-on.
Delta has it together, though. They don't automatically distribute snacks but they make it very well known that there are snacks in the back of the aircraft, should you want one. Cheez-Its, cookies, KIND bars, and Tillamook cheese snacks are available upon request. Luckily I found all the meal services satisfactory so I didn't want any snacks, but it's nice to know they exist.
Delta's Economy Pre-Landing Meal Service
Because Delta is still bougie, we were given a hot hand towel again before our next meal. Yet another nice, unexpected touch!
For our morning arrival, the meal was fresh fruit with a cinnamon roll. The cinnamon roll was a bit meh. Coming home, I was served a BBQ chicken flatbread. Again, kind of meh – it tasted a bit like gas station food – but the jalapenos on the flatbread helped to elevate it a bit. We were also given double chocolate truffle with salted caramel mousse! SO tasty. I think more airlines should distribute salted caramel snacks.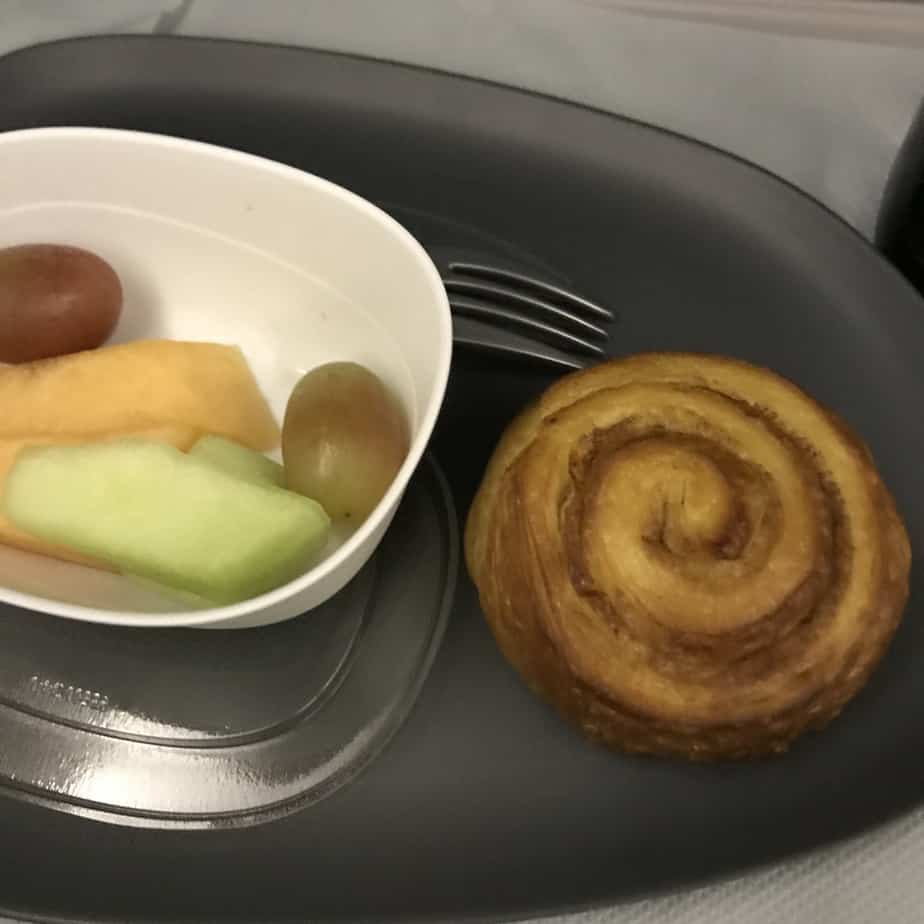 What is Delta's International Economy Comfort Plus Experience Like?
I flew Comfort Plus both ways because it was a cheap upgrade with miles.
Comfort Plus is exactly like the traditional Economy cabin except for guaranteed overhead bin space and more legroom. Boarding is earlier, which is nice-ish (but unnecessary, given the guaranteed overhead bin space). We're also closer to the front of the plane so you get off quicker, which can mean getting through Customs & Border Protection quicker. I think Comfort+ passengers get the nice amenity kit but the Main Cabin doesn't, but I haven't confirmed that.
I'm short – clocking in at something like 5'4″ – so extra legroom is nice but not necessary for me. The earlier boarding was fine, in theory, but again – unnecessary.
I did like being able to stretch out a bit more, so I would say my sleep was marginally improved thanks to the extended legroom. You're also more likely to have empty seats next to you since this is an upgrade that people may not spring for.
One thing I found SUPER annoying was that emergency equipment was stored in the overhead bin for my row. That meant my row didn't have overhead bin space. So much for "guaranteed" space! Luckily many passengers weren't using their allocated bin space, so I could throw my stuff in their rows. But still. Not guaranteed.
So, my verdict on Comfort Plus: if you've got the miles, go for it. If you're tall, definitely go for it. But otherwise, it's not much different from the rest of the Economy cabin.
Delta's International Economy Cabin – The Closest Experience to First-Class at an Affordable Price
So what's my verdict?
The improvements that Delta has made to their international Economy class cabin are wonderful. I thoroughly enjoyed the experience and I don't often say that about long-haul flights.
These new upgrades made me almost feel like a First-Class passenger. Honestly, the only difference between the new Delta international Economy class cabin & long-haul First Class is the lay-flat seats. The lay-flat seats are wonderful, but for the price point, I think Delta has done a very good job.
I tend to fly United because Houston is a massive United hub. However, if prices & fight times are meaningfully similar, I will opt for Delta. In my experience, their Economy class cabin is unrivaled.
Have you flown Delta since they've upgraded their international economy class cabin? What did you think? Comment below and let me know your thoughts!