How to Plan the Perfect 5 Day Paris Itinerary
Paris is one of the first places I visited as a solo traveler. I had been to Canada, the Dominican Republic, and Iceland prior to this trip but these trips were either short or a part of a large tour group. Paris was different – it marked the start of my 5 week backpacking adventure across Europe and it was the first time that I really had to learn how to be independent.
My first time in Paris was NOT GOOD. Not at all. I struggled with sleep, I had a hard time making friends, I was overwhelmed at everything Paris had to offer, and I was sick of all the shady people trying to sell low-quality souvenirs near the Eiffel Tower.
I blamed it on Paris and never really had any interest in returning. Why waste the money and the vacation days by revisiting a place I didn't enjoy?
I realized, however, that my travel style has matured since that trip. I was a baby traveler at that time and I didn't know what I was doing. I wanted to do and see all the things in case I never come back. I call that being a YOLO traveler – and being a YOLO traveler in Paris is stressful.
(Curious what kind of traveler you are? Check out my quiz here!)
Traveling is a skill. It takes travel experience to know what things you enjoy, how much time to budget for certain activities, and what kind of pace you enjoy. It takes practice and practice wasn't something I had ahead of my first time in Paris.
Because of that, I decided to return to Paris in early January 2020 and see if I could enjoy my time there. And, thankfully, I did! From those two trips, I have developed some fantastic travel tips specific to Paris – check them out before you travel to have a better travel experience!
From my two trips to Paris (and experience from dozens of other trips), I have created the perfect 3 day, 5 day, and 7 day Paris itineraries. Don't make the same mistakes that I did!
Please note: this post may contain affiliate links. What that means is, if you click on a link and make a purchase through it, I may make a commission at no additional cost to you. For more details, please see my Affiliate Disclosure.
A Note on Visiting Paris
In 2019, 20 MILLION people visited Paris.
20. Million.
Pretty mind-boggling for a city that only has a population of about 2 million, I think.
Paris is one of the most popular tourist destinations in the entire world, so even during the "low season" there will still be lines, crowds, and people. I visited in January which is for sure the low season and still had to wait in line at the Louvre for over an hour.
There's a reason that Paris is popular. There are hundreds of restaurants, accommodations to fit any budget, more museums than you can fathom, and so much history to soak in.
So what does that mean for you?
There is absolutely NO WAY you will be able to accomplish everything you want to on a trip to Paris. It just isn't possible. Once you make peace with that, you'll be able to enjoy Paris a little bit more.
Where to Stay in Paris
Paris is divided into Arrondissements. They spiral around clockwise from the center of Paris to the outer edge, with lower numbers (less than 9) being generally closer to the center of activities.
Thinking in Arrondissements honestly confuses me and overwhelms me when I trip plan, so I'm not going to recommend a specific Arrondissement to stay in. Rather, I will recommend two general rules for selecting accommodations in Paris.
Select someplace near a Metro Line
The Paris Metro (short for Metropolitan) is a quick-moving, highly connected system of trains, lines, and stations. Composed of 14 lines, 303 stations, 62 transfer stations, and with lines totaling 128 miles, the Paris Metro can take you – very quickly and easily! – into just about any part of Paris. In fact, nowhere in Paris is more than 500 m from a Metro station! AND, even more mind-boggling is the fact that the Metro carries 1.5 BILLION passengers per year.
During my first trip to Paris, I took the Metro extensively. The system is quick, easy, efficient, and cheap. Most importantly, it is the quickest method to move around the city. Even quicker than Uber!
If you stay near a Metro station, you'll have a much easier time getting around Paris. Before you leave for Paris, be sure to check out my post on the app you need before riding the Metro in Paris!
Walkable is always better
Although the Metro is amazing & convenient, it's always better to stay someplace walkable.
Paris (and the entire country of France) just finished a 46-day transportation strike. This means that, for over a month and a half, nearly all public transportation in the entire country was either shut down or severely limited. That meant no Metro for me on my latest visit!
I mostly walked with some Ubers sprinkled in. The Ubers were insanely expensive, clocking in at about €10 per 10 minutes – which is about as long as it takes to drive 2 miles in Paris.
I was extra thankful to have selected a hotel that was so close to the action.
I stayed in Saint Germain which is the 6th Arrondissement (aka "6e"). This meant the Eiffel Tower (7e), Champs-Élysées & Arc de Triomphe (8e), Louvre & Tuileries (1e), & Notre Dame (4e) were all 15 – 30 minutes away.
Take note – nearly everything is right around the River Seine near the 1e. If you stay somewhere near the Louvre, you'll have a pretty good location. I liked being south of the river because it made the Eiffel Tower slightly more accessible. I think Saint Germain was just about the perfect spot for exploring Paris on foot.
You may think you want to see the Eiffel Tower from your hotel but I would recommend avoiding that. There is SO MUCH MORE to Paris than just the Eiffel Tower and, in the event of another strike, you'll be looking at 40+ minute walks to get to the other main attractions.
I always recommend using Hotels.com for hotel searches. Good prices, an awesome search feature (including searching by landmark or neighborhood!), and one free night for every 10 nights stayed has made me a loyal Hotels.com customer for nearly a decade.
Is 5 Days in Paris Enough?
Absolutely not.
You would need well more than a week to see and do everything that Paris has to offer. I've now spent 12 days in Paris and there is still a lot that I haven't yet done.
In 5 days, however, you will be able to see most of the major sites without too much difficulty. I think 5 days is just about the perfect amount of time if you're a Paris first-timer and you are visiting other destinations during your European adventure.
Day 1 – Arrival Day
I'm assuming that your arrival is sometime in the morning and that you'll be at your hotel around (or before!) noon. If this is the case, this itinerary will work for you. If you arrive much later than that, you may need an additional day or to reduce the activities shared here.
If Paris is your first stop in Europe, you're going to have to contend with jet lag. Luckily, I've figured out how to beat jet lag – so start preparing before you even get on the plane!
If you're a bit jet-lagged, I recommend you take a quick catnap with the Power Nap app.
After settling in (and taking that nap, if need be!), it's time to explore the City of Lights.
Afternoon
Start your adventure by walking to the Eiffel Tower. Pictures don't do it justice – the Eiffel Tower is majestic and will certainly help you wake up. Plus, you can start off your time in Paris with an excellent photo for Instagram!
While you're here, I always recommend climbing the Eiffel Tower. It's only worth doing this if the skies are clear, so feel free to schedule this for another day if the weather isn't cooperating.
I always, always, ALWAYS recommend paying for the skip-the-line Eiffel Tower summit. Your time is short. Spending a little extra money to get more done is absolutely worth it!
Once you're back down, you'll probably be hungry – time for some dinner!
Evening
For dinner, I have two recommendations depending on what you're in the mood for.
If you want a proper sit-down dinner, Café Constant comes highly recommended. It is walking distance from the Eiffel Tower and serves traditional Parisian cuisine.
Looking for something a little bit more low-key? There are tons of cute little artisan boulangeries (bakeries), patisseries (pastry shops), and fromageries (cheese shops) right near the Eiffel Tower. You can stop in at a few shops and get supplies for a delicious picnic. I always recommend a French baguette, Gruyere or Brie cheese, some raspberries, and maybe some salami. Delicious!
Regardless, be sure to buy a bottle of wine (along with a bottle opener and some cups!)
Bring your purchases to the grassy area in front of the Eiffel Tower (known as the Champs de Mars). You're going to savor your wares and wait for the Eiffel Tower to sparkle. From sunset to 1 am, she sparkles for a few minutes at the top of every hour.
Once you've gotten your fill, meander back to your hotel!
Day 2 – Your First Full Day
Today you will be visiting the Catacombs! If this happens to fall on a Monday, plan to switch Day 2 with Day 4 – the Catacombs are closed on Mondays.
Morning
Plan for a morning tour so your afternoon is free. The experience should take about 2 hours.
Be prepared to literally climb down into a labyrinth set below the streets of Paris. Once in, you will encounter some of the millions of skeletons housed here. If skeletons creep you out, this tour is not for you.
The line is usually long, even in the low season. Because of that, I recommend a skip-the-line tour. It'll save you literally hours of waiting in line AND you'll get a tour guide who will provide you with a better and more interactive experience than an audio guide!
Afternoon
When you're done visiting the Catacombes, head to the nearest Metro station. You're going to head to the Le Marais neighborhood to enjoy some famous crepes at Breizh Café. You may be a bit short on time between lunch and your next planned activity, so consider making a reservation!
After enjoying some tasty crepes, you can walk through the neighborhood to get to Candora Perfumerie. Here you will take a ~2.5 hour guided workshop on the art and science of creating perfume. That description doesn't do this workshop justice – it was SO much fun. So much fun, in fact, that I think it was one of my top 5 activities done while traveling ever. If not top 5, definitely top 10!
All my classmates agreed that this was the highlight of their Paris trips.
You'll start off with learning a brief (but surprisingly interesting) history of perfume. Before long, you'll be doing blind smell tests and attempting to describe the scents. Eventually, you'll be given a handful of samples and you'll start the process of blending your own scent to take home!
It was super interactive, interesting, and fun. I love that I also have a unique perfume that has a really fun story attached to it. I've only been back a few weeks but I've gotten so many compliments on my blend.
Evening
Your perfume workshop will let you out in the early evening. I recommend you meander back through Le Marais to get to Aux Merveilleux de Fred, a luxe bakery that serves merveilleux.
What is merveilleux?
Merveilleux is meringue coated in whipped cream and some sort of flavor, like chocolate or coconut. They are super light, almost like a (very) elevated marshmallow. Large & small merveilleux are available, so I recommend picking up 3 or 4 of the smaller pastries so you can try multiple flavors!
Yes, I know I'm recommending dessert before dinner… but this is Paris. Live a little!
From here, continue meandering through Le Marais until you get to Pain Vin Fromages. The restaurant name hints at the menu – bread, wine, & cheese. But mostly cheese! If you don't love dairy, this restaurant may not be for you. Raclettes, fondues, and some salad sprinkled in will make this restaurant a decadent end to your second night in Paris.
Day 3
Morning
For the third day of your 5 day Paris itinerary, you're going to start your day learning how to bake! It doesn't matter if baking really isn't your thing – these classes are SO much fun.
I've taken 3 French baking classes in Paris: macarons, French desserts, and French breads. They are listed in order of my personal favorite to least favorite, so I'm recommending you take either macarons or French desserts.
Cook'n With Class is an awesome cooking school. The instructors I've had are a lot of fun and so are the other attendees. It makes for a super fun (and tasty!) morning. At the time of publishing this post, the availability for either the macaron class or the desserts class seem to be staggered so it shouldn't be too hard to get into one of them.
The classes last 3 hours and you get to take home everything you make. One thing to note, however!: breakfast is not served. Be sure to eat something before the class, otherwise, you'll almost certainly be hangry.
If both classes are available, I recommend taking the macaron class. The class was detailed, interesting, and surprisingly technical. I used to think that paying $2.50 for a macaron was insanity, but this class helped me understand why these delicate little cookies are so expensive.
Afternoon
By now, your day has probably started on exclusively croissants and tasty sweets. It's time to grab lunch! Cook'n With Class is right by Sacre Coeur & Montmartre so wander around the area until you find a cute little bistro that catches your eye.
After lunch, go check out the Montmartre neighborhood. Fair warning: it is a TREK. If you want to walk off the Parisian sweets you just indulged in, more power to you. If not, there's a funicular!
My favorite thing to do in Montmartre is to just walk around, enjoy the neighborhood, and check out Sacre Couer. You don't need to dedicate a lot of time here unless you want to.
Once you've gotten your fill, pull up your handy little Metro navigation app and head down towards Notre Dame.
After the tragic fire in early 2019 that nearly completely destroyed Notre Dame, the historic cathedral has been completely off-limits to tourists. You can't even get near it. The entire structure is fenced off with the fence serving as a pseudo-exhibit of the fire itself and the work done in the aftermath. This means the best you can do is stroll on by it.
Continue meandering until you get to Sainte Chapelle, a stunning Gothic church.
I usually say "if you've seen one Gothic church you've seen them all", but Sainte Chapelle is different. It is absolutely amazing. You'll have to go through a brief security line before purchasing your ticket, but in my experience, it's pretty quick.
They'll offer you the option to also visit the Conciergerie with a combo ticket, and I would recommend not doing it. It's a prison so it is designed to be stark and somewhat bare. Because of that, it was very blah, and since you've only got 5 days in Paris, you don't want to waste time on something that isn't wonderful.
When you're done exploring Sainte Chapelle, you can meander around the two islands in the River Seine. They are small but adorable, so definitely worth strolling through.
From there, head south. You are going to swing by Shakespeare and Company. It is a super cute bookstore with a fantastic history. Stroll through the bookstore and read the displays so you can appreciate the history and challenges that this quaint Parisian stop has endured.
From there, continue on to Odette. I had heard that Odette was famous for making the best cream puffs in Paris, so of course, I had to stop by to validate that claim.
These cream puffs were DELISH. I was somewhat full when I stopped by so I only ordered two. I started off with the almond cream puff (which came highly recommended) along with a traditional vanilla cream puff. These bite-sized treats were so tasty that I went back down to the cashier to purchase two more, this time opting for a coffee and a chocolate cream puff.
I should've returned again but I didn't. I regret that.
Evening
By now, it's probably early evening in Paris. You can hang out at a bar until you're hungry or head straight to dinner.
For dinner, I recommend Le Christine, located near Notre Dame, Odette, & Saint Germain.
The restaurant is located down a dark alley and it felt a bit creepy walking up to it. Do not be deterred: this was literally one of the best dining experiences I have ever had. I live in Houston, TX and you may not know this, but Houston has become a foodie paradise. This has made me a bit of a food snob because there are wonderful, affordable dining options all over this massive city.
And yet, Le Christine still ranks as one of my top 5 dining experiences. That's saying something.
The menu seems to change somewhat frequently. I visited just about two weeks ago and nothing I had is being offered.
I enjoyed the 4-course tasting menu with the wine pairing. The meal started off with a small bite of salmon. Following that, I had some absolutely wonderful ceviche as my appetizer, some black truffle gnocchi that was to die for as my main, and a chocolate souffle for dessert. Each was paired with the perfect glass of wine.
Yum. I definitely want to go back someday! I recommend making a reservation – the space is cozy and filled up quickly.
Day 4 – Time for a Day Trip!
There are so many day trip options from Paris so it can be hard to narrow down options. It's possible to take a day trip to a other country, with London, Bruges, Brussels, or Ghent all being great (but long!) options.
If you're into history, a day trip to the beaches of Normandy may be up your alley.
Really into wine, Champagne, or Brandy? You may opt for a day trip where you can learn about & taste these spirits.
I'm personally going to recommend a bicycle tour of the Palace of Versailles. This is an all-day excursion, so you'll likely make it back just in time for dinner
It's fine to just visit the Palace but then you'll miss out on seeing the grounds. The gardens at Versailles are ENORMOUS. There's no way you could simply walk around and really see them – they're that large. That's why I think a bike tour is the perfect way to see Versailles!
You'll start the morning off by meeting the tour group in the heart of Paris. Together, you'll take the train into Versailles. After collecting the bicycles, you'll ride to a nearby market where you'll have the opportunity to purchase tasty foods for your picnic that will happen later in the day.
This is the perfect time to get a delicious wedge of French cheese, a baguette, and some meats or fruits. And don't forget a sweet treat!
After spending some time shopping, you'll begin the guided bike tour through the Palace Gardens. You'll ride through tree-lined roadways and make an extended stop at Marie Antoinette's Hamlet. There are frequent stops with awesome history sprinkled throughout. My tour guide was super entertaining and really funny, so it made the day fast and fun.
The bicycle tour portion ends at the Grand Canal where you can enjoy your tasty picnic with the other riders.
After the bike tour finishes, you're free to explore Versailles on your own. It is everything you would expect from a majestic palace and the Hall of Mirrors is to die for.
If this interests you, check out the link to book your own Versailles Full-Day Bike Tour. This tour is through Fat Tire Bike Tours and I have used them for multiple tours. I've always been impressed!
After getting your fill at Versailles, make your way back to Paris. Your evening is yours to do as you see fit. You may want to unwind at the hotel or go to an extravagant dinner – or do something in-between! After a long day, you get to pick your evening's activities.
Day 5 – Your Last Full Day in Paris
Today, you're going to start your day with the Louvre! Please note – if this day falls on a Tuesday, please re-arrange the itinerary. The Louvre is closed on Tuesdays!
Morning
Plan to enter the Louvre around opening time, which is 9 am. You'll spend anywhere from 2-5 hours here, depending on how much you love museums and how much patience you have for crowds.
I absolutely recommend you book a timeslot ahead of time. I stood in line for over an hour at the beginning of January and it was not fun. I had been told to visit on a Wednesday evening after 6 pm when the museum opens for extended hours because that would "practically guarantee no line at all." False. Pre-book your time slot.
You can do that on the Louvre website (or here, if you choose to buy the Paris Pass). I recommend getting the Audio Guide as well. I tried to use an app and it failed miserably.
I'm not a museum person at all so I opted to not visit the Louvre on my first visit to Paris. After visiting, however, I feel like it's still worthwhile – and this is coming from an engineer who knows nothing about art.
Once in, you can basically make a beeline straight for the Mona Lisa (where you'll have to stand in line to see her up close, behind protective glass). Turn around when you get to her room, you're not going to want to miss the fantastic fresco on the opposite wall.
The Mona Lisa is fine, but what really took my breath away was the Apollo Gallery (known as the Galerie d'Apollon). Here you will find a dazzling hall literally fit for Royalty along with the French Crown Jewels. This, alone, was worth the price of admission for me.
I also enjoyed the gigantic paintings from the French Revolutionary War. I mostly breezed through the other rooms and it still took me a couple of hours. Spend whatever amount of time you need, this is your trip.
Afternoon
Once you've gotten your fill at the Louvre, head to the Tuileries Garden.
I'm sure you're hungry by now, so if the line isn't too long, I would recommend that you stop by Angelina. Located just north of the Tuileries, it's a quick walk from the Louvre (and right near a Metro station!).
At Angelina, I would recommend you get a very light lunch. Why? Because you will be indulging in some of the most world-famous hot chocolate afterward. Thick, rich, and velvety smooth, you absolutely cannot visit Angelina without trying their famous African chocolat chaud.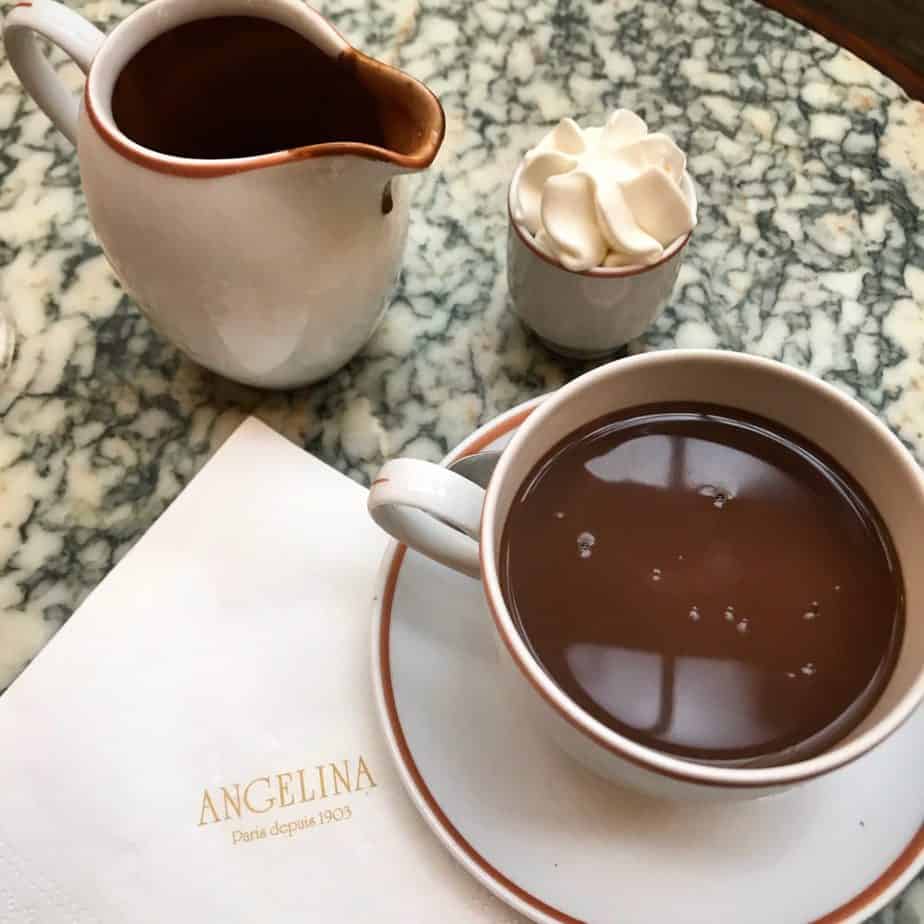 Once you've finished lunching, meander around the Tuileries. From here, you have a decision to make: you can walk from the Tuileries up the Champs-Élysées to the Arc de Triomphe OR you can walk from the Tuileries through the Place de la Madeleine.
Both are excellent (and luxurious!) shopping districts. Even if you can't afford a multi-thousand dollar Chanel purse, it's worth strolling by to see how the other half live. At the end of the Place de la Madeleine, you will end up at the Opera and the Galeries Lafayette. This is the largest shopping center I've ever seen, much like Harrod's in London.
Either way, you'll come across a Ladurée. You absolutely must stop in and purchase 1 (or more!) macarons.
Evening
You've already had a long, busy day. Feel free to head back to the hotel for a couple of hours to unwind. Not your jam? A good champagne bar is always an excellent option when spending time in Paris.
For dinner, I recommend Pink Mamma in the Pigalle neighborhood. Pink Mamma is a part of the Big Mamma Italian restaurant brand and is famed for its awesome environment and excellent food. Serving up delicious steaks, pizzas, and pastas, there is something to please everyone in your party.
And after dinner, it's time to have some fun! The last step of the evening will be to catch the 9 pm Moulin Rouge show.
I went to the Moulin Rouge on my second trip to Paris and was super nervous that it wouldn't be worthwhile. There are dozens of blog posts that say it's a waste of money, so that – combined with the high ticket price – made me nervous. In the end, I figured "when in Rome!" and decided to go.
It was SO much fun. It wasn't like what I expected. I was thinking Vegas showgirls meet the Moulin Rouge movie, and I was wrong. It was entertaining, unexpected, shocking, and exciting.
So, yes, the Moulin Rouge is worth it. Check it out – but don't bring your kids. The showgirls are topless nearly the entire time.
Day 6 – Departure Day
Time to depart Paris! Depending on your departure time, you may have the opportunity to sneak in one last macaron, cream puff, or crepe. Even if you cannot, all the airports and major train stations have plenty of excellent dining options & shopping so you can squeeze just a little bit more out of your time in Paris.
Au revoir, Paris!
It can be hard to plan just 5 days in Paris. After two visits, this guide is my perfect 5 day itinerary in Paris!