United Polaris Business Class has been upgraded from a decent offering to a best-in-class offering – here's why it's worth the money!
My first time flying business class was actually in the United Polaris cabin back in 2019. I was blown away by the decadence. Warm hand towels, sparkling drinks before take-off, legitimately delicious food, adorable (and practical!) amenity kits, and lay-flat seats – what more could I possibly want?!
Since 2019, however, United has brought some tremendous service enhancements to the Polaris cabin and I can tell you without a doubt that the new Polaris service puts the old Polaris service to shame. If you have the opportunity to upgrade, take it – United Polaris Business Class is a luxurious, comfortable service that all seasoned travelers should experience.
Please note: this post may contain affiliate links. What that means is, if you click on a link and make a purchase, I may make a commission at no additional cost to you. For more information, please see my Affiliate Disclosure.
What is United Polaris Business Class?
Polaris is the premier cabin for long-haul flights with United Airlines. There is no cabin class higher than Polaris, which is distinctive from some other ultra-luxe airlines where First Class is an even better upgrade than business class.
In the Polaris cabin, you will get lay-flat seats, elevated dining & drink service, the ability to board the aircraft first, nice amenity kits, access to Polaris lounges (where available), and even free checked bags.
The lay-flat seats are the real reason to upgrade!
How much does a Polaris upgrade cost?
For my first upgrade, I paid around $800. For my second upgrade, I paid around $1000. I have not been offered an upgrade on every United flight so I'm unsure how often they come around. I do have a MileagePlus credit card which may help.
I would assume a cash upgrade is going to run ~$750-$1500 each way and a points upgrade will be >50,000 points.
The amazing Polaris cabin lay-flat seats
Every single seat in the upgraded Polaris cabin is private. No seatmate, no concerns about aisle access, no awkward bathroom breaks – absolute luxury.
I was one of the first to board – look at this gorgeous cabin!
Every seat is basically a "pod" – sure, there are no doors, but there is a privacy wall so it is pretty much impossible to see any other fellow passengers from the seat.
Every seat comes with a side locker, side table, and large entertainment screen. It's really easy to get organized and comfortable. Plus, the luxe Saks Fifth Avenue bedding is a nice touch!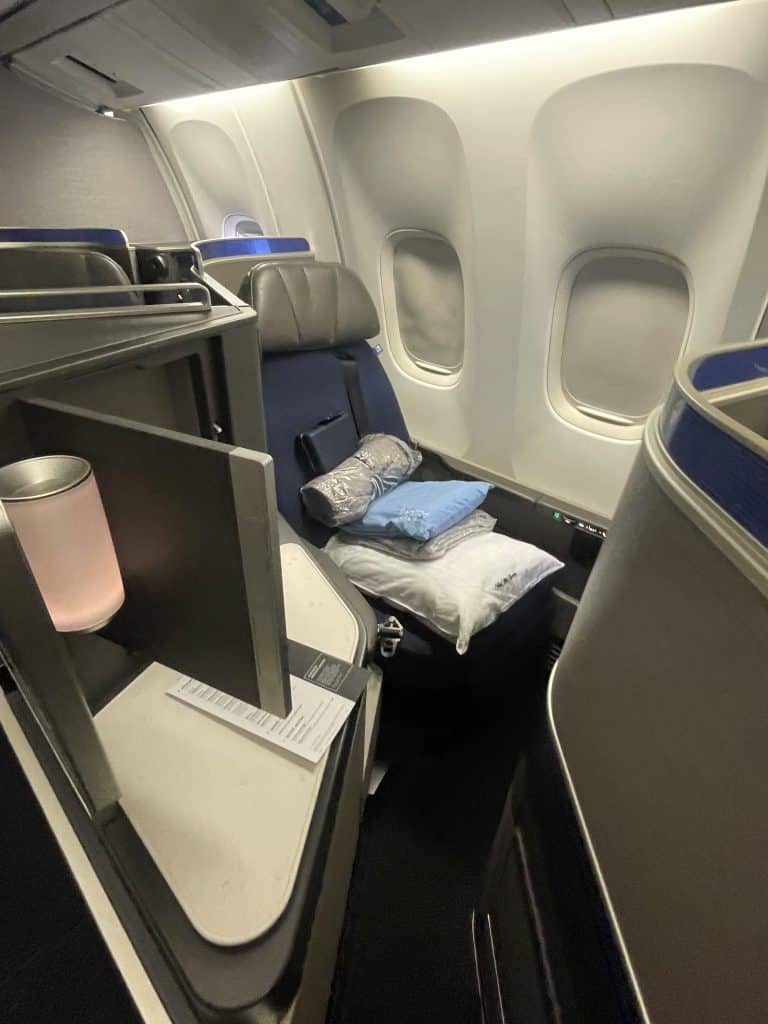 This is the vantage point from the seat. I am fairly short (5'5″) so taller people may have a broader view of the cabin, but I was pretty isolated!
The seats are super adjustable, and can recline and extend at will. I was able to lounge while watching movies, sit up while dining, and lay flat – 100% flat! – for sleep. If you're a little plus sized, you may have to sleep on your side but I found the seats to be super comfortable. I also have had problems with long-haul flights where my knees end up aching and that wasn't an issue in the biz class cabin.
Other Polaris amenities
Every seat comes with a cute amenity kit, luxe Saks Fifth Avenue linens, noise-canceling headphones, and a bottle of water. You can only keep the amenity kit and the bottle of water, so don't try to walk out with the linens.
The amenity kit is a cute miniature Away hard-sized luggage. Within the kit you will find socks, an eye mask, ear plugs, skincare products, and more. The Away zip is now going to be my go-to for future flights!
One of my other favorite amenities is the awesome video selection. United always has really recent releases so I was able to watch movies that had just left theaters – which was great, since I haven't been to a movie theater in ages. Thor: Love and Thunder was surprisingly entertaining!
Other perks (mentioned above) include priority boarding, free checked luggage, and lounge access where available.
The delicious United Polaris Business Class dining menu
Truthfully, most long-haul flights have pretty good food (except for that one time Lufthansa forgot to load meals, which is why it's important to always pack snacks). I think my favorite airplane meal is still my meal in Delta's economy cabin, which is pretty amazing! But the United Polaris menu was genuinely delicious, too.
The Polaris business class menu will change, but this was my menu from a December 2022 flight:
The flight starts with warm nuts and a drink. I opted for champagne and cranberry juice. The flight attendant definitely judged me, but it was delish. I opted for the flat iron steak for my entree, ice cream for my dessert, and the brioche French toast for breakfast. I loved all of it but the french toast.
Everything tasted really fresh. I especially loved the thick, salty gravy with the potatoes. Extra snacks were available but I never needed them because the meals were more than enough to keep me full.
The final verdict on United Polaris service
I really enjoyed my experience in United Polaris business class. Although the old Polaris cabin was good, this upgraded Polaris cabin really separates United from other domestic long-haul carriers. The privacy and convenience of not having to navigate around someone else is ideal, especially as a solo-female traveler. If you have the opportunity to fly Polaris, take it!
The United Polaris Business Class enhancements make this cabin one of the premier lay-flat options. Try it for yourself see!