Hot chocolate in Italy is an experience you don't want to miss. Try it at these 3 cafes!
Hot chocolate in Italy is nothing like the hot chocolate you are probably used to.
There are no powdered mixes in Italian hot chocolates. No mixing it with water, either – in this Italian delight, you will find only melted chocolate potentially diluted with some mik and whipped cream.
There are cafes all over Florence but, if your time is limited, you will only want to spend it enjoying the best hot chocolate in Florence. These three cafes are my top picks!
Please note: this post may contain affiliate links. What that means is, if you click on a link and make a purchase, I may make a commission at no additional cost to you. For more information, please see my Affiliate Disclosure.
What makes Italian hot chocolate so good?
Cioccolata calda, or hot chocolate in Italian, is decadent, thick, warm, and satisfying. It's unlike anything you can find in the US and I first discovered it when I visited Prague many years ago. Since then, I have been on a mission to enjoy European-style hot chocolate wherever I can. Have you had hot chocolate in Paris? Italian hot chocolate is very similar!
Imagine a drinkable ganache and you'll have an idea of how delectable cioccolata calda is. You can sip it straight from the cup but I prefer to spoon it up. There is nothing better than warming up in a beautiful cafe with some Italian hot chocolate and a good book after spending a chilly afternoon exploring Florence.
I spent the better part of 5 days exploring Florence, sipping hot chocolates along the way. My recommendations below are the 3 absolute best cafes in Florence for enjoying Italian hot chocolate!
Rivoire
Maybe I should save the best for last, but I adored Rivoire and I want to share it.
Located in Piazza della Signoria, Rivoire is conveniently located next to Ponte Vecchio, the Uffizi, and, of course, the stunning Piazza della Signoria. If you're wandering through Florence at all, you're almost guaranteed to come across Rivoire.
It's also suuuuuper close to the Vanilla Club Speakeasy, which is an experience you don't want to miss in Florence!
Rivoire is famous for their chocolate and it's easy to see why – it is absolutely delicious.
Enrico Rivoire was born in Turin, Italy, in the 1800s. I adored Turin – and they are famous for their chocolate, too! – so this is not surprising. He was such a grand chocolatier that he eventually became the official chocolate supplier to the Royal Family of Turin. When the Royals moved to Florence, he elected to move, as well, and that is how Rivoire came to be in 1862.
Rivoire claims that Enrico invented hot chocolate. I don't know if that is true, but what he creates is a masterpiece!
I actually visited Rivoire twice because I adored it so much. I went for aperitivo and a chocolatey cocktail one night and then a second night just for hot chocolate. The decorations are beautiful, the Piazza is stunning, the food is delicious, and the chocolate is literally legendary. Can you ask for anything better?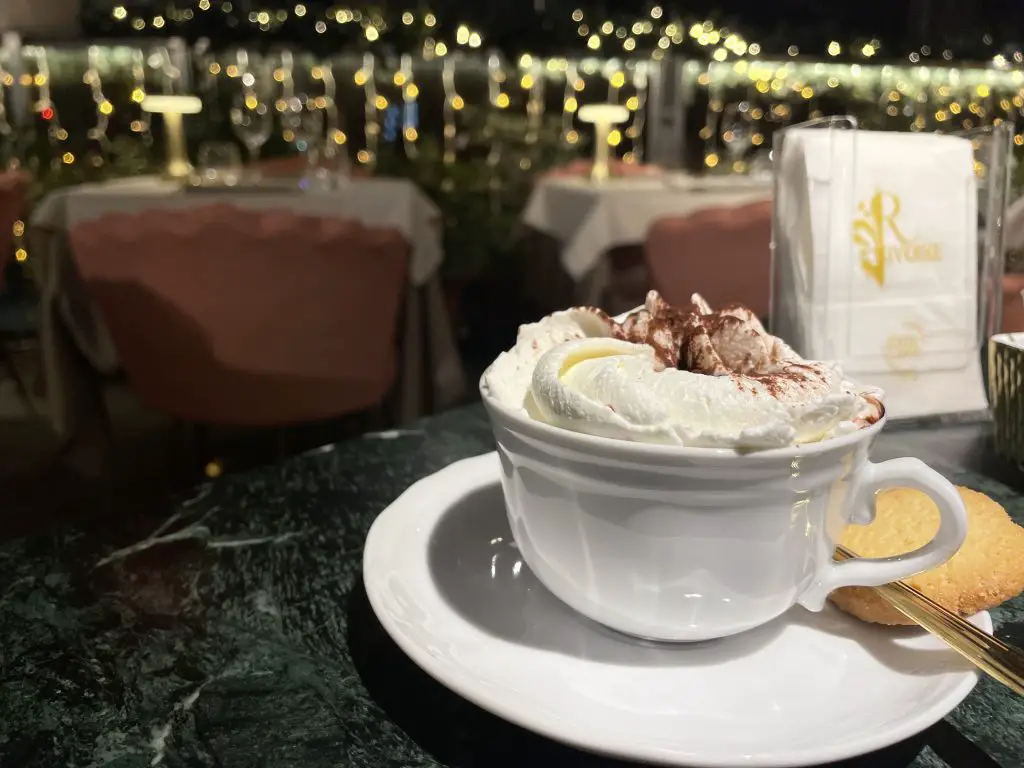 Caffè Scudieri
Caffè Scudieri is in objectively the best location – Piazza di San Giovanni!
These Piazza names may not mean anything to you, but this is absolutely the most iconic location in all of Florence. Here you will find the cathedral and belltower that are always pictured in Florence.
Caffè Scudieri isn't quite as historic as the two other cafes mentioned here, but it does date back to 1939 – so pre-WWII. Because the location of this cafe is so wonderful, it is probably the most touristy of the 3 cafes mentioned here. However, don't let that stop you! I tasted hot chocolates all over Florence and hand-picked these 3 as the best for a reason. The hot chocolate was rich and deliciously balanced by the heaping serving of whipped cream. The people watching and scenery was, of course A+, so it was a great spot to escape the crowds without really leaving.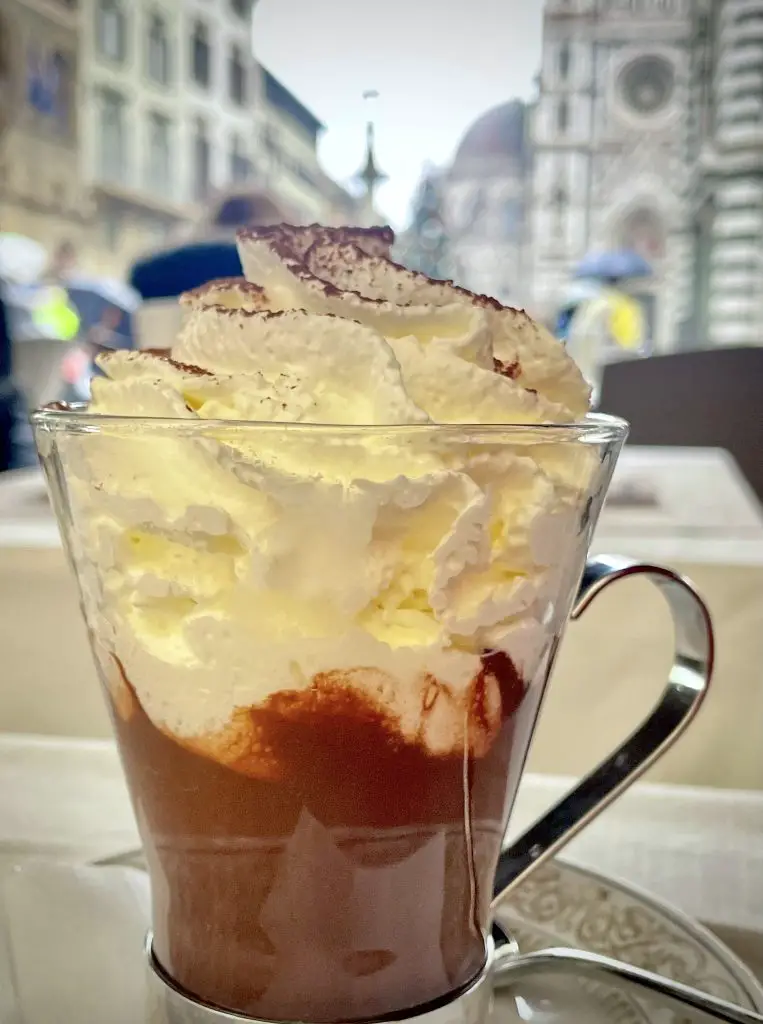 Caffè Gilli
Located in Piazza della Repubblica, Gilli is probably the least popular location, but it is still absolutely in the center of Florence. In fact, it is basically right between Rivoire and Scudieri!
If you want to visit Florence for high-end shopping, Gilli is actually the perfect location because it is right at the start of the high-end shopping street.
This chocolatier dates back over 270 years and boasts as being the oldest cafe in all of Florence. It was started by a Swiss family, so there's no surprise their chocolate is divine! Even better, Gilli has some of the best pastries I've ever had. The fruit tart is out of this world and the rest of the sampler was absolutely delish. Here you can indulge in some of the best hot chocolate in Florence that dates back to the Medici era of Florence (which I think is so cool).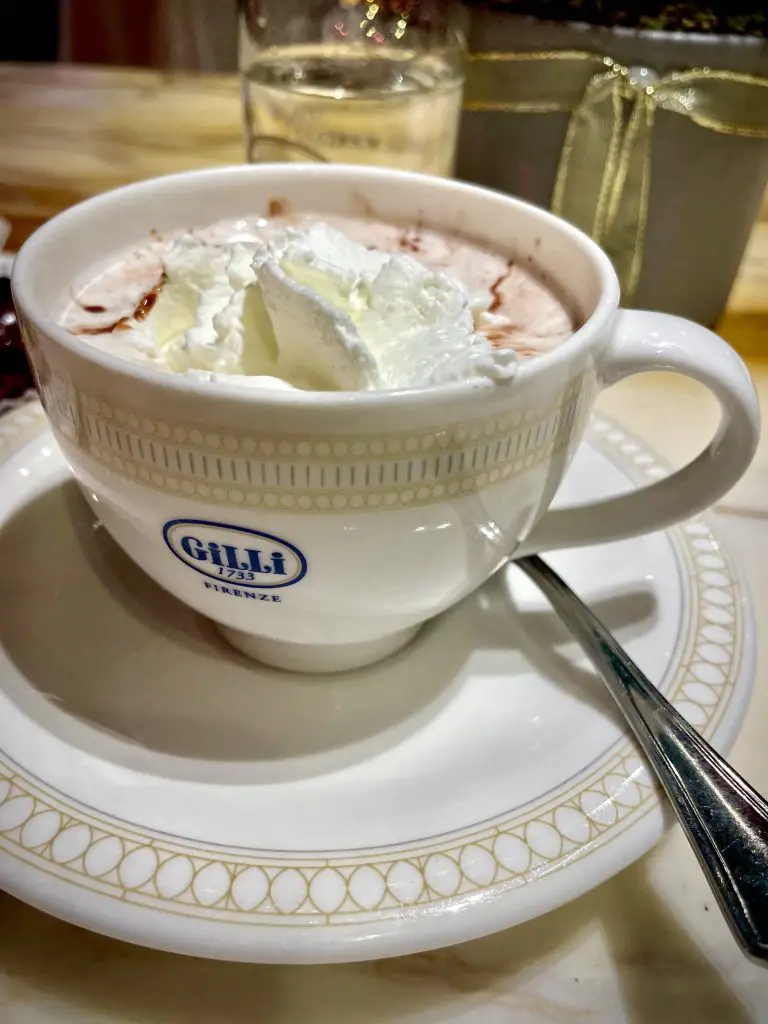 Italian hot chocolate is out of this world. Experience the best hot chocolate in Florence at these 3 cafes!