From breakfast tacos to Beaver Nuggets to swimwear, coolers, hunting gear, and more – Buc-ee's has something for everyone!
If you're not from Texas, you probably aren't familiar with Buc-ee's. I had never heard of it prior to moving here but it didn't take long to hear about it: Buc-ee's is as much a Texas thing as college football, Whataburger, and rodeos.
If you are from Texas, I'm sure you're nodding in agreement. Buc-ee the Beaver is an icon. His toothy smile towers over Texas highways, inviting you to stop for clean bathrooms, tons of fueling stations, and snacks & gifts galore.
If you're taking a road trip and come upon a Buc-ee's, it is a stop you just cannot miss. Buc-ee's is more than a place to shop or buy gas – it's an experience in itself. Read on to find out the best things to do & buy at Buc-ee's!
Please note: this post may contain affiliate links. What that means is, if you click on a link and make a purchase, I may make a commission at no additional cost to you. For more information, please see my Affiliate Disclosure.
What is Buc-ee's?
Buc-ee's is a gas station and convenience store chain. But make no mistake, Buc-ee's is like no other gas station that you've ever been to, I promise.
In fact, whenever friends and family visit, I drag them to Buc-ee's. They think I'm crazy for driving half an hour to go to a gas station. Once they get inside, however, they understand: Buc-ee's is an experience.
In fact, Buc-ee's holds two world records: one for the world's largest convenience store (66,335 square ft, about half the size of a Target) and another for the world's largest car wash (at 255 feet!)
So, I'll modify my original statement:
Buc-ee's is:
A massive gas station with literally dozens of gas pumps
A rest stop that has the cleanest restrooms in the US
A convenience store where you can purchase snacks & drinks, along with hot foods
A gift shop that sells everything from kitchen serving platters to hunting knives to pet accessories
Are you intrigued yet?
Seriously, you need to stop at Buc-ee's if you're taking a Texas road trip. If you want to avoid getting overwhelmed in their massive stores, find out the best things to do and buy at Buc-ee's here.
Where can I find a Buc-ee's?
Buc-ee's was created by Arch Aplin III, a Texas A&M alumni. Buc-ee's has quickly grown from a small gas station to a Texas institution to a national chain. Most Buc-ee's are in Texas, they are rapidly expanding!
Buc-ee's currently has locations in Texas, Georgia, Kentucky, Alabama, Florida, South Carolina, and Tennessee – meaning, right now, Buc-ee's is only available in the south. They are usually located a bit out of a city center, so you'll want to plan out your route if you want to make a stop.
Shout-out to my home state, Colorado! You'll be getting a Buc-ee's before you know it. Missouri and Ohio also poised to get a Buc-ee's by 2025!
Get gas at Buc-ee's
This seems obvious but worth mentioning.
Buc-ee's typically has great gas prices. Make this a one-stop-shop and enjoy one of the dozens of gas pumps before exploring the store!
Enjoy the sparkling clean restrooms
Like I mentioned above, Buc-ee's is famous for having the cleanest restrooms in the US. I've done my fair share of road trips and having a nice, clean restroom is not common enough.
Gentlemen – the ladies in your life will extra appreciate this.
Purchase a car wash and enjoy your shiny car
The closest Buc-ee's to me is in Katy, TX, which is about 30 minutes west of downtown Houston. This location has the world's longest car wash!
The car wash is very efficiently ran. There are multiple lines so that traffic continues flowing. When it's your turn to go, drive towards the car wash. An attendant will direct you to drive on to the conveyer, put your car in neutral, and enjoy the ride.
The car wash is even a rainbow car wash – so I'm sure your kids will love it!
Now it's time to go inside … look at how big Buc-ee's is!
Once you're done marveling at how large Buc-ee's is, you can get to shopping!
Munch on some Beaver Nuggets
Arguably the most famous snack available at Buc-ee's is beaver nuggets. There are traditional beaver nuggets, salted caramel beaver nuggets, and savory beaver nuggets, as well.
Go for the OG traditional beaver nuggets. They are basically caramel coated corn puffs (similar to Cracker Jack, but better).
Buy two bags because you won't be able to control yourself around this tasty treat.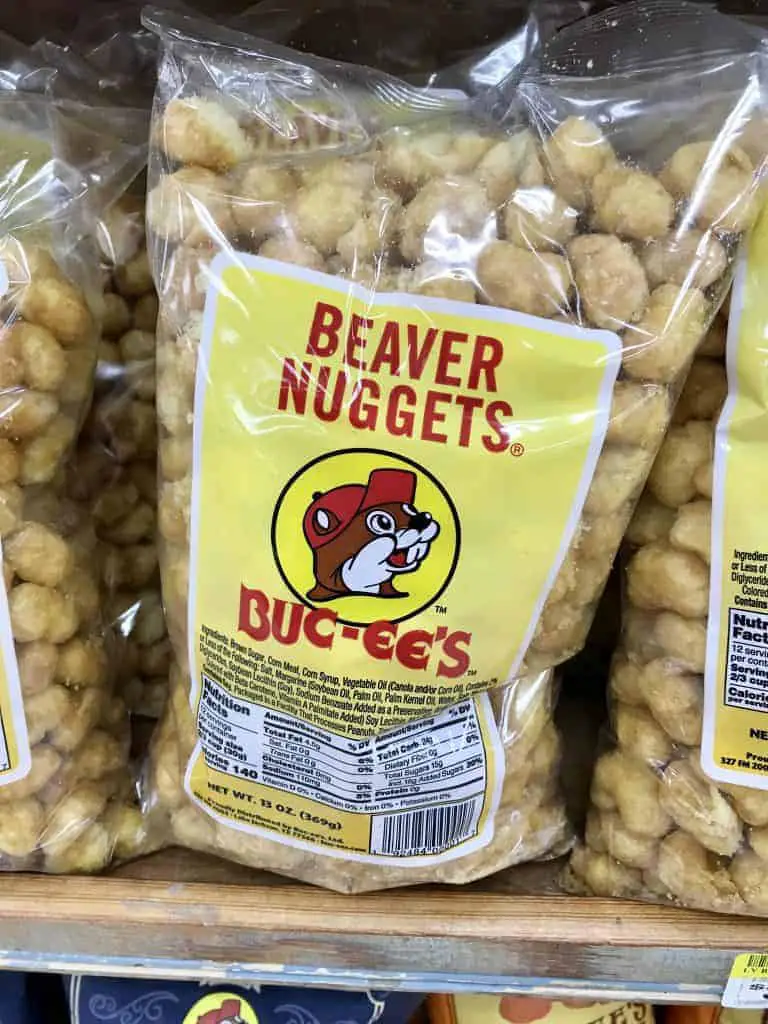 What is more Texas than sugar-roasted pecans?
Imagine walking into a convenience store and smelling freshly roasted nuts…
Not something you've ever seen, right? Well, at Buc-ee's, one of the best things you can buy are their sugar roasted pecans! There are a few different nuts available, but I recommend you get pecans. Pecans are grown in Texas, and we may as well be authentic on this road trip!
The nuts are sweet, crunchy, and warm, which makes them extra delicious on a chillier day. Grab a bag of these and some coffee for a tasty pick-me-up!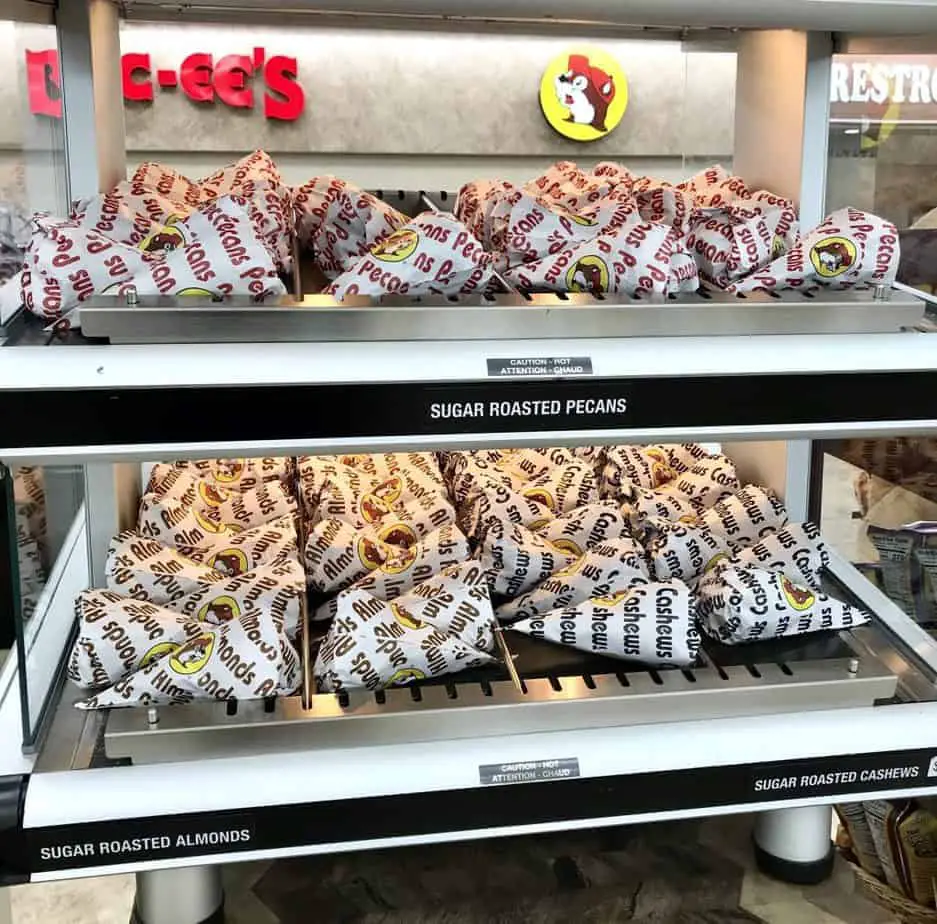 Take a break from junk food with some fresh fruit & veggies
Thankfully Buc-ee's sells much more than just junk food! If you want fresh fruit or veggies, Buc-ee's has tons of super convenient options. All their foods are pre-cut and packaged for easy eating so you won't have to worry about making a mess in your car.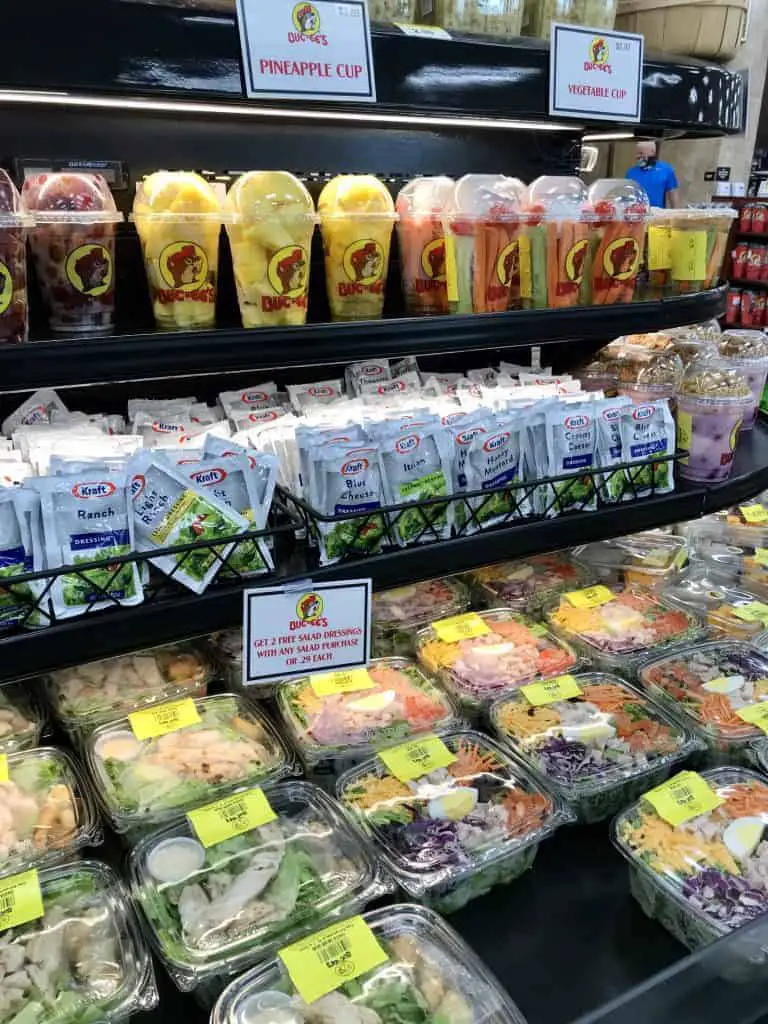 As you can see in the photo above, bright and crisp salads are available alongside parfaits, fresh fruit, and even super convenient vegetables. These look tasty even amongst all the sweet treats!
Snag some delicious, cheap, & filling breakfast tacos
Breakfast tacos may not be a thing where you're from, but they are a staple in Texas dining. Because you can get literally anything at Buc-ee's, of course you should expect breakfast tacos, too.
Look at these mouthwatering breakfast tacos! The breakfast taco menu includes sausage, egg, and cheese; bacon, egg, and cheese; something called a "Hippo Taco" (beans, egg, bacon, green salsa, and cheese), a "Breakfast Beast" taco (egg, bacon, sausage, potato, and cheese), and not pictured is a brisket taco.
Yum! My recommendation? The "Hippo Taco". Delish.
They are always warm & plenty cheesy. Sauces are available next to the case. For just a few dollars, you can have a super-filling breakfast.
What else is on the breakfast menu at Buc-ee's?
In addition to tons of breakfast tacos, Buc-ee's also offers breakfast sandwiches and pastries. There is literally something for everyone!
Wondering what breakfast sandwiches are available? You can enjoy a ham, egg, and cheese croissant; a sausage, egg, and cheese croissant; sausage, egg, and cheese bites; egg and cheese bites; a sausage biscuit, and a sausage, egg, and cheese biscuit. And even an apple pie!
In terms of the pastry selection, Buc-ee's offers tons of cookies, cinnamon rolls, cinnamon rolls with pecan, various sweet kolaches, muffins, and more.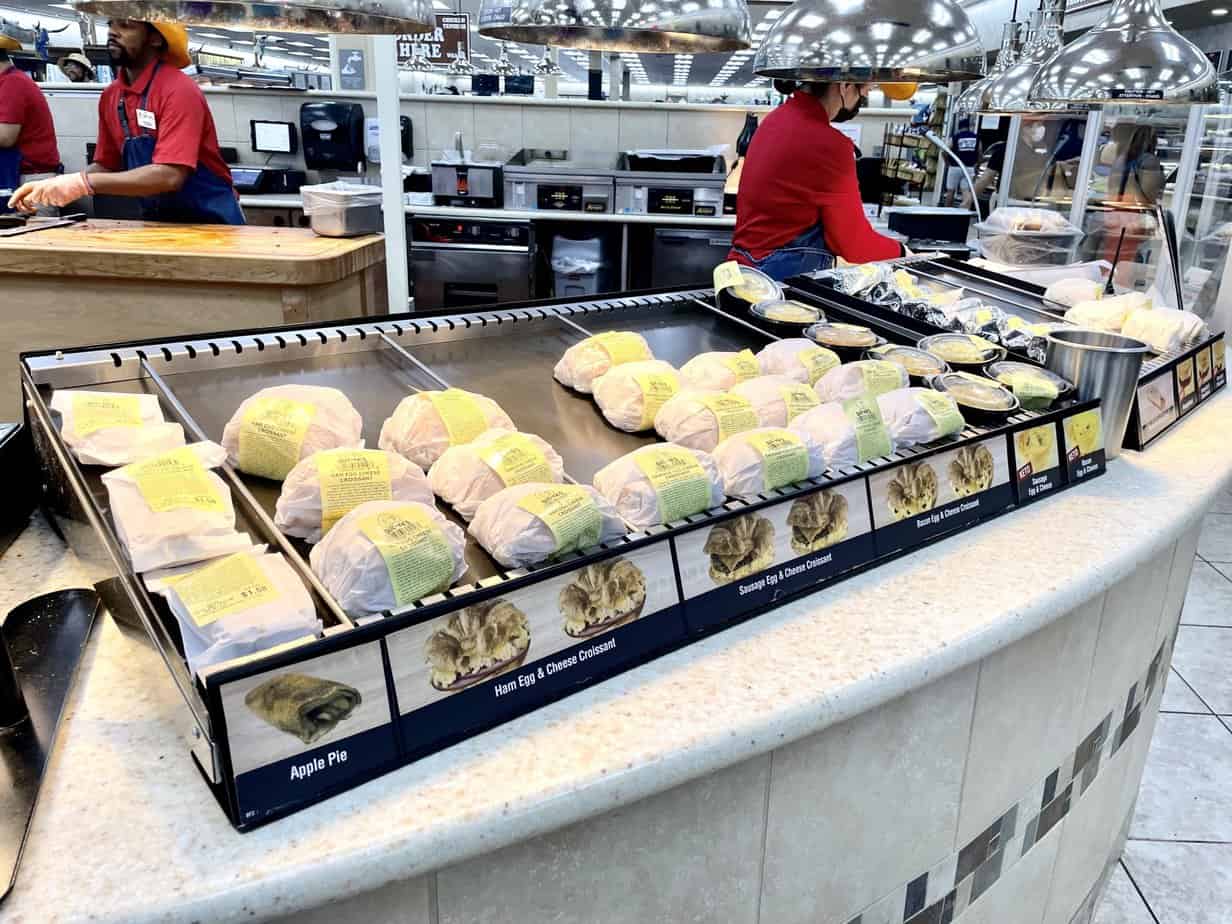 Getting breakfast? Don't forget the coffee!
Buc-ee's offers the BEST coffee bar I have ever seen…. ever.
Frankly, it doesn't even matter if you don't like drip coffee – Buc-ee's offers up so many personalization options that anyone can make a cup of Joe that they'll enjoy.
Fill up with your coffee of choice…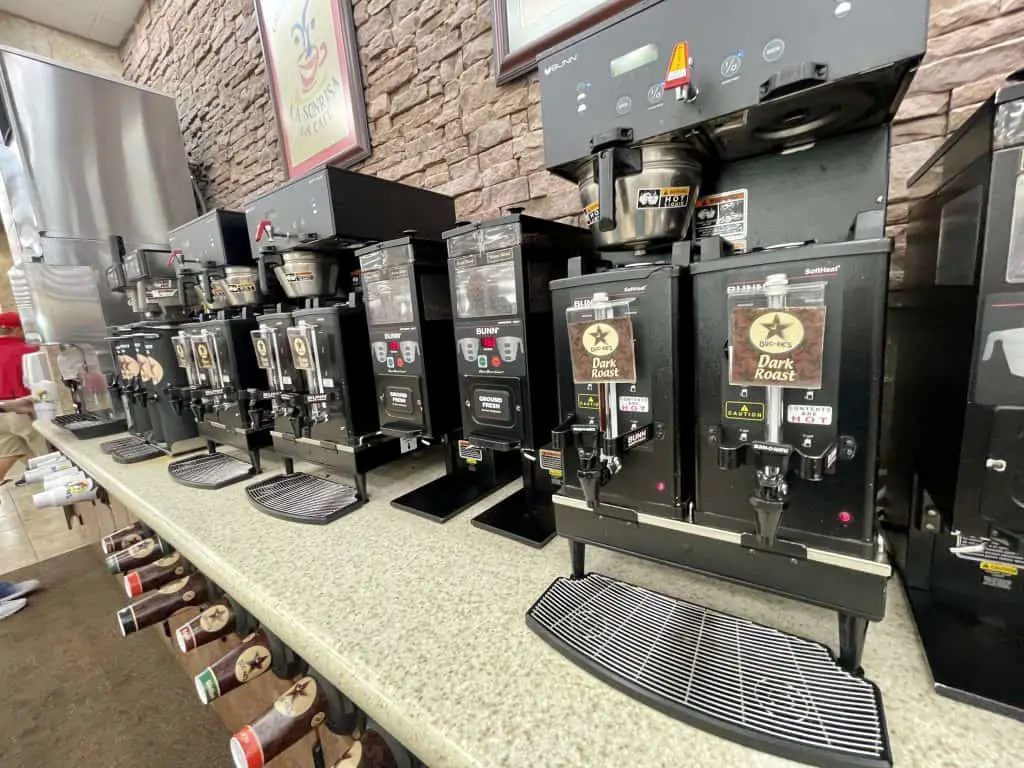 Then customize it with literally more than a DOZEN creamer options, coffee syrups, toppings, and even sprinkles and marshmallows!
See? Something for literally everyone – including kids and kids at heart!
Is it closer to lunch or dinner? Snag some hot & fresh BBQ sandwiches
I'll be honest, I could eat a breakfast taco any time of day.
But… I could also eat a BBQ sandwich any time of day, too.
Buc-ee's has both available – hot and fresh! – so good luck making your decision.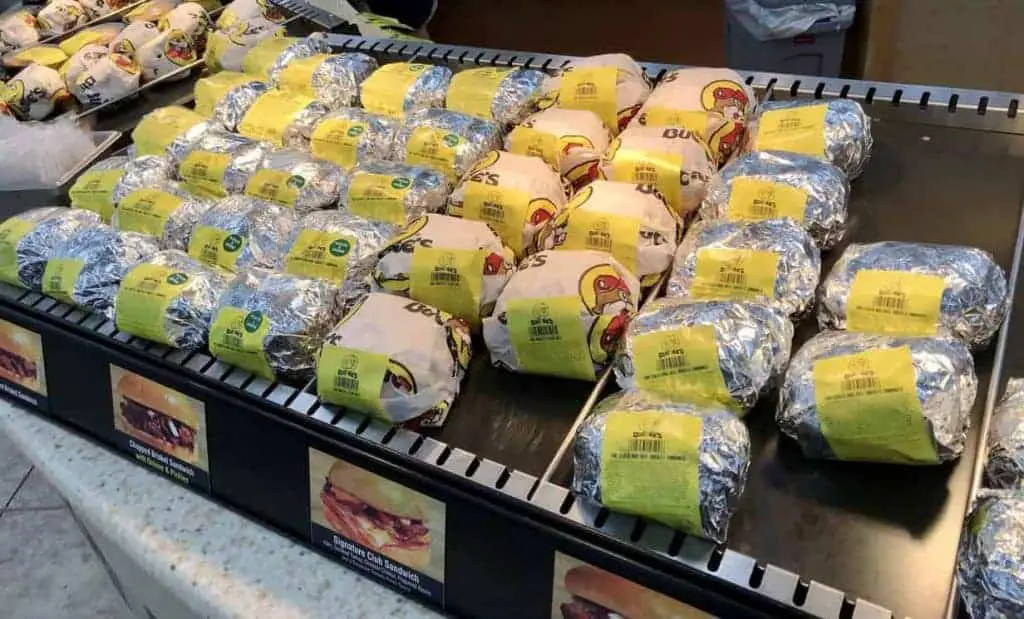 Available sandwiches include chopped brisket, chopped brisket with onions and pickles, the signature Club (ham, smoked turkey, cheddar, peppered bacon, and sundried tomato pesto sauce), and a sliced brisket sandwich.
Load up on some jerky to enjoy later
You can't visit Texas without enjoying some beef jerky! I think beef jerky is the best road trip snack because it's filling, high in protein, and delicious.
Buc-ee's has a ton of different kinds of fancy jerky available for purchase. Literally a wall AND a display of jerky. This isn't some Jack Link jerky you can get at any old grocery store – this stuff is freshly made with tons of really unique but delicious flavors available.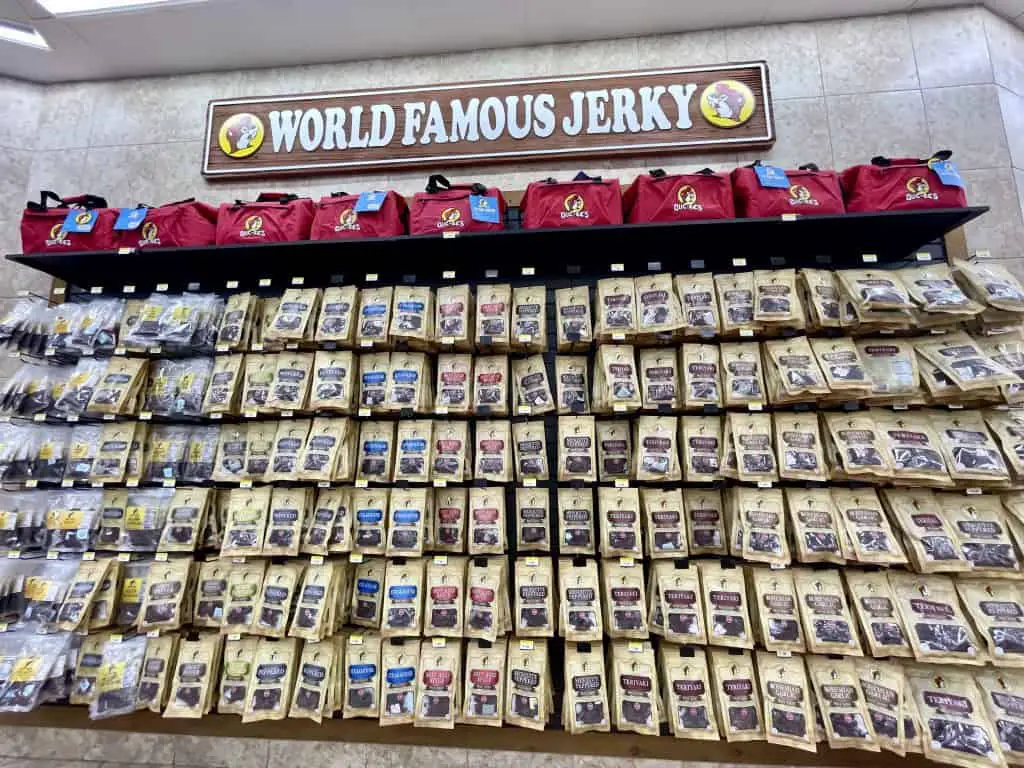 Curious what flavors of jerky Buc-ee's offers? You can get ghost pepper jerky, hot and spicy jerky, turkey jerky, bohemian garlic jerky, lemon pepper jerky, peppered jerky, steakhouse jerky, mesquite peppered jerky, teriyaki jerky, cherry maple jerky, and more.
I certainly haven't tried all the jerky varieties but my favorite so far is the cherry maple beef jerky. Sweet, savory, and totally delicious!
Savor some fudge
I know I keep saying it, but Buc-ee's literally has anything you could want, including delectable fudge!
There are about a dozen different flavors available, including low sugar and less chocolatey varietals. There's a little bit of everything, from chocolate praline to blueberry cheesecake and more.
I'm a peanut butter gal, so I personally love the chocolate peanut butter fudge. They also have a chocolate salted caramel peanut butter fudge. My mouth is watering just thinking about it…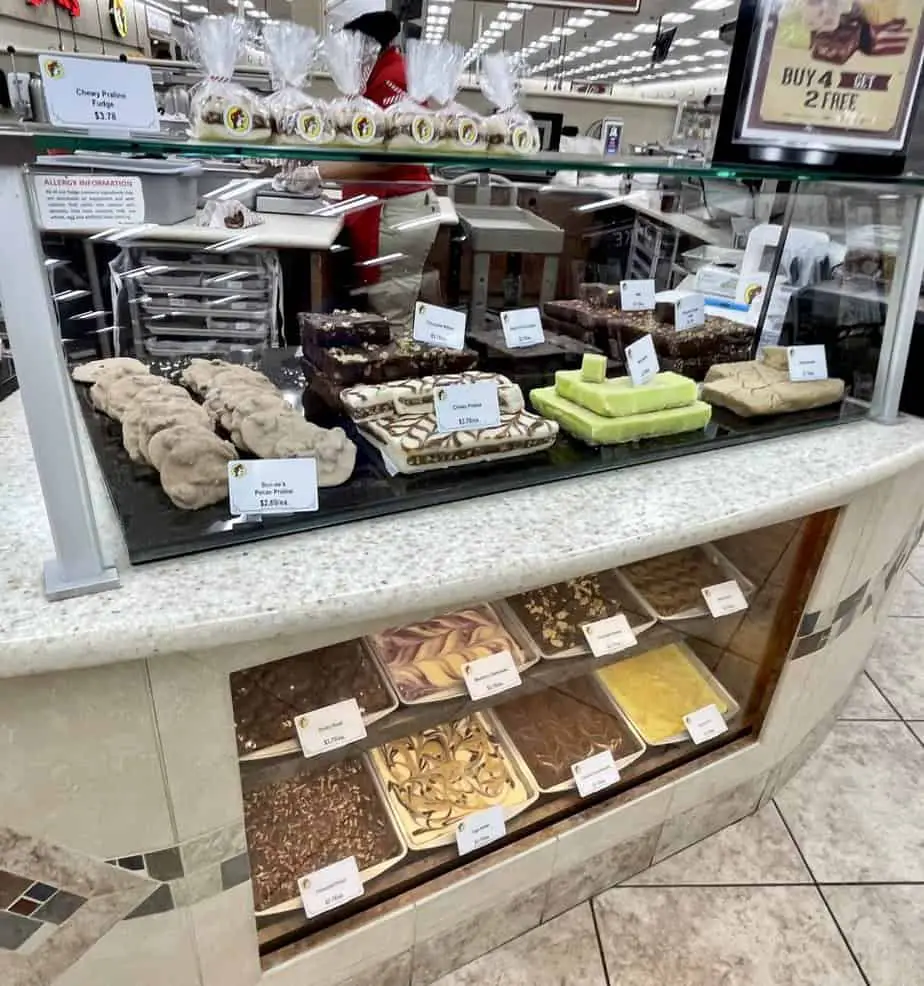 Can't decide? Grab a pre-packaged sampler!
Purchase some gifts (for yourself or loved ones!)
I am literally not exaggerating when I say that Buc-ee's sells pretty much anything you could think of.
I've listed some food items that you should consider buying when you road trip to Buc-ee's, but Buc-ee's is also great for finding gifts (for loved ones… or yourself. #treatyoself)
Get saucy with Texas hot sauces
Texans love their hot sauces. Sauces can go on pretty much everything and Buc-ee's has plenty of flavors available so you don't get bored!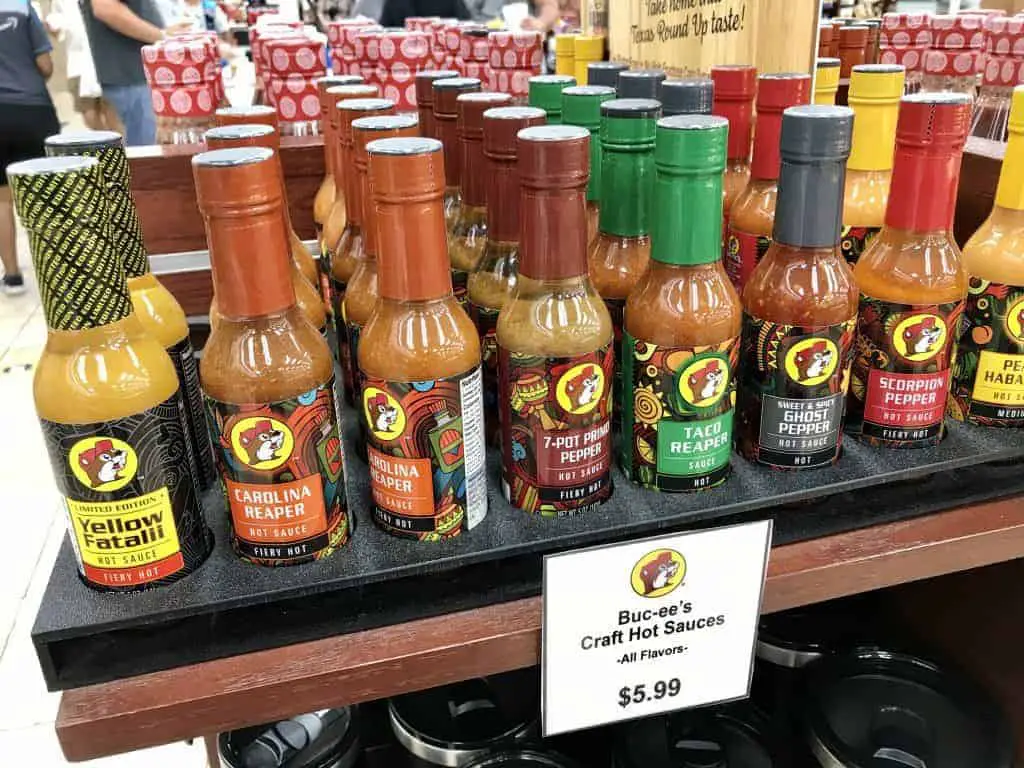 Shop cute housewares that make for great birthday, Christmas, or housewarming presents
From fancy serving platters to cute tea towels to sassy wine glasses, Buc-ee's has something for everyone and more. If you're out of gift ideas, a quick jaunt to your nearest location will help give you some inspiration!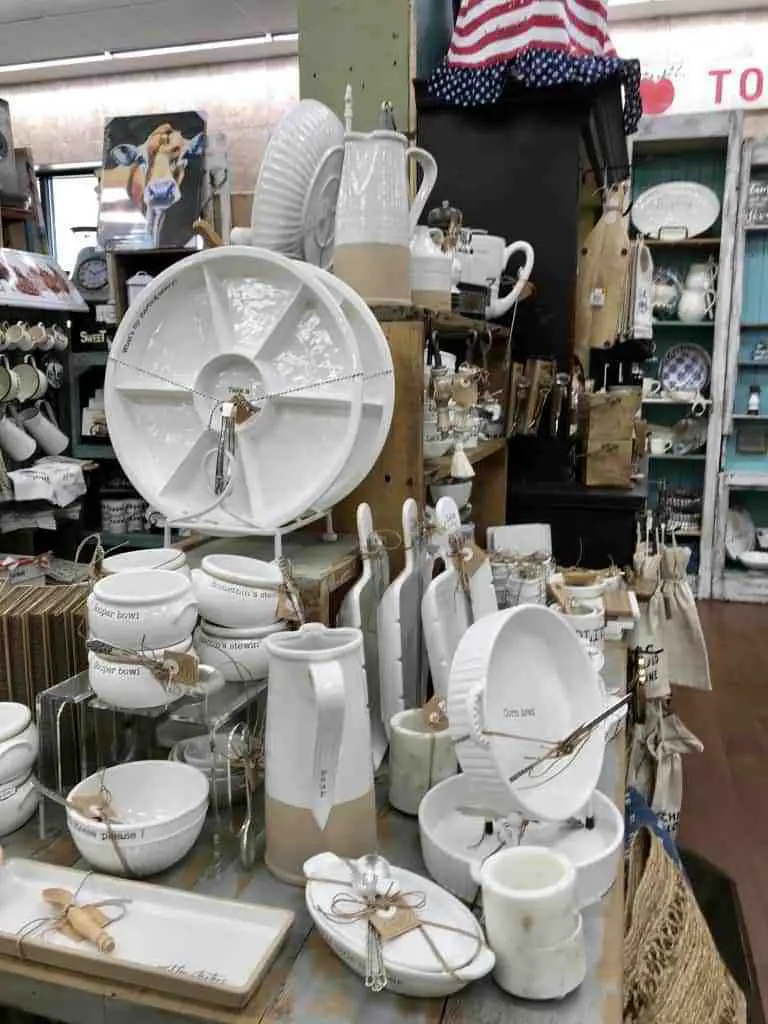 Got a best fur-iend? Buc-ee's has pet items, too
Dog & cat collars, leashes, toys, treats, bowls, and more. I wasn't exaggerating when I said you can buy just about anything at Buc-ee's.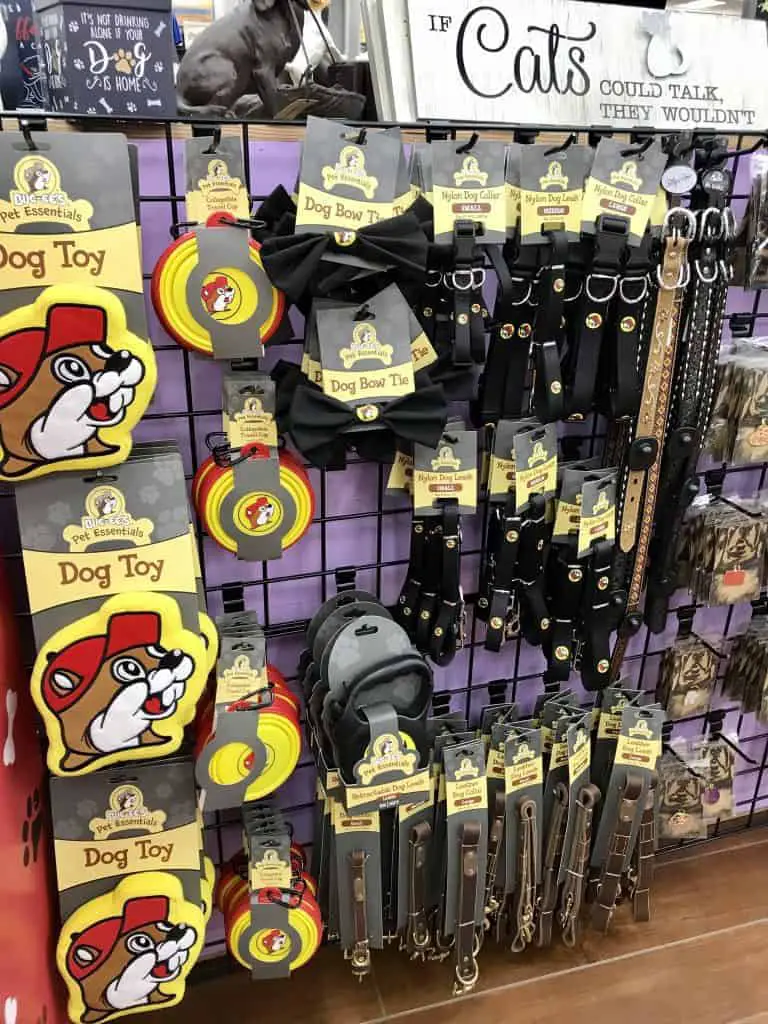 If you need some clothes, Buc-ee's has that too.
Sweaters? T-shirts? Shoes or sandals? Beaver onesies? Yup. Buc-ee's has that, too.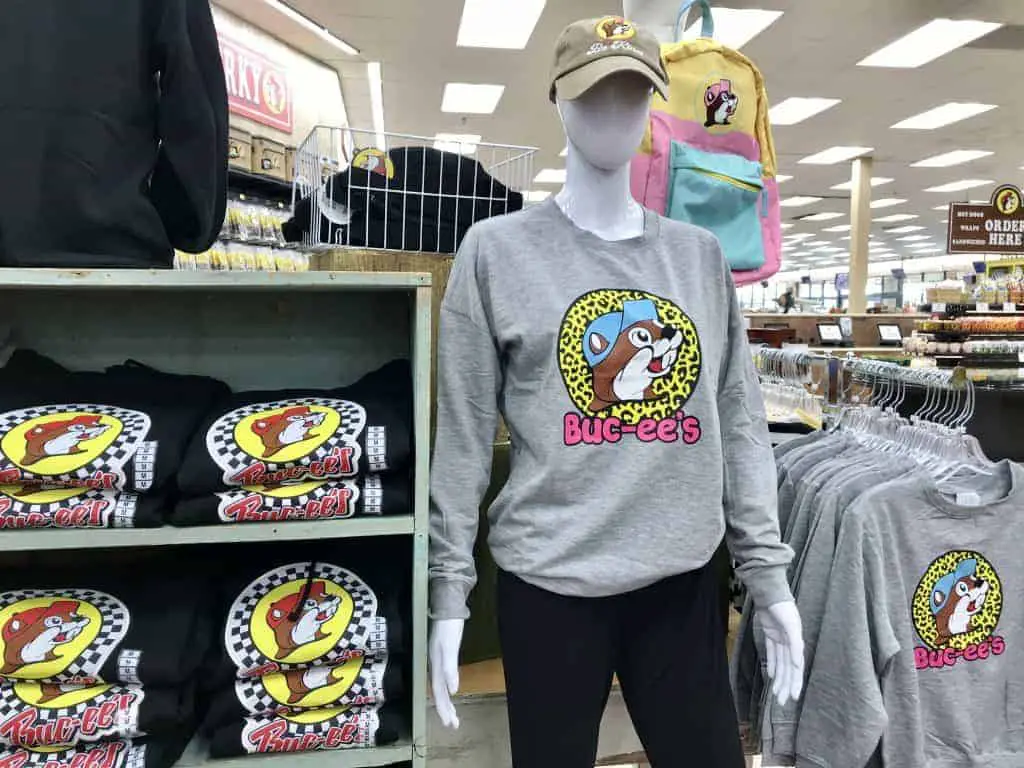 Can you buy swimwear at Buc-ee's, too?
Yup, sure can! Adult & children's swimsuits, trunks, and bikinis are available… in multiple patterns!
You can get other beach gear, too, like cushions and insulated mugs.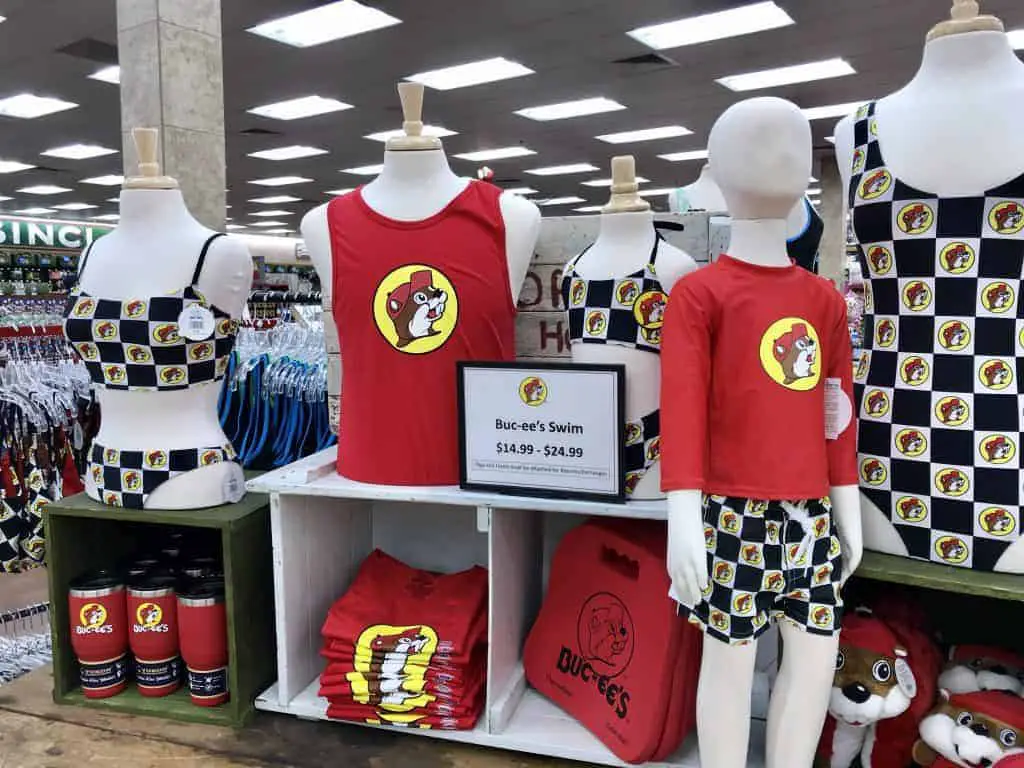 What about kids toys?
Of course Buc-ee's has kids toys! Plushies, pillows, balls, magnets, toy guns, backpacks…
You can buy something for everyone at Buc-ee's!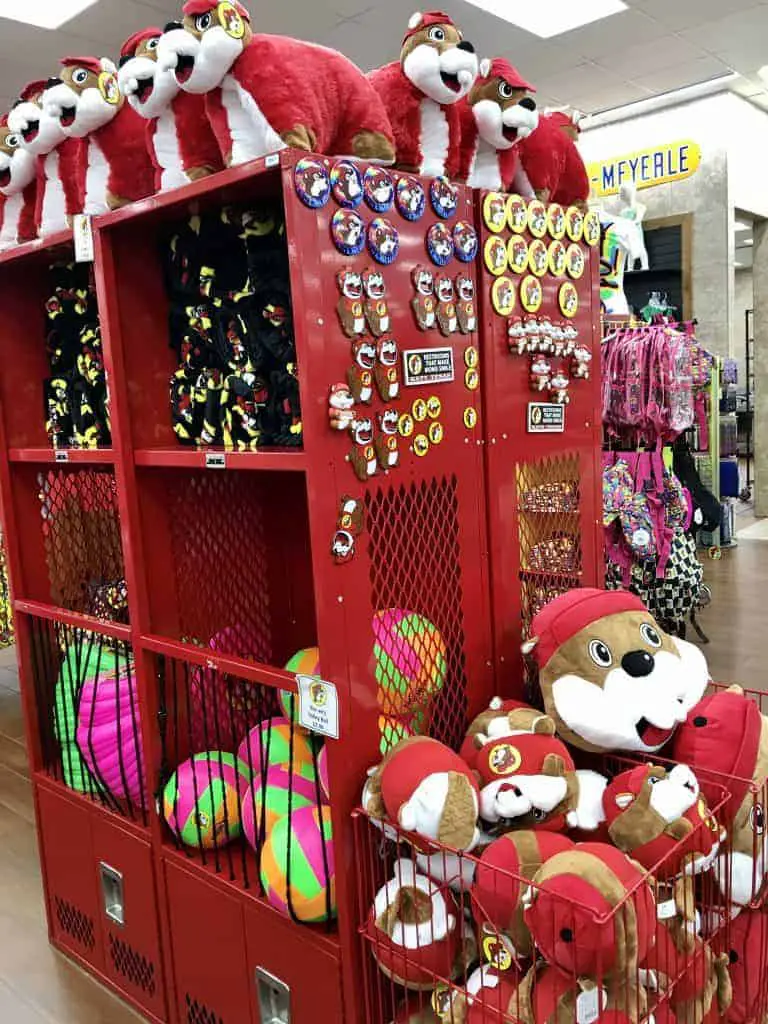 In true Texan fashion, you can even get hunting & outdoorsman gear at Buc-ee's
Coolers, knives, spotlights, BBQ tool sets, scent elimination field wipes, camo, axes… pretty much everything but guns!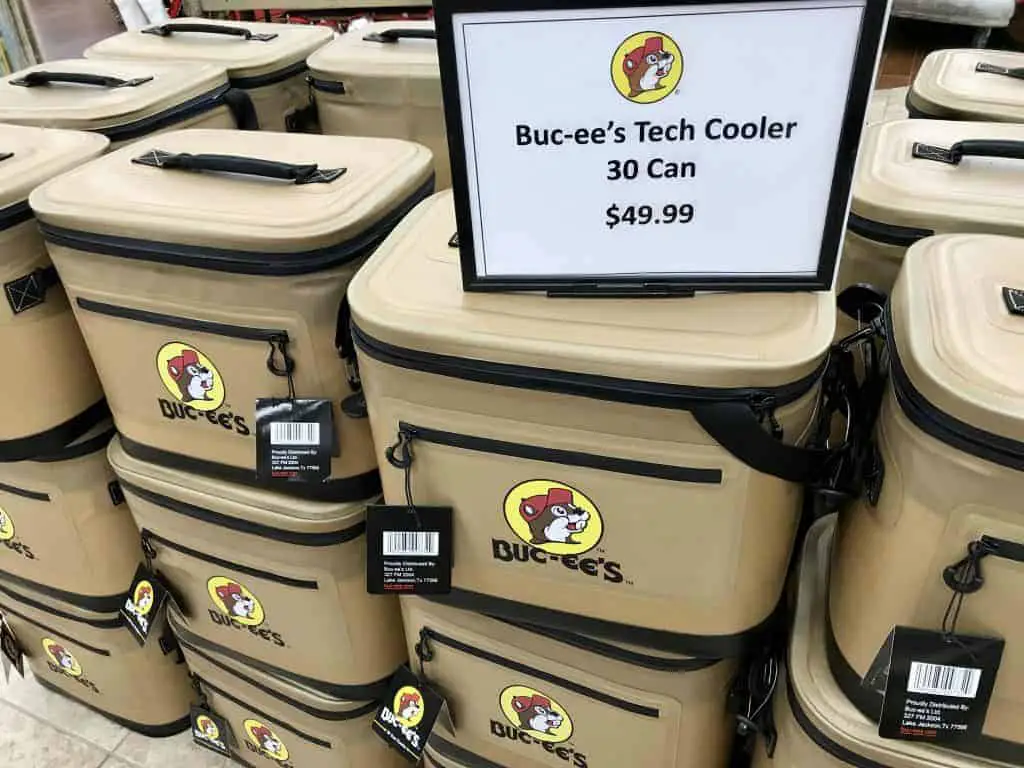 You can even buy funny wall signs from Buc-ee's to remember your roadtrip!
I bought one and I use it as a Christmas ornament. If that's not your jam, you could just hang it up at your office.
I'm partial to "My Overbite is Sexy" but I love the subtle implications that Buc-ee's is godly with restrooms fit for royalty.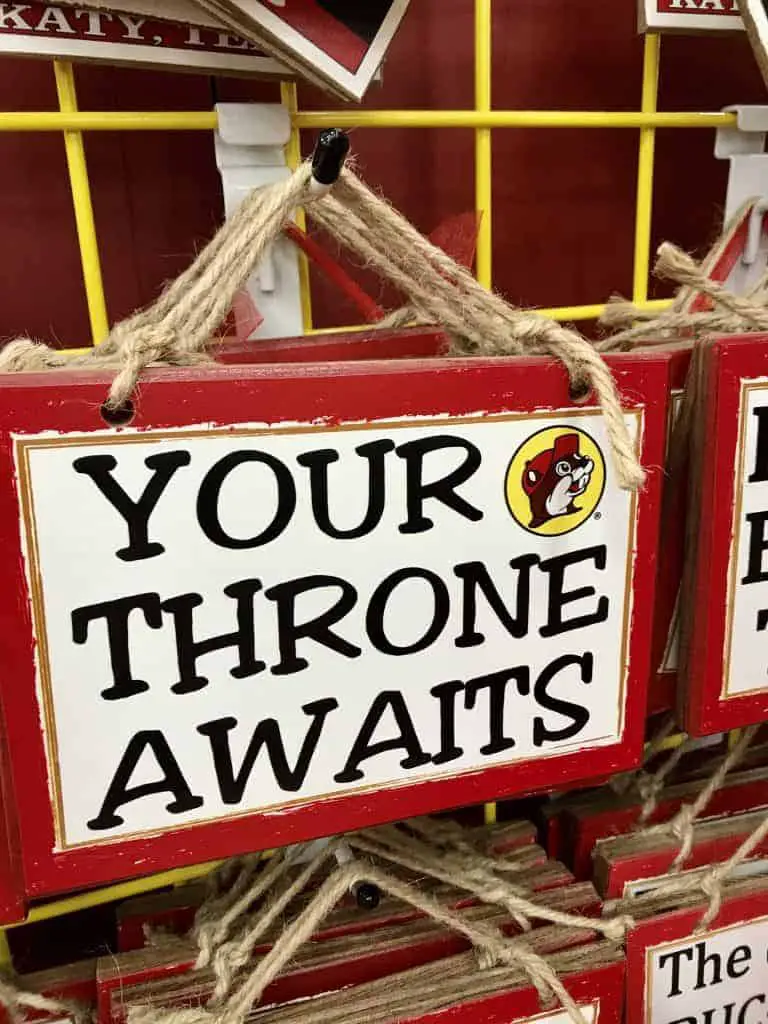 Buc-ee's is like no gas station you've ever been to before. No road trip is complete without stopping at a Buc-ee's
Even if this post didn't convince you that Buc-ee's is next-level amazing, I'm going to insist that you stop and see for yourself. Buc-ee's is an entire experience. It's not just a gas station or a convenience store – it's a Texas thing.
Have you been to Buc-ee's? Are there any items I missed?