Have you heard rumors of the vampire speakeasy in New Orleans? Find out (almost) everything you need to know here
New Orleans is arguably one of the coolest cities in the United States – maybe even the whole world. Featuring a mish-mash of Southern, Cajun, Creole, French, Spanish, and even supernatural cultures, New Orleans offers something for literally everyone.
When you picture Bourbon Street, you probably think of crowds, rowdy Bachelorette parties, bars with thumping bass, and tons of "gentlemen's clubs".
But what if I told you that you could escape the crowds of Bourbon Street without leaving Bourbon Street?
Imagine a quiet bar with delicious cocktails and a strict limit on the number of people inside… then mix in a vampire theme and a secret password and you have New Orlean's only vampire speakeasy!
Potions is the famous New Orleans Vampire speakeasy that absolutely cannot be missed. Here's (almost) everything you need to know about this hidden gem in the French Quarter!
Please note: this post may contain affiliate links. What that means is, if you click on a link and make a purchase, I may make a commission at no additional cost to you. For more information, please see my Affiliate Disclosure.
Where is the vampire speakeasy?
The only REAL New Orleans speakeasy is called Potions. It is located in the back of Fritzel's jazz bar in the center of Bourbon Street:
If you're into the supernatural, you really cannot beat the location. It's near the Lalaurie Mansion and Jean Lafitte's Blacksmith Shop, both of which are famous supernatural haunts.
Speaking of the supernatural, you really must take a ghost tour while in New Orleans. I've been on at least half a dozen and they're always worthwhile. The stories are true New Orleanian stories, not cheesy ghost spotting stories.
Fritzel's is a super cool bar with live jazz shows. If jazz is your thing, this is a great option. But Fritzel's isn't what you're looking for! You're looking for Potions, located up a secret staircase in the back of Fritzel's.
When approaching Fritzel's, tell the bouncer that you're looking for Potions and give the secret password. They will let you know if there is room in the bar for more people. If not, you may want to hang out at a nearby bar for a few minutes.
When there is room, head back through the bar to the second bouncer. Give him the secret password, pay the $10 cover per person, and head up to Potions.
What's the secret code?
Nope, not giving that to you! You must earn the password… but I warned you this would be almost everything you need to know!
How to get the speakeasy password
You can get the secret password for Potions one of two ways – you either get it from the Boutique du Vampyre or your ghost tour guide gives it to you on a tour.
Boutique du Vampyre is the most fun way to get the password. This unique shop is the first vampire shop in the entire world and is one of only a few vampire shops in the world. That's reason enough to go!
Be polite and don't just barrel in asking for the password. Enjoy the shop, look around, and chat with the clerks before asking. They don't have to give you the password!
Potions vibe & drink options
Potions is, frankly, a blissful escape from the chaos of Bourbon Street.
After ascending a narrow staircase, you enter what appears to be a living room that leads into the small bar area, conversation space, and balcony space. It's smaller than an apartment but the size is never problematic because they strictly control the number of people who can be in the bar at any one time.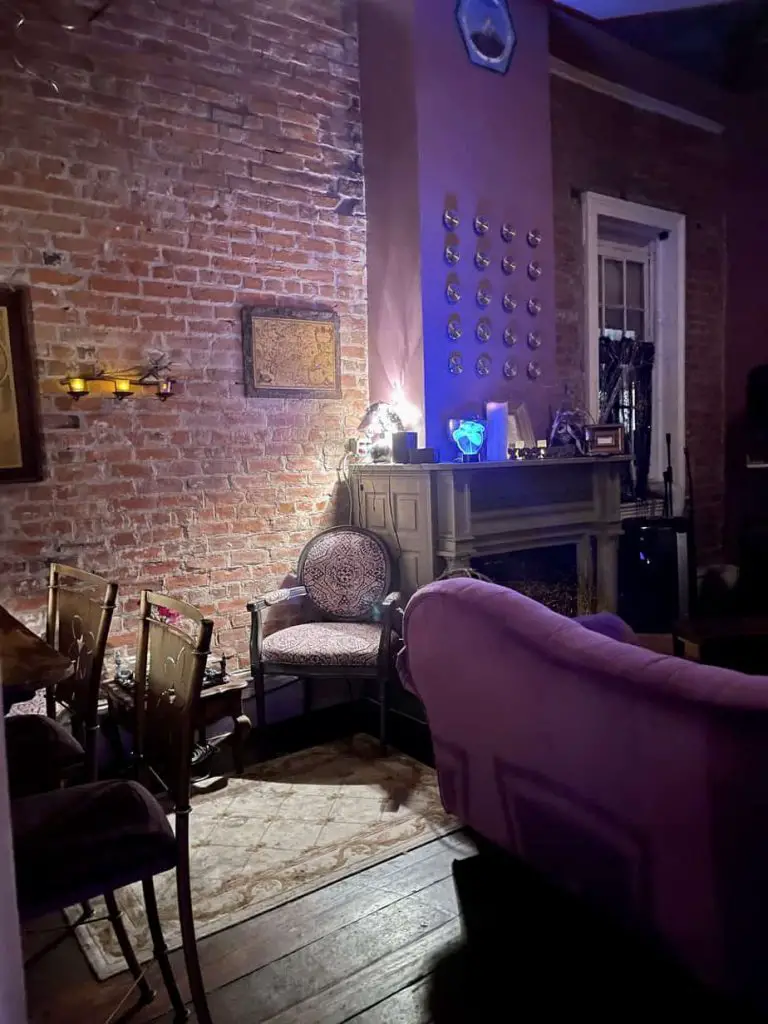 The decor is gorgeous and antique. The bartenders are friendly and easy to chat with, something you won't find commonly in the French Quarter (if only because of noise!). It is a vampire speakeasy but the supernatural touches are more subtle than you might expect. For instance, you won't see fangs and dripping blood, but rather themed drinks and small decorative touches.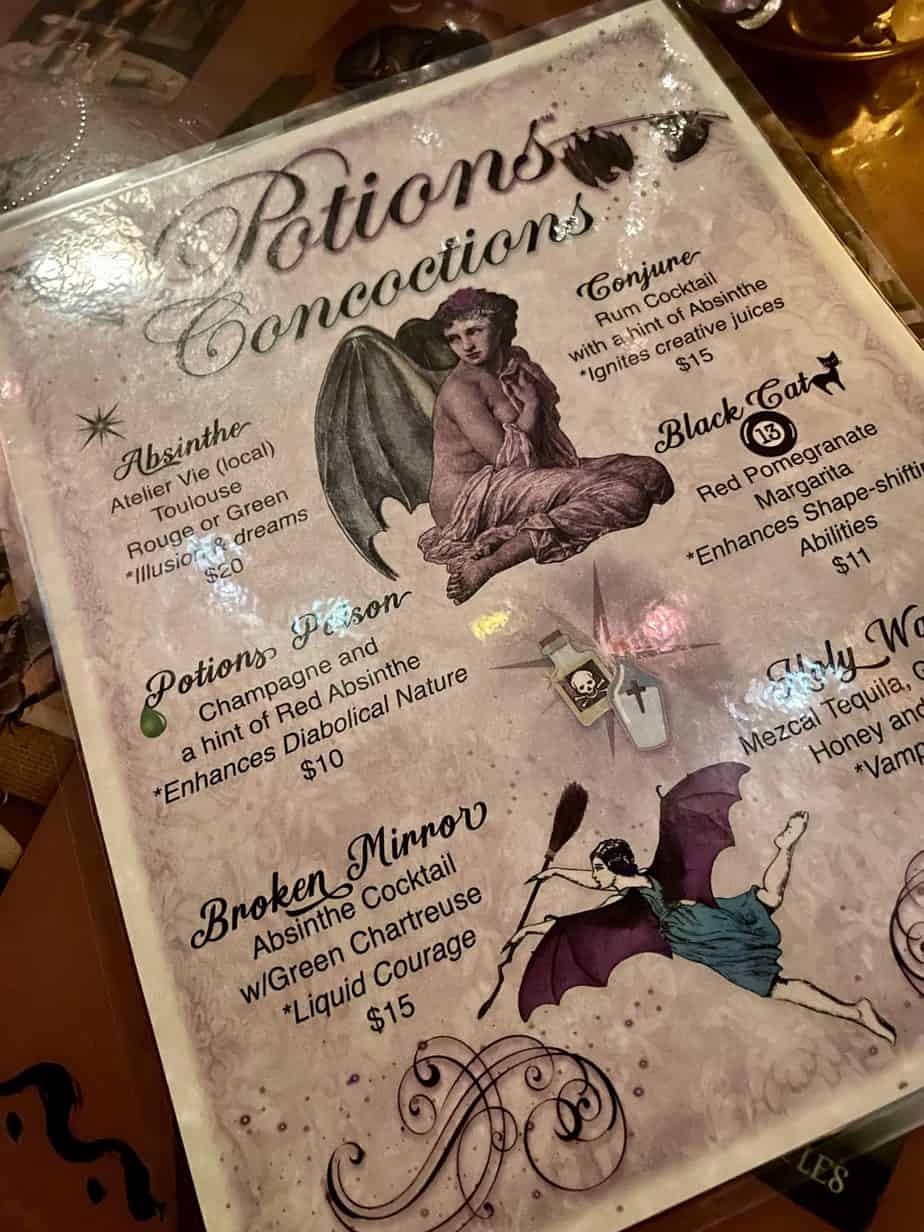 The cocktails are made with high-quality liquors and fit the vampire theme well. If you're looking to try absinthe in New Orleans, this speakeasy is a great place to do so – they have authentic absinthe that is served with water poured over a sugar cube. The Love Potion #9 is a lot of fun, too, and is served in a potion glass!
Is the New Orleans vampire speakeasy worth it or a tourist trap?
I visited this bar as part of a Bachelorette party and the whole group agreed: this was our favorite bar in New Orleans.
Locals love this place because it largely hasn't been discovered by tourists. And even it tourists knew about it, the headcount limit helps make the bar feel cozy and intimate. Dont be deterred by the $10 cover charge – this New Orleans vampire speakeasy is cool enough, unique enough, and intimate enough to be a blissful escape from the normal crowds of Bourbon Street.
Don't visit New Orleans without checking out this long-weekend guide and some other quirky things to do in New Orleans!
Escape the crowds of Bourbon Street and head to the only REAL speakeasy in New Orleans!